Do you want native English? The All Ears English Podcast has been downloaded more than 49 million times.
Come find out why listeners love us!
All Ears English gives you what you need to finally understand it all. We will help you in English conversations, your IELTS exam, professional interviews, meetings and presentations. Discover how to work or study with Americans and how to feel accepted in American society. Take us with you and listen on the go, anywhere, anytime, only 10-15 minutes per lesson.
 
Join All Ears English for a fun, friendly way to improve your English and your life!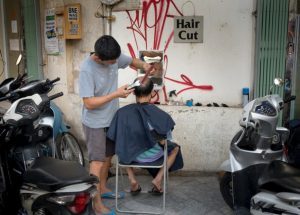 Last week we spoke about haircuts and how to talk to the hair stylist because we had a great listener question. Today we are going to do part 2! It's important to communicate to the...
Read More
"After listening to a lot of English Learning Podcasts, I discover this amazing and dynamic website that pushes my English to the roof. It goes without saying, it is absolutely educational and informative. There is so much to intake and enjoy. They help people from all walks of life. They deserve good praise and reward. Wish them the best !!!"
Mollie
"Hi guys my name is Asli I am from Turkey and every night when I go to sleep I am listening to your podcast. Not just for learning English, it also makes my worldview wiser so keep going on and thank you for your podcast."
Asli, Turkey
"Hi guys I am so happy, I am so glad that finally I get a really nice podcast of English because I spent last year in an experience in an exchange program and I came back and I can't hear/listen to good conversation. I study on Saturdays in a school. I keep in touch with my friends in exchange programs but we just have short conversation, it's not the same. When I hear your podcast i feel so close, it's so nice, I can really keep in touch and study and improve my intonation, my accent. Thanks a lot for your good job, congratulations, you are amazing."
Fernanda, Brazil
"Everyday I am listening your "All Ears English Podcast" on my commuting train. It's very practical English and helpful to understand those real spoken English. Adding those things, the hosts seem very friendly each other and it may make us listeners happy."
Yuji, Japan
"Hey Lindsay my name is Sarah. I'm from Iran, Tehran. I've been listening to your podcast for a while. I play your podcast every single morning and I enjoy it so much because you are such an inspiration to me. You kind of changed my life. You are expanding my English knowledge abilities in a way that I couldn't imagine. I just want to thank you and tell you that you guys are perfect and you are amazing. Thank you for your work and thank you for giving us such amazing podcasts."
Sarah Aziziyan