Have you gone through the job search process recently?
Do you ever think through when is the right time or how to send out resumes?
This is something that we have all likely encountered, and it can be a bit confusing at times.
If you want to stand out and ensure that you have a good chance at getting the job, then you want to think through a few things.
Today we're going to talk about when to send out your resume, and the type of thought you should put into this.
Get Your Transcripts Today!
Make sure you understand every word you hear on All Ears English.
Bring your English to the advanced level with new vocabulary and natural expressions.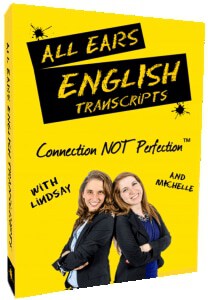 Subscribe and get the transcripts delivered by email.
Learn to speak naturally with the American accent.
Click here to subscribe and save 50%
Thinking Through This Important Step
Have you been through the job search process recently?
Can you think back to how this worked for you if it was awhile back?
There is so much to think about, and you want to be sure that you are thinking through every step of the process.
The way in which you approach all of this may help you to get the job or at least help you to stand out from the competition.
One thing to consider is have you ever put any thought into the timing when you were sending out resumes to apply for jobs?
This might not seem like an important detail, but it really can be.
You may think that sending it first thing in the morning is best, or you may not have even considered the timing at all.
Considering that this can be an overwhelming process to begin with, you may have never given much thought to the timing aspect of things at all.
If you are like most people, the timing of sending out your resumes was probably not a focus–but we're going to really inspect this and think it through today.
So the question that we will consider here is when do you think is the best time to apply for a job?
Let's take a look at this, think through why this matters, and then find a workable solution that will benefit you in the long run.
Digging Deep Into The Specifics
When you think about a job search or sending in your application, timing may not have ever crossed your mind.
Though there is a lot to think about, timing may work to your advantage if you are mindful of it.
You want to put your best foot forward and make that great first impression, and so thinking through every aspect of this process will pay off.
Therefore the timing of when you send in your application can be pivotal.
There's a great article that you will want to check out that addresses this aspect of the job search process.
"This Is The Best Time Of Day To Submit A Job Application: Time your job application so that it's at the top of a hiring manager's inbox." By Monica Torres
https://www.huffpost.com/entry/best-time-of-day-submit-job-application_l_60ae67d6e4b0d45b7531668c
This article talks about all of the different angles of sending in your resume, and why timing matters.
It at least makes you aware of what the right timing is, and more importantly why it matters.
The simple answer is that you should send in your resume either in the morning or at night, as that's when it will stand out.
This is all based upon analysis done by Talentworks in 2017, but it's current and being discussed now on Huffpo.
In the article, they followed about 1610 applications and these were done before 10am.
That's based on the time zone of the employer and not the employee as that's important to note.
Taking it one step further, if you were to send in your application between 6-10am you have a 13% greater chance of getting asked for a job interview!
If however you decide to send it in later in the day, 7:30pm is known as the worst possible time.
If you want to send it in a little later that may not be bad, but don't wait too long.
If you send it in later on, this can be good so that it's in someone's messages when they see them in the morning–just be aware of that dangerous time.
If the job listing is old, you may not grab much attention even if you time it just right.
It is therefore a better idea to apply to newer jobs, as they are fresh and current and you have a good chance at standing out.
You can still send in application after the fact, but in the article it mentions that referrals become super important.
So be mindful of the timing and know that this will count towards your ability to stand out and get the interview.
Though this is older data, it's a fundamental lesson that you can learn so much from and benefit from in your job search tactics.
Thinking Of This In The Future
So things have changed quite a bit, particularly throughout Covid.
Do you think that the change in office life will impact any of this?
This article is from 2017, so do you think that this will change moving forward?
There are some aspects of this that will likely stand the test of time.
Being mindful about when and how you send out your resume won't likely change, and that's important to note.
Also, what do you think is the future of applying for jobs?
We thought about this at AEE as business owners and how we work through this process on the other end.
In our situation, we spoke with Aubrey last week about how we found her resume.
It may not necessarily be all about the timing, but you do want to consider it as you work through all of the details.
Do you think employers pay attention to ALL the applications that come in?
Alternatively do you think they pick a few from what they see in the morning?
This is a lot to think about, but it's best to consider the timing along with everything else to ensure that your resume stands out and helps to move you along in the process.
Tips To Help You Here
So now you have a point of reference and some thoughts behind the timing of things.
We want to offer you some tips which can help you to be mindful and effective in this area.
Here are some tips that you can use to your advantage to make the most out of this process.
Be prepared: Take the time to prep your resume for different kinds of jobs. Be specific with your details and approach, as no two jobs or applications should be the same. The reality is that not every job will require the same kind of resume. Think through the details and this will help to customize your resume to the job that you are interested in.
Know your time zones: Check where each job is so you know what time to send in the application. Be mindful of time zones, particularly if you are in a different one. This can be particularly challenging if it's a remote job which is common right now, but do your research to know where the home office is.
Keep a calendar: This can be a helpful way to track things on your own. This also helps you to send things at strategic times, even if it's hour by hour. You could also set up an automatic send for email based on timing as well.
Don't get frustrated! Job hunting is a difficult and tedious process. Encourage yourself and be easy on yourself. Be sure to take breaks and be patient as this can be a lot at times! The right thing will come along and staying calm helps.
Takeaway
There are strategies when it comes to job hunting, and there's a lot to think about.
Though you may have never considered it before, timing is key.
Be mindful of when you send out resumes, and factor in timing as you get your applications into the right hands.
Try out this strategy and let us know if it works!
If you have any questions, please leave them below in the comments section.
We'll get back to you as soon as we can.