Have you heard people use the phrase "so-called" in English?
This is one of those phrases that adds a certain element if you pull it off just right.
In English you can use certain adjectives to insert your opinion about something.
This is something that advanced English speakers and native speakers do all of the time.
It's subtle.
It's artful.
It will bring your English to the next level.
You may be watching the news and hear a reporter use the phrase "so-called" to talk about something political.
You may be able to easily pick up on the fact that this is a sarcastic phrase and usage, and that's what we're focusing on today.
This is a really useful and rather snarky expression that you may hear often, and you will understand how to use it in the right way to add a fun twist to your conversation.
Get Your Transcripts Today!
Make sure you understand every word you hear on All Ears English.
Bring your English to the advanced level with new vocabulary and natural expressions.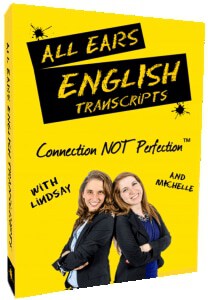 Subscribe and get the transcripts delivered by email.
Learn to speak naturally with the American accent.
Click here to subscribe and save 50%
We have a listener question about this that you'll want to take a look at.
Hello Lindsay,

How are you? I have been listening to your podcast, and I really like them. I learn a lot from each episode, and now I have a question for you.

I want to know more about the phrase "so-called", and how to use it correctly. I think I understand the words, but I don't understand this phrase completely.

Thanks in advance for your help recording a new podcast on this subject!

Husan Bobojonov
Looking At A Common Phrase
So yes, you are likely to hear this phrase used often, so you want to know what it means and how to use it.
When you hear "so-called" it's a combination of two common words, but it has a bit of a different meaning than you might expect.
From the dictionary you will find that the actual meaning is "used to show that something or someone is commonly designated by the name or term specified."
It also has another meaning which is "used to express one's view that a name or term is inappropriate."
You may also find a definition regarding using it before a new term, which would make sense on the news.
You may hear it used in a number of different ways, as it is quite common as part of a conversation.
You may tend to think of it most frequently as a sarcastic term as that is what it is often intended to be.
It can certainly be genuine, particularly if you hear it on the news or something like that.
So you see the various uses for this phrase, and now you want to learn how to use it properly.
This can be a fun addition to your conversations, so it's a great phrase to learn.
Looking At Some Examples
As with anything, using a phrase like this is something that you want to master.
So let's take a look at some examples so that you can see firsthand how to use this, and what is common to hear in conversation.
-"Smith and his team of so-called "experts" got it all wrong." What does so-called mean here? In this instance you can detect the sarcasm. It sounds as if the person speaking doesn't have any confidence in the experts, and is calling this out with some sarcasm. It has a negative tone here.
-"These so-called "droplets" are what spreads the virus." What does so-called mean here? In this case you can almost hear this being used on the news as a feature story. This may be a health expert trying to explain something. They may be breaking something down into understandable terms, and so this phrase works perfectly in this instance.
Why use this?
It signifies something important before a word, and so it has a distinct purpose.
Why is this important?
It's an easy way to either give new information or show your opinion on something.
We are going to focus on the sarcastic, snarky way today more.
This makes for a fun addition to your conversation, but you do want to be mindful of the way in which you use it.
Other Ways To Use This Phrase
You can tell by the various uses for this phrase that it's quite common, and it's bound to show up frequently.
That means that you want to be sure to understand the different ways that you can use this sort of phrase.
So let's take a look at a few more examples of this phrase and how you can work it into various aspects of conversation.
-"This so-called "great technology" really hasnt been working well at all."
-"That so-called "sale" didn't save me any money."
-"His so-called "gift" still hasn't arrived one year later."
All of these examples are sarcastic in nature.
The purpose of this phrase in each of these examples is to be sarcastic, or sort of make fun of the situation in a way.
Without this phrase, the statements would sound too genuine.
So by adding it in, you see that it takes on a very sarcastic tone—and it's not necessarily a good or positive addition.
It shows you don't believe this word, or that things went the opposite way of how you anticipated or wished for.
Let's also talk about quotation marks in each of these examples too—for these play a rather important role.
We haven't talked about quotation marks used in this way, so this presents a good opportunity to do so.
We can get into this more another day, but basically, you can put quotes in if you are being sarcastic.
It's a "great day" –you would use this when you aren't having a good day at all.
If you see quotes used in this way, particularly when partnered with the phrase "so-called" then there is usually sarcasm attached to it in some way.
Sometimes we can be sarcastic and show our opinions with just our voice.
We can do that with these as well, as we don't have to always use so-called at the same time.
Let's try the examples without it, and you can see how it works here.
-"This "great technology" really hasn't been working well at all."
-"That "sale" didn't save me any money."
-"His "gift" still hasn't arrived one year later."
So does so-called change anything?
Though you can still convey the same sort of thing, adding in "so-called" makes it stronger or snarkier.
Just be sure that you are aware of when the right time to use this sort of sarcasm is.
Be aware of your tone of voice, who you are using this with, and the circumstances that you are using this in—and if all appropriate then it makes for the perfect addition.
Roleplay To Help
You want to see a phrase like this in action, so you can begin to understand when it works well.
This roleplay is simple, as it's just Lindsay and Michelle talking about somebody who isn't acting right or getting good grades.
Lindsay: "I can't believe he did that."
Michelle: "I know. And his so-called perfect grades don't even matter if he acts that way."
In this instance, it is definitely not a flattering usage for the phrase.
You can start to see how it is intended to be used when you look at the context, as well as the intonation when it is used.
This is a phrase that you really have to pay attention to in terms of the way it is used, the tone used when using it, and the circumstances.
You can turn this into a positive and helpful phrase, or you can use it sarcastically and potentially have a negative interpretation of it.
Just be sure that you know which way you intend it to be used, and then it will work out much better in the end.
Takeaway
This is such a common phrase with various uses, and so we could do a follow up on this.
There is a lot to talk about with this phrase such as if somebody uses quotation marks when delivering it, or if other words are associated.
We went over the basics today, so you at least have a basic understanding of it.
Try it out and let us know how it works for you.
Just pay attention to the way in which you intend to use it, the way that people take it, and the circumstances that you use it in.
Using the phrase "so-called" can be a nice addition to conversation, and so it's a great one to try out for a fun twist.
If you have any questions, please leave them below in the comments section.
We'll get back to you as soon as we can.