Have you heard people say that somebody is being a "Debbie Downer?"
Have you heard phrases such as these which seem a bit confusing in English?
There are multiple phrases such as these which you may hear in conversation, and they can be a bit confusing at first.
We're going to look at such phrases, and what they mean in conversation.
These are fun, natural, and the types of phrases that natives use–so these will help you to take your English speaking up a notch.
Get Your Transcripts Today!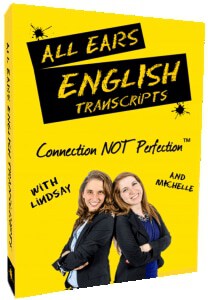 Make sure you understand every word you hear on All Ears English.
Bring your English to the advanced level with new vocabulary and natural expressions.
Subscribe and get the transcripts delivered by email.
Learn to speak naturally with the American accent.
Click here to subscribe and save 50%
Some Background On This
There are phrases such as this that you may hear and wonder about in English.
Today we are going to go over some expressions/idioms/vocab with names.
These may sound confusing at first because they use an actual name within them.
These are so interesting and great for connection, and they make for a great addition to conversation.
We have talked about some of these before, because this is such a common type of expression and phrase in English.
You can check out an episode that we did in the past which may help: Don't Be A Plain Jane Or A Joe Schmoe–How To Get American Cultural Archetype References
Some of these are more casual, and some are actual vocabulary words that are used in any kind of setting.
That's just how integrated these words are, because they are a part of our conversations each and everyday.
You will get to the point where you recognize them and can point them out in conversation.
You will also find that they add some fun and so you will love to practice using them as they feel natural as well.
Common Expressions With Names In Them
You may hear some of these and instantly recognize them because you've heard them before.
Some of these may be new to you, but you will quickly see how you may use them in conversation.
You will love to see these and understand which may be the most common for you to use in the right situation.
Bitter Bob/Bitter Betty: You may also hear Debbie Downer here though we have done that one before. This one has a bit of an attitude to it and so it's a bit different. You're using the word bitter and so it gives an indication that this person is acting a bit spunky. They may have a bad attitude about everything or come across as negative, but in a feisty way. You might say "I'm sorry to be a Bitter Bob. I'm just hungry."
Adam's Apple: This is an actual regular word! This is the part on the throat that sticks out. You will often see this in men and it may very clearly protrude or stick out from the body. You might hear "He has a large Adam's apple."
Smart Alec: This is an insult, but it's usually used in a more playful way. You might use this with a friend or even a child in your life. It's like somebody is being a know it all or they are being sarcastic in their approach. You might say something like "He's pretty obnoxious. He's a Smart Alec, but he doesn't know everything!"
John Hancock: This is another regular and very commonly used word. Simply put this means signature, and it goes back to the Declaration of Independence. You can see John Hancock's signature as one of the first, and so it's only fitting that this is a commonly used phrase to talk about getting somebody's signature. You could say 'I just need your John Hancock on this line and you'll be good to go!"
There are plenty of others out there, but this is a good starting point.
These are some of the most common phrases or idioms that feature names in them.
You will hear them used often, and you can start to get a feel for how this might work in conversation.
These Are A Part of Everyday Language
Why are these so interesting and useful?
You might wonder why this is such a big part of conversation or why they matter that much.
They have made their way into real language, and that's a big thing.
What started out as a name and then turned into slang has become a regular part of everyday conversation.
These terms are all very common and they work well for sounding more natural when you speak.
If you hear somebody using these you might feel impressed.
It shows a certain depth of English vocabulary that indicates you're speaking on a different level.
These phrases are fun and they show that you have a personality in the way that you talk.
They can really help to add something to your conversations, and they are a great addition.
Try using one of them and see how natural it feels, and it is sure to go over well with the natives.
Takeaway
There are so many more of these phrases, so we'll have to do a follow up.
Try these out today and see how they help to escalate your English speaking to another level.
Using these in conversation will impress people and help you to feel more confident in your speaking too!
Names are so useful in our every day language, and these phrases using names are another level.
Do you do this in your first language?
It might be interesting to compare if this is just something done in English, or if this is common in other languages and cultures too.
If you have any questions, please leave them below in the comments section.
We'll get back to you as soon as we can.