Do you like Trevor Noah or comedians like him?
He's a popular one, and you might wonder why.
Much of his comedy is based upon sarcasm and humor where he's picking on himself.
Today we're going to look at this sort of sarcastic humor and how this and some self deprecation can go a long way in making connections.
Get Your Transcripts Today!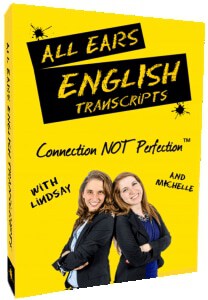 Make sure you understand every word you hear on All Ears English.
Bring your English to the advanced level with new vocabulary and natural expressions.
Subscribe and get the transcripts delivered by email.
Learn to speak naturally with the American accent.
Click here to subscribe and save 50%
Funny enough, we have a listener who wrote in with a question about Trevor Noah.
She previously sent us another question about the word "brace" but today we're featuring her question about Trevor Noah.
Hi Girls,

I have been watching Trevor Noah and on one of his shows he talked about "sweatpants of glory." I was confused by this and didn't really understand what it meant.

How would you use glory? Can we say something like stay-at-home glory? I just didn't really understand how he used it or what it meant.

Thanks in advance for your help!

Sherry
Understanding This Word and Its Usage
This is a great question because it focuses on something common that may be misunderstood at times.
If you look at the word glory,-it has several meanings but the most common is amazing.
It could be used to say that something or someone is famous, or even used in a religious sense.
It is a very diverse word used in many ways, but today we will talk about this particular usage.
Trevor Noah said "sweatpants of glory" in the example above.
He wasn't serious here, and was using sarcasm to make a joke.
Since glory is a word that generally means amazing, beautiful, or wonderful, he is being sarcastic when using this to talk about sweatpants.
The reality is that sweatpants are generally thought of as being for inside the home, not as nice as jeans or pants.
So many of us have been wearing sweatpants and comfy clothes on Zoom calls because we're working from home.
The listener asked if we can say stay at home glory?
It really depends on the context, like you could say something along the lines of "I'm staying at home in all my glory.
The thing to remember in this instance is that we are talking about this as a joking sarcastic thing.
A Sarcastic Type of Humor
We took the example of the word glory and we're using that is a sarcastic way.
This is a different type of humor and there's some self deprecation here where you are putting yourself down too.
This is all about sarcasm and if used well and in the right way, it can be a great way to deliver a bit of humor.
Here are some examples that can help you to see how this works and
"Here is my coffee of glory." In this instance it may be that you have had a lot of coffee. It may mean that it isn't good but you are joking about it. Like you are nonstop drinking coffee, good or bad.
"Here is my stain of glory." This is a perfect example of self deprecation where you are putting yourself down. If you have a stain on your shirt, couch, or whatever, you want to joke about it. In this case it's almost like you are putting yourself down before anybody else can.
"I'm listening to her 30 minute speech of glory." Here you are kind of teasing someone in a fun and playful way. It's a great way to poke a little fun without offending anyone. It works well for some sarcasm!
What does this all do?
It connects you through self deprecation and some sarcastic humor.
It takes away formalities, and it can make others laugh!
Other Similar Phrases You Can Use
Though this is a great phrase, there are others that you can use instead.
If you want to mix it up a bit, then these phrases can be a perfect way to do so.
In all my glory: This can also mean amazing or like you are looking great. You might even hear it used to talk about somebody being naked. You could say "I'm staying at home in all my glory." This would be a sarcastic way to maybe say that things are boring. You could also say something like "I've been waiting on the phone for 30 mins. I'm still here waiting in all my glory."
Using a word in a sarcastic way: You could really talk up something rather trivial in a big way. You could use words such as amazing or gorgeous for something that really isn't that big of a deal. You could say something like "These sweatpants are amazing." You could even talk up something that is clearly sarcastic. Such as if you were in your pajamas hanging out around your house, you could say "You should see me, I look great today!"
Low point: This comes across in a more negative way, but you can use it for some added sarcasm. You are using it for self deprecation and therefore it works well in this way. You could say "Oh man, today I've reached my low point. My clothes are all mismatched."
Rock bottom: This is another one with a negative meaning normally, but you can use it in a sarcastic way. It works well to demonstrate an extreme but in a fun way. You might say something like "I'm at rock bottom right now. My house is a mess!"
These are all used in a sarcastic way, at least that's the focus of them today.
Though they can be used being just sarcasm, that's the intent of them today.
Self deprecation can be a fun part of humor, but just be sure that you use the right phrase at the right time.
Takeaway
Self deprecation can help you connect in a fun way.
We gave you some ways to do it and discussed sarcasm in general so you have a full understanding.
Be sure to use sarcasm appropriately, which basically means don't use it to put yourself down when you need to put your best foot forward.
If you need to be focused on being your best self or putting your best version of yourself out there, then sarcasm may not be the best idea.
Is sarcasm used frequently in your culture?
Consider how it is used here and then figure out the best time and circumstance to use it in your life.
If you have any questions, please leave them below in the comments section.
We'll get back to you as soon as we can.