Have you ever heard somebody talk about getting a second wind?
You may have heard this used in English and wondered what exactly this means.
Have you ever been working on something and felt like you needed to refocus your efforts?
Did you ever get a sudden burst of energy when you needed it the most?
This is that second wind or energy that you are sorely lacking or in need of–and that's precisely what we're looking at and helping you to understand today.
Get Your Transcripts Today!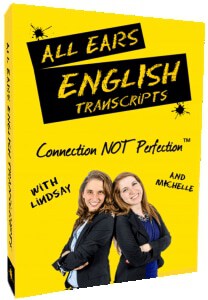 Make sure you understand every word you hear on All Ears English.
Bring your English to the advanced level with new vocabulary and natural expressions.
Subscribe and get the transcripts delivered by email.
Learn to speak naturally with the American accent.
Click here to subscribe and save 50%
Getting That Second Wind In Your Day
How does your energy level change throughout the day?
You may be exhausted in the morning or get more energy as the day goes on.
You may be more of a night owl, and get that second wind at 11pm.
We're all different, but that second wind that you may get at some point in your day is what we are talking about today.
This phrase tends to be used a lot, as you are probably like so many others in that you get a "second wind" at some point in the course of your day.
Jessica actually did an IELTS video about a sports idiom and used this phrase.
We are going to talk about it today in other ways, so definitely check that video out for other sports idioms and some helpful background.
Video: 7+ IELTS Vocabulary- Sporty Idioms and Slang
What Does This Common Phrase Mean?
So what does it mean to get a second wind?
Simply put, it means to get energy again!
It's almost like the first wind was your first energy and your second is once you have energy after being in a lull or a dip.
It also doesn't have to be a short term thing, like after exercise.
You can get a second wind about something that you have stopped doing which allows you to get back into it.
Like maybe you were bored of a project, but something or some experience got you back into it and gave you a second wind.
Let's do some examples so that you can see how this works firsthand.
"Thank you for that coffee. I was dozing off and that gave me a second wind." This can be a more literal meaning like this where you were starting to feel tired and now you are refreshed or awake again.
"I hadn't read a book in a year. The same one was sitting by my bedside. I got a second wind when my friend talked about how good it was. I read the rest in one night and it was amazing!" There was an actual experience and person that gave you a second wind and got you back into things.
"That massage really gave me a second wind. I feel amazing!" This is like a sort of rejuvenation where you are almost brought back to life.
This is a really useful idiom to express your energy level.
People like to share this, as it can help you connect.
How Do You Get That Second Wind?
What do you do to stay energized?
Why do people need a second wind?
Is this a bad sign or is it just very common?
If we don't feel energized enough about something to begin with, does it mean we are doing the wrong thing?
This is usually about deeper things, and not just about being physically tired.
We all have points in time where we need that extra energy or boost, and that's natural.
It may be a situation or a person that gives us that, or we just might have to change our mindset.
It's okay to admit this because we all go through it, and once we get that second wind it can help us to really focus and move forward in the best way possible.
Do you feel as a language learner that you need a second wind?
It may be that you hit a plateau in your learning, and therefore need that second wind to keep going.
You can get that second wind by doing a few important things.
Take a break: Sometimes you just need to step away from things in order to get that second wind. If you look at something for too long it can become overwhelming or ineffective. Therefore if you take a break and really help to reset things, you can get to where you want to be and be far more efficient and effective.
Find something that you enjoy to focus on: A positive brain break can help you to reset in the best way possible. Find that something that will lift you up and help you to be your best. It can help you to refocus your efforts and get to where you need to be.
Talk with a friend and focus on connection and not perfection: This applies to language learning, but to so many other areas of your life. If you can take a time out to talk to a friend and try to connect it can help a lot. Remember it's never about perfection, and if you can keep that in mind it will always serve you well.
Move forward in a positive way: Your mindset is so important to everything you do. Therefore once you get that second wind, allow that positive mindset to propel you forward effectively.
This is how to get that second wind that you likely need so much.
Looking At Other Ways To Express This
Though "second wind" is a great expression, there are other ones to use.
These can be helpful so that you have options to use when the situation warrants it.
Refreshed: You can almost feel this one as it's a more visual representation and sort of phrase. You could say "I was ready to go inside because of the heat, but felt totally refreshed after that cold glass of lemonade."
Bounce back: This is a fun one because you can almost picture the body bouncing back. It's like a complete reversal of the way that things were. You could say "I kind of stopped working on that project, but I bounced back once my friend and I had a brainstorming session. It got me excited and got my juices flowing."
Burst of energy: You know that feeling when you get that sudden burst of energy and it can feel amazing. You could talk about this by saying "I always get a burst of energy from a good cup of coffee at about 2pm."
A new lease on life: This one is definitely a bit more intense, and it's not intended for something little. You could say "I was pretty down after the breakup, but my friends gave me a new lease on life when they got me into some new hobbies as a group."
Which of these are you most likely to use?
Try them out and see which ones feel natural to you and then you can use them in the right situations.
Takeaway
These are all useful phrases that people use to share that they feel a new energy.
It is good to share this emotion, as it can be motivating and make others feel happy and excited.
Remember that sometimes we may feel something is in a dip or is dull, but we may just need a second wind to get out of it!
This is a great expression to use in conversation, and it's also a great thing to feel in your daily life.
If you have any questions, please leave them below in the comments section.
We'll get back with you as soon as we can.