Have you ever heard people talk about euphemisms in English?
Perhaps you think you might have heard one, but you feel a little unsure.
This is a unique aspect of English where you are saying something but want to do so without hurting any feelings.
We're going to look at euphemisms today, how to use them, and what some common ones are to use in conversation.
Get Your Transcripts Today!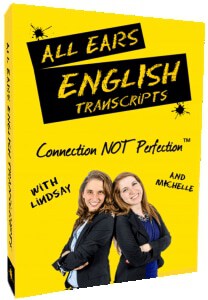 Make sure you understand every word you hear on All Ears English.
Bring your English to the advanced level with new vocabulary and natural expressions.
Subscribe and get the transcripts delivered by email.
Learn to speak naturally with the American accent.
Click here to subscribe and save 50%
Understanding Euphemisms As A Unique Part of English
Lately we have been talking about areas of English that are a little bit unique.
An example of this is when we talked about onomatopoeias- https://www.allearsenglish.com/aee-1340-beep-beep-ring-ring-how-using-onomatopoeias-can-make-you-more-interesting/
Today we are going to speak about "euphemisms" which you may not recognize by name specifically.
You've probably heard them in conversation, and once you understand them you will be likely to use them.
What is a euphemism?
A euphemism is a way to put something in a less direct way.
It's like a little bit of a softer substitution, or a nicer way to put something.
Euphemisms are very common in the English language and we use them even though everyone usually knows what is really being said.
An example is that you may not want to say that a person is lazy, so instead you may say that they are comfortable.
This is a nicer way to say something without any hurt feelings or the possibility of coming off the wrong way.
You might have heard people refer to others as "vertically challenged" instead of short.
So you take any negative emotion out of it, and instead try to say it in a much nicer and less abrasive way.
So people can make their own euphemisms or they can be widely heard in conversations.
This is an aspect of English that puts people's feelings at the fore front, and that tends to be quite important within the culture of the US.
Common Euphemisms To Know
This is an interesting area within learning English, and there are more than you might imagine.
Today we are going to share some common ones so that you know them and can begin to use them.
Put to sleep: This means to euthanize. This is what we say when we have to say goodbye to a pet. It's not a happy topic, but it's common. You could say "We had to put my dog to sleep because the vet said she was in pain."
Passed away: This means that somebody died. It's a nicer way to say it and it is gentler, so it's helpful for the person going through the loss. You might hear "My great grandmother passed away last year."
Between jobs: This means unemployed, but it's a nicer way of saying it. Rather than saying that you were laid off or fired, you could say this for a nicer twist on it. You could simply say "I'm between jobs right now."
Birthday suit: This is a fun term for being naked. It's definitely a better term than saying naked, and it's a universal understanding. You might hear "I'm changing right now, so don't open the door. I'm in my birthday suit!"
The birds and the bees: This is talking about sex and it's often what you discuss with your child as they get older and you want to educate them. You could say "I need to have a talk with my kids about the birds and the bees."
These are all very common and so you want to know how to use them in conversation.
Knowing When To Use These
So these are obviously quite common and can be rather unique once you understand them.
Why do you think we use euphemisms?
What does this say about our culture/language?
Do you think other languages have a lot of euphemisms?
The great thing about euphemisms is that they allow us to say something but not as directly as we want to.
So you can say something in a more indirect way, but still get your point across.
This is a very common thing within the US and our language, and it may have to do with trying to keep people's feelings in mind.
This is one way to be less direct, so a lot of people rely on it.
There is definitely a time and place to use these, particularly when you are trying to be sensitive to somebody's feelings.
However, sometimes we need to be more direct.
This is not a time when you want to use euphemisms since they help you to convey something in an indirect and gentler way.
If you can't get a straight answer about something because of euphemisms, you may have to talk with that person or ask them to be more direct.
So consider the circumstances, what you are trying to convey, and who you are talking to–all of this will help you to determine if a euphemism is appropriate or not.
Takeaway
Euphemisms are extremely popular, and you will see they are used quite frequently.
There are many of them that are well known and so commonplace that people don't think of them as euphemisms.
They work really well when you want to communicate something in a gentler and more indirect way.
Are they good to use?
They can be in the right situation, so try them out and see how they can work for you.
If you have any questions, please leave them below in the comments section.
We'll get back to you as soon as we can.