Do you have certain stores that you like to grocery shop at?
Are there a lot of different options to choose from when it comes to getting groceries?
Today we're talking about grocery stores, mostly because this comes up in conversation a lot.
You will get a rundown of the various grocery store options out there, and start to understand why people shop where they do in this day and age.
Get Your Transcripts Today!
Make sure you understand every word you hear on All Ears English.
Bring your English to the advanced level with new vocabulary and natural expressions.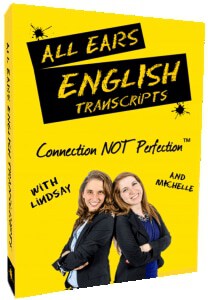 Subscribe and get the transcripts delivered by email.
Learn to speak naturally with the American accent.
Click here to subscribe and save 50%
We have a question about grocery shopping that may be helpful to you in this area.
Hello Lindsay and Michelle,

I've been listening to your podcast for three months and my English is improving all the time. I was reading about the different supermarkets in the UK, and I read this specific thing about Sainsburys. It said "There's no doubt that for a bigger range of products at a lower price, Sainsbury's is best. But for quality and style, plus a commitment to ethical trading and the environment, M&S wins hands down."

I was confused about the phrase "hands down." I also was hoping that you could help me to understand about the different popular supermarkets within the US.

This would help me a lot!

Thank you for your wonderful podcast that I just love!

Mustafa from Yemen
Understanding The Background
We did an episode on the phrase "hands down" that may be extremely useful here.
You can find it at: AEE 1138: One Handy Phrase To Show Confidence In Your Suggestions https://www.allearsenglish.com/aee-1138-one-handy-phrase-to-show-confidence-in-your-suggestions/
We discussed this phrase, but it's going to be beneficial to revisit this.
When you say "hands down" it means without a doubt, definitely, confidently, or like there isn't much of a contest.
The episode will help you to understand even more, but this helps you to see what the phrase is and how it's used.
Now let's talk about the grocery store part, because that's a major topic of conversation.
Talking About Grocery Shopping
Today we're going to talk about grocery stores and shopping, as this tends to be a big topic.
Lindsay studied in London, and she remembers the stores there such as Sainsbury's, M&S, Tesco, and Waitrose.
She has probably talked about how much she loves going to grocery stores when she travels.
As you may know, it can be fun seeing different products, and feeling like you are living in this place.
We are going to go through some of the more popular grocery stores and chains, just so that you understand what's out there.
You will find through conversations that people feel very passionately about where they shop.
You may also find that the pandemic has changed the way that people shop.
You may be looking more for convenience, such as curbside pickup or delivery—so as to keep you out of the store directly.
You may have stores that you love where you feel as if you can get everything you want in one place.
You may find that people have loyalty to certain stores, or feel strongly about some of the options out there.
Believe it or not, grocery shopping is a big part of the culture and lifestyle.
Therefore knowing how to talk about it can help you to be part of the conversation, and also ensure that you make the right shopping decisions that work best for you.
Looking At The Different Stores
Let's talk about the different stores so that you have a breakdown.
Some of these may be giant chains, and some may be more regional.
It's helpful to have this big overall list, but you should recognize that there are plenty of smaller and more local stores too.
You may recognize some and not others, but at least this can get the conversation started.
It can also help you to figure out which stores best serve your needs, so that you can make shopping easier and more enjoyable.
Trader Joe's: They have a lot of inexpensive but good food options. They have some unique items and have a huge following. It's a fun store to shop at!
Whole Foods: You may hear some people refer to it as "Whole paycheck." It's definitely upper scale and therefore comes with a hefty price tag. You can get a lot of good organic foods, but expect to pay more for it.
Shoprite: This is a grocery chain found mostly on the East coast. It's a popular one in this region of the country.
Wegman's: This is a supermarket chain found in the Northeast part of the country. Most people from this area of the country know it well and shop there often.
Safeway: This is a big national grocery store, with locations all over the US. Even if you don't have one near you, there's a good chance you've heard of this store.
Kroger: This is a big grocery store chain that has many locations throughout the Midwest part of the country. It continues to grow and be a local favorite for grocery shopping.
Costco: This is a wholesale club that you have to buy a membership to. You can get grocery items and so much more in bulk, and therefore pay substantially less.
Publix: This is a big grocery store chain that started in Florida. You will find these in the South and they are big in this area.
Pharmacies: Then you will find pharmacy or "drug store" chains as they are called. Included on this list you will find options such as CVS, Walgreen's, Riteaid, and more regional options such as Duane Reade.
There are so many different grocery store options, and then similar categories such as pharmacies that may even sell groceries too.
Loyalty and Feelings About The Various Store Options
Everyone seems to have their own opinions of their favorite grocery stores, and much of this is based upon loyalty.
You may have grown up going to a certain grocery store, and therefore have some brand loyalty.
You may even have a grocery store where you find that you get the most from, and therefore these are your favorites.
You may have memories of shopping at a certain grocery store for years, and so you stick with it.
Some of us have memories of getting cookies from a local grocery store as a kid—that stays with you!
You may remember before the pandemic getting samples at a store like Costco, and that was a huge reason that people enjoyed shopping there.
Now you see much more of a push towards things like Shipt or Instacart where the shopping is done for you.
There has been an increase in people using such services so that they don't have to go to the store.
The pandemic has also made people realize that having groceries delivered right to your home is a viable and often desirable option.
Not only that, but it can save you time and money—so that's a huge reason why you see such a significant increase in people shopping online for their groceries.
You are starting to see more grocery stores offer options such as curbside pickup too.
Whatever offers convenience and limits people's trips to the store may seem to be a good option, particularly during the pandemic or as the colder months approach.
There's no right or wrong, it basically boils down to your preferences.
Think of the stores around you, what works best for you, offers you the most options or the added value of convenience, and then pick what your best stores are to shop at.
Takeaway
Today we discussed a lot about grocery stores because this is a major part of the culture and it comes up in conversations.
We have talked about some of the major grocery stores, talked through our thoughts and opinions, and also how grocery stores have evolved to include things like delivery today.
This is such an important topic of conversation, and it is sure to shape the way that you do things in your own life.
We have given you some of the major ones, talked about our opinions, our memories, and also how groceries are being delivered today.
Grocery shopping may be changing and evolving each day, but today we have given you ideas and ways to be part of the conversation.
If you have any questions, please leave them below in the comments section.
We'll get back to you as soon as we can.