How do you hold yourself accountable for getting work done?
Have you ever had liability for something at work and felt a bit uneasy about it?
Do you often hear the words accountability and liability in English and feel unsure about their meanings?
This is a situation where the two words are very closely linked, and so even natives have a hard time differentiating.
Today we're going to look at these two words, the differences between them, and how to use them properly in conversation.
Get Your Transcripts Today!
Make sure you understand every word you hear on All Ears English.
Bring your English to the advanced level with new vocabulary and natural expressions.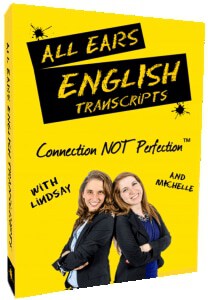 Subscribe and get the transcripts delivered by email.
Learn to speak naturally with the American accent.
Click here to subscribe and save 50%
We have a question from a listener about the differences between the words "accountability" and "liability."
Hey ladies, how are you?

I really love all the podcasts, thanks for your amazing work! My English has improved a lot thanks to all you. I am hoping that you can help me with a question that I have.

I am struggling to understand something—what is the difference between accountability and liability? I hear both used a lot, and I don't understand the difference or which one to use when.

Thanks a lot,

Renata
Understanding The Background
Here This is a great topic and question because it has multiple uses, and you want to be sure you understand how this works.
The good news is that we have done episodes in the past on accountability, and these are worth checking out to get that important background.
AEE 809: How to Talk About Accountability in English https://www.allearsenglish.com/aee-809-talk-accountability-english/ AEE 1250: What Are Michelle's Two Worst Habits? https://www.allearsenglish.com/aee-1250-what-are-michelles-two-worst-habits-english-conversation/
Take the time to listen to those episodes because you will start to understand how this word works in conversation.
What do these two words have in common?
In general, they are both about being responsible.
When you look at the word "accountability", it means to be held accountable.
You might see this used in something like "accountability partners."
A good example might be to say something like "There is no accountability within the team, so a lot of mistakes get made and a lot of tasks don't get completed."
When you look at the word liability, it's the same sort of idea but often relates to legal situations.
You might tend to see or think of liability in conjunction with legal terms.
For example, you might find the word "liability" used in more serious professional legal documents.
Looking At Some Examples
Since these words mean something very similar, it may help you to look at some examples.
Check these out and take note of how they appear in certain sentences, and how they work well in those particular scenarios.
You want to start with liability since it's much more of a professional and therefore intense word.
"We assume no financial liability for any loss of payment."
"The company does not wish to take on all said liabilities."
"You are liable for any damage caused to the car upon return."
There are many other legal ways to use this, but these examples help to give you a good idea.
You can also see and use liability to mean a burden or an obstacle.
A good example of liability in this context could be "He's a great worker, but he is somewhat of a liability due to his inability to keep secrets from competitors."
You could also say something like "Her inability to practice for the presentation was a huge liability for the team."
So overall, you would tend to use accountability more in a conversational manner than liability.
Liability might make you think of contracts, legal talk, and things of the like, though it can be used in other ways as well such in our other example.
Accountability is a bit more diverse and is used casually, such as in accountability partners.
You might hear yourself using accountability far more often than liability, simply for the reason that it's more conversational.
It's all about responsibility with both words, just in different ways.
These are the basic meanings, and the ones that you will likely use the most.
The key is to listen to others speak and take note of when you hear these words used.
How are they used?
Do you hear any patterns?
These are common words so note the context, and that should help you tremendously.
Ways To Listen For Differences
If you feel confused and just aren't sure of when to use each one, then there are a couple of different tactics.
You can and should always listen to the speaker and the context in which they use it.
You have some interesting ways to focus on the way in which each word may be used, such as liability for more legal purposes.
There are a few other ways that can help you to really focus in on and listen for the differences.
Youtube the words: If you are in doubt then take the time to do a bit of research on your own. In what contexts do they come up? This can actually be a really handy source of information and way to check out which meaning or word fits the situation.
Just ask! When you hear a word used, if it is with someone you are comfortable with, ask why they chose one word over another. There is absolutely nothing wrong with asking the person you are talking to why they chose the word that they did. This helps you to understand what is going on, and ensures that you pick the right one moving forward.
Google the words and see how they are used in news contexts: This is a very useful tip! This can help you to figure out which words fit each setting. You can see the context and then it will help you to figure out which one belongs where. Try it and see for yourself how this can work, and you can even apply this to other situations as well.
These tips can help you to make the right decision when you're in doubt.
Try these tactics out when you aren't sure, and you will become a pro at picking the right word for the right situation.
Takeaway
We gave you differences, ideas, and examples to work through.
We also spoke about how to tell the difference between words in general.
Though these words may not come easily at first, you will come to understand them and pick the right one.
You can keep these things in mind and ensure that you know which one to pick in your conversations.
Try these out today, and see how they get easier with a little bit of practice.
If you have any questions, please leave them below in the comments section.
We'll get back to you as soon as we can.