What is the key to starting a successful business?
Do you have a trick for getting a good night of sleep?
Today we're talking about tips or tricks that you find work well, which you want to share with people around you.
These are tips, advice, and tricks that you have based on experience, and they are often well worth sharing.
You just want to be sure that you use the right approach, but you will find that sharing these tips can be a great way of connecting.
Get Your Transcripts Today!
Make sure you understand every word you hear on All Ears English.
Bring your English to the advanced level with new vocabulary and natural expressions.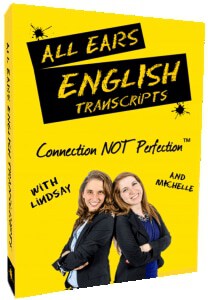 Subscribe and get the transcripts delivered by email.
Learn to speak naturally with the American accent.
Click here to subscribe and save 50%
Sharing Your Best Advice and Tips In English
Sometimes we want to share a special and unique piece of advice with someone.
It could be about work, relationships, or simply just succeeding at something.
This is a great way to connect with someone, but it's a balance and all about the right approach.
You don't want to sound like a know-it-all, but you do want to share what knowledge and experience you have gained in a given area.
It is sometimes very helpful to provide tips and clues for how someone can succeed.
This can also be for simple things, like getting food delivery on time or getting cheap tickets to a show.
There may be something that you are good at, which you wish to share with the world.
There may be some sort of trick or approach you have learned which could be helpful to others.
We are going to teach you ways to signal that you are about to give special information.
It makes you sound very confident, but in the best way possible.
It's like a secret recipe that has been in your family for years.
The ingredients are a secret but it is delicious, and if someone let you in on that exclusive information, you'd be excited.
Vocabulary Around This
Let's take a look at how you may take about this sort of thing.
There are a few different words or phrases that can help you to talk about what special item you have to share with others.
These words and phrases are all a big part of it, and so you want to know what they are and how to use them.
The key: we used this one first when we talked about three keys. This is what the special something is, or what it's all centered around. For example our course, it has the three keys ielts- allearsenglish.com/keys. You might say something like "The key to a healthy lifestyle is making sure you get some me time every day."
The secret: This is like talking about some old family secret or tradition or way of doing something. It's like the one thing that others wish they knew, but they don't yet. You are bringing something to them that is new information and is sure to change the way they do things. You might say "The secret to making the muffins more delicious is to add three tablespoons of butter at the very end after you have already mixed the rest of the ingredients together."
The secret sauce: This is like the ancient family secret. It's that very special recipe or sauce that you have been making for years. It may have been passed down for years within a family. You might see this in a restaurant, like McDonalds having a secret sauce for example. You might hear "Your company needs to focus more on marketing. That's the secret sauce."
The trick: This is that insight or tip that is unique to you. It's some shortcut or little thing that you do which makes things better. If you have that trick you want to share it with others so you can make their lives easier or better somehow. You might say something like "The trick to opening the door is to turn the knob and push at the same time. I know it's a tough one!"
These are all great ways to talk about some sort of special tip or advice that you have to offer.
This will be the type of thing that people want to hear because it can make their life better, and it helps you to talk confidently about it.
Talking About These Secrets
Do you know any "secrets" when it comes to life, learning, business, or anything that you can share?
It may be the secret to making a better chocolate chip cookie, or it may just be the secret to getting a good night's sleep.
There is sure to be something that you do in your life which makes it better or easier in some way.
These are the types of secrets or tricks that you want to share because it may help others in a fun and unique way.
You do want to be careful about the approach that you use, but otherwise this can be a fun way of sharing with others.
When should you avoid telling your secret?
You do want to be sure that you don't come across as a know it all.
You also want to be sure that you are sharing your tips or secrets with people that you know well and trust.
This can be a great way of making connections, but just be sure that you share it with the right people in the right way.
Takeaway
We gave you ways to sound confident when giving advice or sharing a special piece of knowledge you know.
There are times when we all have something special to share, and this can be a lot of fun to do.
Don't hold back if you have something to share, just be sure that you are going about it the right way.
Be confident and try to approach this as a way of helping others by sharing what you know.
It can be a fun way of sharing, and also help you with connections along the way.
If you have any questions, please leave them below in the comments section.
We'll get back to you as soon as we can.