Have you heard people talk about something that was "mini" in English?
Have you ever wondered what exactly this referred to?
This is a word that quite simply means smaller, or refers to the smaller version of something.
Today we're going to look at how it's used, what sort of thing it may reference, and how you can use it as a fun addition to your conversations.
Get Your Transcripts Today!
Make sure you understand every word you hear on All Ears English.
Bring your English to the advanced level with new vocabulary and natural expressions.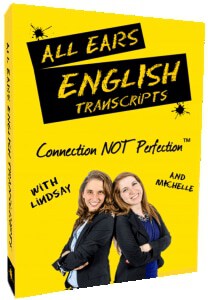 Subscribe and get the transcripts delivered by email.
Learn to speak naturally with the American accent.
Click here to subscribe and save 50%
Mini As A Smaller Version
When you hear the word "mini", what does that mean to you?
Typically this means small, like smaller than a typical size that you may be used to.
This usually represents miniature, minimize, or other words that speak to something being smaller than the usual.
You might even think of Minnie Mouse from Disney, but this is a different type of mini for today's purposes.
Today we are going to share some really common words that you may hear the word mini in front of.
This will usually mean that it's a smaller version of the thing that you are talking about.
So this is an important concept, and something that is discussed regularly in conversation.
You want to know what the smaller version are, and when you might use this to describe something like this.
Typical Ways To Use Mini
There are several words and phrases that you may use mini with in conversation.
These help to show the distinction that you are talking about a smaller version than your typical.
You may be very familiar with some of these, and some may be smaller versions that you have never seen before.
Mini fridge: You might tend to think of this as a smaller fridge that is often used in college. It's perfect for when you have very limited space, but you still need to keep things cold. This is a much smaller version of a typical refrigerator.
Mini golf: You may also hear it called miniature golf, as both are used regularly. This is also called "putt putt" and it's like a much smaller version of a golf game that you would play on a course.
Minivan: This is something that you see with parents of young kids as a vehicle of choice. You may see the typical demographic as a suburban parent who needs to drive around kids across town often. It's a smaller version of a van, but it has earned its own category and distinction within vehicles.
Mini bar: You might think of this as something that you see at a higher end hotel. These can be really expensive as they charge a lot for you to have the drinks and snacks that you want in the convenience of your own room.
Miniskirt: This is a short skirt and it tends to be a hot fashion trend. It may be something that doesn't pass a dress code at a school for kids. It can be very stylish but you may want to be sure that it's not too short for kids in school wearing them.
There are some other words that you may use to designate that something is small, but they don't use mini specifically.
Toy: You would use this in conjunction with the word itself, such as a dog breed. This won't work for everything, but it does work when you say something like "toy poodle." This designates that it's a smaller version of a regular poodle, and it's often very tiny.
Model: You may think of this as being for things people make, like kits that kids use to build something. Think of things like a model airplane, a model boat, or even a model rocket. This isn't always used to mean just miniature, as in this instance it's like a replica.
Baby: This can be used to describe something smaller such as baby teeth. These are because they are the baby version or the teeth that you have when you are a young child. You may also hear this for something smaller like baby carrots.
These are all common ways that you may hear mini or other words used to designate something smaller.
As you can see there are plenty of different things that have a smaller version and which you may reference in conversation.
Takeaway
Today we used "mini" to share vocabulary words and have a discussion.
This is a fun theme, and you can see that there are plenty of instances when you might talk about something that is smaller than your typical.
You now have some helpful vocab for something that is smaller than something else, and this can be fun to use in conversation.
Think of instances when you can use this type of reference and try it in conversation.
This is a fun reference and one that you may ultimately use more than you think.
If you have any questions, please leave them below in the comments section.
We'll get back to you as soon as we can.