Have you ever considered what a shorter workweek might be like?
Do you see other companies doing this and wish that this was a reality for you?
This is a trend that many companies are starting to really look at, and it can be a very real consideration.
Today we talk to an expert who has been following this trend and seeing how companies are making a shorter workweek a reality.
We will talk to him and get some insight as to the direction this trend is headed in.
Get Your Transcripts Today!
Make sure you understand every word you hear on All Ears English.
Bring your English to the advanced level with new vocabulary and natural expressions.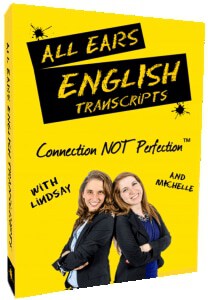 Subscribe and get the transcripts delivered by email.
Learn to speak naturally with the American accent.
Click here to subscribe and save 50%
Looking At This Trend
What will our work lives look like in twenty or even two years?
This is a great question because a big part of this is checking into what a shorter workweek may be like.
Is this something that will catch on and become more mainstream?
We're going to talk to Alex Soojung-Kim Pang today, who is an expert on this trend and what companies are doing to make a shorter workweek a reality.
There's a worldwide trend to go with a shorter workweek, and we're going to talk about what that means as global professionals.
Alex is a very special guest, and he's an author to the book Shorter: How Working Less Will Revolutionise the Way Your Company Gets Things Done.
What is your idea of work and life?
This is something for you to think about, but we're asking Alex this question right now too.
Alex's philosophy is that he strives for an effort to balance passionate ambition with sustainability.
It's all about how to have long interesting creative lives, but being smart so that you don't burn out in a few years.
He also believes that you shouldn't endanger others in the effort to strive for success.
What so many of us are after is an effective and efficient work life balance, because that allows us to find professional and personal happiness.
We see the high level philosophy of a shorter workweek, and then you have to consider what this means.
What is going on with the effort towards a shorter workweek?
Alex has talked to so many professionals at so many different companies, many of which have reduced their work hours.
This is what we're going to get into today, and you can see how it may work and how it compares to other trends.
These Things Are Possible
Alex is seeing plenty of companies out there that are achieving shorter workweeks and making them happen as the new reality.
This is happening in many cases without reducing salaries or productivity, and it's happening in all sorts of industries.
It can be done, and that's something that needs to be understood!
This is global and accessible across a wide range of jobs, and that's really interesting to look at.
What's the difference between the shorter workweek and flexible hours or flexibility in a work schedule?
They are both efforts that have to do with how to work more sustainability but also to have work life balance.
The shorter workweek is about how groups of people are able to work together to achieve the aim for everyone to be more productive and collaborative.
This is opposed to creating a complicated schedule of flexibility for individuals where everyone is sort of working on their own time.
There's the idea of giving all the same salary and working at the same time, all while shaving off that fifth day of the workweek.
It is often very important to have people in the same place working together, thus the collaboration.
For firms where it's a choice, it's about making sure they are able to take advantage of all the different social and cultural benefits of having people at the same place at the same time.
That's really the critical differentiator, and what companies must consider if they are going to head in this direction.
There are two different movements where everyone is in the same place working at the same time, and then there's more global companies with people everywhere.
Can the shorter work week happen in a global environment with remote workers?
It can happen to global companies, as you saw so many of these have to figure out how to have people work remotely.
Two years ago it was much more a choice of flexibility or a shorter work week.
These days that's not really the case, and it can work in both instances.
If they are going to work past a shorter workweek, then they must be thoughtful about which way the company wants to go.
Companies choose which option works best based on what clients want.
They also have to consider the shift and if you can accommodate a three day weekend and still be productive.
Both options are good for companies and employees, though we don't know which one is better under certain circumstances.
Many people come back from a three day weekend and feel well rested.
Having a shorter work day may not necessarily accomplish the same thing, but then again everyone is different.
It Is Happening On A Global Level
The Japanese government is an example of somebody who is trying to go to a shorter workweek.
Is this a global effort and can it be done?
The experience of Japan and Korea who tend to work themselves to death are trying to find this balance and go for a shorter workweek, so that's encouraging.
What Alex sees is that there is a local culture that really matters.
These global companies actually care about their workers, and that's a really important point to consider here.
If you are a company where losing people is a big thing, like key developers for example, then you have to consider how to keep them happy.
A shorter workweek may be really important to try to retain that type of employee.
It may be the appeal of sustainability and it's about the people and protecting key employees and making them want to stay.
It's more about the company and the people than it is the culture or the global presence.
In some environments this is much easier to pull off than in others, but the company must consider the importance of retaining key employees.
It may be dependent on if a shorter workweek is what the employees really want.
Considering This In Years To Come
Then there is the movement towards a three day workweek, and that's something to consider.
In ten years, what does the workweek look like?
There is legislation being introduced to make it a 32 hour work week, but this is something that can happen in the future.
Twenty years from now this bill will be law for a few years, but the trend towards this will be likely catching on.
If companies can make a four day work week sustainable, then those same companies may be able to make a three day workweek happen.
When you get to that, you will see heavier use of things like Artificial Intelligence.
It may be about figuring out how to custom design workdays for individuals that work best for their productivity and work habits.
It may be about using these things in ways that create a workweek that is best for employees, and this may be a three day workweek.
The idea that the best workers are the ones that work the longest may be antiquated and go away over time.
Why are long hours a sign of dedication and performance?
It may instead be more of a focus on efficiency and goals, rather than using the blunt instrument of time.
The future is coming, and perhaps this three day workweek will be a mainstream idea that we all share in and enjoy!
Alex has offered us so much wonderful insight into this today, and he will be the one to follow moving forward in terms of these trends.
You can find Alex at his website at strategy.rest and you can find links to articles and podcasts there that may be very helpful.
If you want to find Alex on social media just search for him at Askpang .
Takeaway
There are so many different thoughts and ideas about a shorter workweek, and you now have some insight into this.
The idea of going for a shorter workweek is definitely a current trend that we are likely to see more of.
You want to consider the type of company you are dealing with, and then you may have a better idea if they will offer this type of option.
This is likely something you will see more of in the future, and this is about productivity and true work life balance.
Alex Bio:
Alex Soojung-Kim Pang is a Silicon Valley-based consultant. Through his company Strategy + Rest, and his trilogy of books— SHORTER: Work Better, Smarter and Less— Here's How (Public Affairs, 2020); REST: Why You Get More Done When You Work Less (Basic Books, 2016), and THE DISTRACTION ADDICTION (Little Brown , 2013)— Alex shows how companies and individuals can better integrate rest, creativity, and focus into digital-age lives and work. Before founding Strategy & Rest, Alex was a senior consultant at Institute for the Future and Strategic Business Insights, and a visiting scholar at Microsoft Research Cambridge, Oxford University, Stanford University, and UC Berkeley. Alex received a Ph.D. in history and sociology of science from the University of Pennsylvania.
Alex lives in Silicon Valley.