Have you ever felt as though California English sounds a bit different than other areas of the US?
Do you hear locals in California pronouncing words differently?
Today we are looking at the unique aspects that make up California English with Grant Barrett from A Way with Words.
This is all about linguistics and looking at the way things are said and talked about in this area of the US, and once you learn this you can start to speak like a native.
Watch the Interview with Lindsay and Grant
Get Your Transcripts Today!
Make sure you understand every word you hear on All Ears English.
Bring your English to the advanced level with new vocabulary and natural expressions.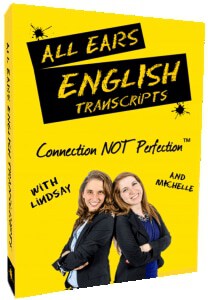 Subscribe and get the transcripts delivered by email.
Learn to speak naturally with the American accent.
Click here to subscribe and save 50%
Diving Into This Area of English
Grant Barrett is our guest today. Grant is a linguist based in California and is the host of the show A Way with Words.
He will tell us four things that are interesting about California English, and how it's changing all the time.
Grant is based in southern California.
In this area, you may be able to surf and ski at the same time so it's quite diverse.
California has its own way of speaking and this can be a bit confusing.
California English hasn't had enough time to develop so it's in its infancy at this point in time.
It was one of the last states to become part of the US, and even now there is a sort of north and south divide here.
We're going to go through the four aspects that make up California English in this episode with Grant.
Four Aspects of California English
There are four unique aspects to note when it comes to California English.
You want to take note of these as they can help you to understand this unique dialect of English.
This is a great way to learn about the area, and to begin to speak like a native in this part of the country.
North vs. South Divide: The way that things are pronounced are quite different in Northern vs. Southern California. This is something worth looking at because it can be significant.
For example if you look at the names of places on a map, you may have different terminology—in the south places tend to be named by Spanish speakers and in the north they are named by English speakers.
Southern California is known as SoCal, and Northern California as NorCal and so you can see the differences even here.
Between north and south in California, you may feel like you are in two different states at times!
You may be able to speak Spanish quite frequently in Southern California, because it's just that common.
2. Vowel Changes: The way that vowels are pronounced has changed over time too. This is something that you really want to listen for because it can be quite interesting.
It's very interesting to notice the way that vowels are pronounced and change, as this has evolved too.
You've probably heard "dude" like "hey dude, how's it going?"
It means guy or man, and yet this has become such a staple within California English.
The evolution of this word here has changed however, as some people have begun to pronounce that "u" sound a bit differently so it sounds more like "dud" in a sentence.
This is more of a Southern California way of pronouncing it.
Vowel changes happen in all sorts of English, and it happens over time.
The "cot" merger is happening–so the word "cot" and "caught" sound very similar here in the way in which they are pronounced.
People may not even realize that they are saying something this way until a linguist points it out.
3. Place Name Traps: Even the way that a place is pronounced can be a distinct and unique aspect of California English. You want to be in tune with this so that you can learn and say things like a native.
If you see a place in California that looks like it has a Spanish pronunciation like "vista" it may actually be pronounced without a Spanish accent.
Even something like Los Angeles may not be pronounced in Spanish though it looks that way in print.
Place names are sort of reverting to the old way that they were pronounced in Spanish, though this is happening slowly over time.
It can be quite interesting to learn Spanish particularly in this area.
Place name traps are really unique to this area, so be aware of that.
If you say San Francisco as San Fran or Frisco, you will immediately be seen as an outsider.
You can call it SF or even the "city" and people will understand what you mean.
4. Words Unique To The Area: There are words that you may hear used in this area that are unique and therefore associated with this geographical location.
An example of this is the word "hella," which is used a lot in California.
It's an adverb that is used for emphasis, and it makes something more or better.
You may say "I'm having a hella good time."
You may also say "I was riding a hella wave."
It may be a bit outdated, but it's still good to use at times.
This could be equivalent to the word "wicked" on the East Coast.
It has become notorious with this area of the US, though it has also become more mainstream.
Words such as this are unique to this area, and therefore very interesting to learn about.
Learning More In This Area
Linguistics is a great area to focus on, and it can vary significantly by area in a given country.
You can see how there are things that are unique to just California, thus making this a unique dialect of American English.
You can learn more through some of the things that Grant has to offer, and this can help you to become accustomed to important lessons in this area.
Grant's podcast is A Way With Words and it's a call-in show to talk about words in English.
It's a fun and lively show, but also very informative and has evolved into a great podcast.
Takeaway
Linguistics can be a very interesting area to study, and this helps to highlight how in depth it can all be.
Learning California English and all the ins and outs can be really fun and informative.
Knowing these areas and tips can help you to speak in a way that will be well understood in California.
This is an aspect of English that many may not think of initially, but it can be really helpful when you want to talk like the natives.
Bio:
Grant Barrett is a dictionary editor and linguist specializing in slang and new words, and co-host of A Way with Words, a national radio program about language.
If you have any questions, please leave them below in the comments section.
We'll get back to you as soon as we can.