Congratulations to Isabel on her amazing IELTS exam scores!
We continue to see students post in our Facebook group the excellent scores they are getting.
We also see students post high level questions in this group.
Our Facebook group is exclusive to 3 Keys students, so if you want expert answers to your IELTS questions, sign up!
Today we answer 3 of these questions that were posted recently.
These students all received answers to their questions, but today we're sharing the answers with you!
What is new in 3 Keys IELTS?
We have launched our computer course!
When you sign up for the 3 Keys IELTS Success System, you can now choose to take either paper delivered or computer delivered.
We have also updated our study modules to reflect recent changes to the IELTS exam.
It is vital that you join, so that you don't miss any of the valuable time-saving resources available to you!
What are reasons you would choose to take the computer exam?
There are many advantages, so we recommend the computer version if you have the option.
If you have bad handwriting, this is the best option for you.
Many of us work on our computers and type much more often than we write by hand.
What's more, the computer version offers many functions!
Examples of these are a word count tool and the ability to mark questions for later review.
You also have more control over your audio for the Listening exam, and other perks!
Student Question #1: Bad handwriting
As an Examiner for 14 years, Jessica saw a lot of bad handwriting!
There is an option for Examiners to mark a box that indicates handwriting is illegible.
Most Examiners are teachers and can decipher fairly sloppy handwriting.
However, if you're at all concerned, you should take the computer delivered exam if you have the option.
This will eliminate some of your potential anxiety on exam day.
If you do plan to take the computer-delivered IELTS exam, we highly recommend you practice typing to save time on test day.
Strategies Created by a Former IELTS Examiner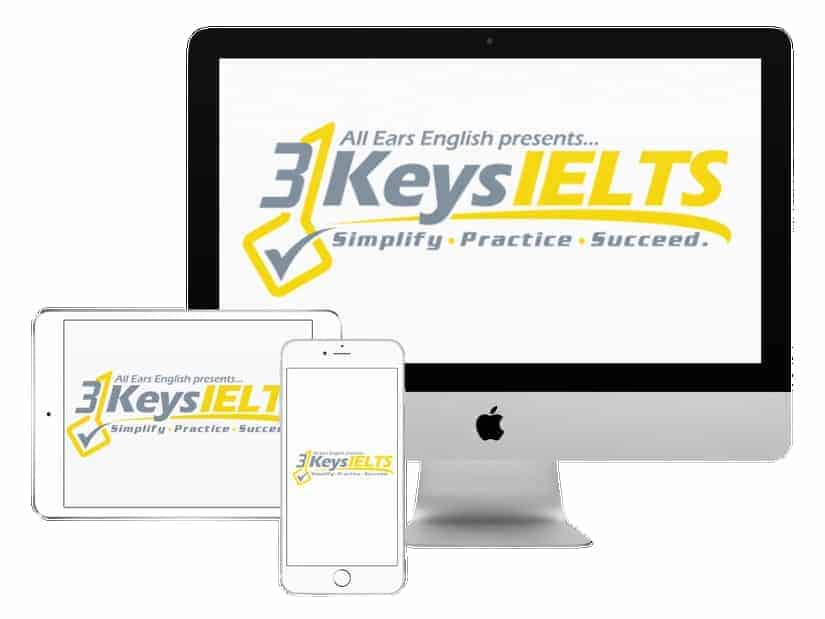 100% Score Increase Guarantee with our Insider Method

Are you ready to move past IELTS and move forward with your life vision?

Find out why our strategies are the most powerful in the IELTS world.

When you use our Insider Method you avoid the BIGGEST MISTAKES that most students make on IELTS.

Click here to get a score increase on IELTS. It's 100% guaranteed.
Student Question #2: Idioms
A 3 Keys IELTS student posted a question wondering if she doesn't use any idioms, could she still get a 7?
We do highly recommend you use idioms on the Speaking exam.
Your best bet is to learn a few that can be used for any topic.
We share many of these on our podcasts and YouTube videos!
It is possible to get a 7, but only if you are using a lot of other high level vocabulary.
You would need some slang in Part 1 and some academic phrases in Part 3.
Student Question #3: Technical vs. Technological
A student asked if it is accurate to say "the technical era."
We would definitely want to say instead "the technological era" or "the digital era."
The word technical is used to describe something very detailed and complex that is not necessarily related to technology.
How can we know the accurate usage of vocabulary?
You need to be reading a lot!
You should be reading newspapers such as The New York Times or the Wall Street Journal.
These publications are full of high level words.
The more you see them used correctly, the easier it will be to know how to incorporate them in your writing.
You can also post vocabulary questions or sentences in our Facebook group.
These questions are answered within 24 hours by our team of IELTS experts, so you know the information is correct.
This group is exclusive to members of our community, so join the 3 Keys IELTS Success System today!
Takeaway
It feels amazing to know that our 3 Keys IELTS Success System helps students get the scores they need.
This study system provides necessary strategies and cuts out anything that is wasting your time.
Our students continually post to our Facebook group that they got the scores they needed.
If you're tired of wasting time and money taking the IELTS exam multiple times, join the 3 Keys Success System!
What questions do you have from today's episode?
Please leave a comment below.