Have you ever heard somebody use the word "grab" in English?
You may know the literal meaning, but do you feel as if there are other uses for this word?
This is one of those words that can be used in a variety of different ways and appears in so many different phrases.
Today we're going to look at what the word grab can mean, how you can use it, and why it can be such a helpful and interesting addition to conversation.
Get Your Transcripts Today!
Make sure you understand every word you hear on All Ears English.
Bring your English to the advanced level with new vocabulary and natural expressions.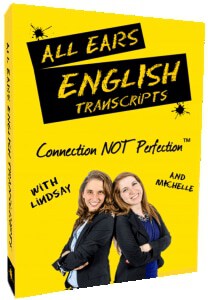 Subscribe and get the transcripts delivered by email.
Learn to speak naturally with the American accent.
Click here to subscribe and save 50%
A Common Word Used In Multiple Ways
Today we're going to look at a word that has multiple uses.
It's very common, and yet the usage may be a bit different than you would expect.
Let's look at a bit of background as we used this in a previous episode that you may remember.
We did an episode about expressions dealing with the gym, and we had an interesting word come up in the role play.
In that episode (1586) we talked about phrases you might hear in the gym, and how to apply them to other situations in English.
One such phrase that came up which can apply in a variety of situations is "heavy lifting", and that's what we'll focus on in this subject area.
Let's revisit how it worked in that episode, as it was featured in a role play.
As a reminder, in this roleplay Lindsay and Michelle are friends trying to get a table at a restaurant
Lindsay: "Okay–that table is opening up."
Michelle: "Okay, I'll do the heavy lifting and grab it."
As you can see here, heavy lifting didn't apply to weight lifting at all–but we did use the word grab in that sentence.
Grab is a useful word in English, and it has multiple uses so you can expect to see it used often.
In the example above, we didn't use grab to mean actually take the table in our hands–it had a completely different meaning there.
This useful word is what we are going to talk about today, and we'll look at the multiple uses for this word that comes up often in conversation.
Looking At How To Use This Word
So you have likely heard people use the word "grab" in conversation, and you may be interested in trying it out yourself.
It may come very naturally as the meaning is not that complicated, and may be a natural focus of what you are talking about.
When you look at the word grab, it basically means to get something with your hands, pick it up, or clutch it.
Let's look at a couple examples of this so that you can see how it works in a sentence.
"She grabbed her son's hand when he tried to run down the street."
"The thief grabbed her bag and ran away."
"He grabbed the very last toy dog off the shelf on Black Friday. His daughter was so happy."
This is the basic way to use the word grab, but there are other uses that you may actually find more useful and enjoyable.
We also use it as a more fun and zippy sort of way to say "get", and you may have heard this too.
So it can be used in a more literal kind of way when you are talking about picking something up or getting it, but it doesn't have to be with your hands.
This is like in the example when you might speak of something like "to grab a table."
Let's take a look at a couple of examples of how you might use the word grab in this way.
"Could you grab some napkins? I have pizza sauce all over my hands!"
"Could you grab me that book over there? I want to check a reference."
"Grab a seat. Let's talk. (like get)"
"Grab that treadmill before someone else gets on it!"
There are times when you might use grab in this way, and it works really well.
You might use it to convey getting something quickly or with haste.
It has a cool and casual sound that is a little bit more interesting, and it can help to communicate that you want to do something quickly.
So you can start to see how you might use the word "grab", and now we'll take it one step further and look at it when it comes to phrases using it.
Other Phrases With Grab In Them
There are several phrases that feature the word grab in them, and you may expect to want to use them in conversation.
These may not have anything to do with the word in the most well known context, but they can be something useful for conversation.
Something grabs you: This is saying that something intrigues you, or interests you. It may get your attention or cause you to take notice of something in a profound way. You might say "That introduction doesn't grab me. Can you try to start with a question or a joke?" You could also say something like "That book grabbed me right from the start!"
Grab a bite/a bite to eat/grab something to eat: This is saying that you want to get something to eat. You may be picking something up or getting something quickly or on the way to somewhere. You could say "Should we grab a bite to eat before the concert?"
Up for grabs: This is to say that something can be taken. You are offering something up to others that they may need. It is usually offered at no cost and may mean that you no longer need the item. You might say "Ok, I'm full. My fries are up for grabs!"
Grab bag: This is usually given out at a party, or you may pick things out of a grab bag. It is usually comprised of a bunch of miscellaneous items put together in a somewhat organized way. You may use it more metaphorically, or also about something where you don't know what you will get. You could say "Who knows? You may get lucky in this situation. It's a grab bag!"
There are more, but it can get to be a lot, so it's time to stop!
These are all phrases that can help you to use the word grab in a variety of ways, and they are fun to say too.
Roleplay To Help
In this roleplay, Lindsay and Michelle are classmates working on a project at the library.
Lindsay: "This chair is wobbly. Can you grab me the one from that other table?"
Michelle: "Sure. Here. Ok let's start."
Lindsay: "Okay, let me grab a pen."
Michelle: "Oh look, that study room opened up. Let's run over before someone else grabs it!"
Lindsay: "Ok good. Ok so page one. Does this grab you?"
Michelle: "Kind of. It's not really that attention grabbing** I guess."
Lindsay: "Yeah, I'll think of something better. How about this? "The man grabbed the woman's arm to make sure she didn't fall down."
Michelle: "Ohhh good start. Hey- is that gum up for grabs?"
Lindsay: "Sure have some."
Michelle: "I'm starving. Wanna grab a bite to eat in a few?"
Lindsay: "Yes. Although the food in the cafeteria is a grab bag. Let's go out."
Michelle: "Sounds good."
As you can see there are a lot of uses for grabs, and they all exist within this roleplay.
Takeaway
This word is very useful, and as a matter of fact there are more uses than even what we covered today.
We can do a follow up, but we gave you the basics today and some fun idioms and expressions.
These will come up often, so try them out today to add something a bit mroe interesting.
This works for so many different aspects of conversation, and now you can see how you can take your English speaking up a notch with these phrases.
If you have any questions, please leave them below in the comments section.
We'll get back to you as soon as we can.