Do you still go to the bank?
Do you ever find yourself in the situation where you have to go to the bank and feel unsure of what to say in English?
You are likely to find yourself at the bank at some point in time, and it's important to know what to say.
We are going to talk about why you might find yourself at the bank, what to say, and how to make it through this situation with ease.
We have a question about checks today, and it's a great one to focus on here.
Get Your Transcripts Today!
Make sure you understand every word you hear on All Ears English.
Bring your English to the advanced level with new vocabulary and natural expressions.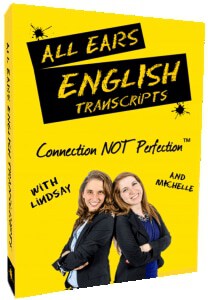 Subscribe and get the transcripts delivered by email.
Learn to speak naturally with the American accent.
Click here to subscribe and save 50%
Hi AEE team,

I love your show, and I listen all the time! I have a question today about checks. When I was working in Canada, I got paid by check and brought it to a bank. Here in Japan, most of the payments are made by bank transfer and we are not familiar with checks at all. So I would like to know how you guys use checks in your daily lives.

Also as much as I looked forward to my payday, I was so nervous to go to the bank every time I got a check. It was very challenging for me to talk to a person at a busy counter. I would get nervous, and so the only thing I could say back then was "I would like to deposit this." Could you teach us some useful phrases we can use at a bank counter?

Thank you in advance,

Emma
Understanding Some Background
So this is a scenario that so many of us have been in, and you may have wondered the same sort of thing.
If you find yourself in a busy environment it can be intimidating and may cause you to feel some uncertainty.
If that environment happens to be a bank where you are trying to make a transaction, then it can add to the stress even more.
You want to know how to talk through what you need and want when you are the bank.
We did an episode in the past on currency that you'll want to check out because you may find it helpful.
What Is A Dime? English Lesson on American Currency
You may want to ask yourself do you even use checks?
Many people find that they don't use checks much at all these days, as so much of what we do and pay for is done electronically.
You might get paid through direct deposit so that the money just appears in your account.
You may feel as though you rarely go to the bank because of this, but you do still want to be prepared for the times when it may come up.
You may for example get mailed a check, and then have to make a stop at the bank to cash it.
If we think back to the listeners' example, you may ask when are checks used then?
It may be that an older generation may use checks more frequently as that is what they are accustomed to.
You may also find that people give checks more for gifts or special occasions like a wedding.
So if you don't use checks much, how do you pay for things on a daily basis?
Venmo and Paypal: These are very popular now because payment happens through an app on your phone, and it's all tied to a bank account. It's seamless, super easy, and people can get paid right on the spot. These two are likely the most popular options that you will see out there right now.
Credit cards: It's easy enough to just pay for things with a credit card and so people use these all the time. It may be something where you are in the good habit of paying off every month. Otherwise you may accumulate debt, but there is no doubt that using a credit card is easy and therefore preferred.
Not as much cash: As a whole people just don't tend to carry much cash with them these days. They may use a debit card which is like a credit card, except that it's tied directly to their bank account. People just don't carry much cash as much because these other methods are so convenient. It may even raise the question as to if something like change will go away after awhile, as that is used even more rarely.
Reasons For Going To The Bank and What To Say
You are starting to see that the way in which people pay for things has changed dramatically these days.
So much of the way that we give or receive payment is now done electronically.
This is a sign of the times, and yet there may be some times or occasions when you do have to head to the bank.
When might you expect that you have to go to the bank and for what reason?
Deposit cash and checks: You may receive a gift or a payment via cash or check because it happens at times. When you have this cash or check, you will want to deposit it into your account and you need to do this at the bank. That's the only way to get the actual money to where you want it to be.
Open accounts: You may need to open a checking or savings account, and you typically need to go in person to do so. This is typically done through an appointment or at least through a meeting with a bank teller to help you.
Get into a safe: Sometimes people choose to store their valuable items in a safe that is housed at the bank. This may be anything from money to valuable items such as family jewelry or special items. If you need to put things into the safe or check on them, then you have to go to the bank to do so.
Get a loan: There are times when people need to take out a loan for something that they need. This may be for a bigger purchase like a home or a vehicle, but it can really be for just about anything. If you need a loan then you usually need to go into the bank to get this money out.
Get money: If you need to take cash out, then you may have to go to the bank. This is often done through the ATM, but it does mean a trip to the bank though you may not have to come into contact with anyone. If you do need to go to the bank, here are some phrases and important vocabulary that can help you to feel at ease.
Teller: This is the person at the desk that works there and will help you with whatever you may need. -"I'd like to make a deposit." This is what you would say if you are there to put money into your account, or what Emma said in her example was good as well.
They may ask you which account you'd like to have it in- checking or savings: These are the two most common types of accounts that you may use to deposit and withdraw money. Typically savings is what you put money into in order to save it up for something. Checking tends to be the account that you may use more often for daily transactions.
They may ask if you want cash back: If you make a deposit or transaction at all, they may ask if you would like to receive cash back to take out. You may just want to make the deposit or you may wish to take some cash out to have and use.
Roleplay To Help
In this roleplay, Lindsay works at the bank and Michelle is depositing a check.
Lindsay: "Hi how are you today?"
Michelle: "I'm good thanks. I'd like to make a deposit. I have two checks."
Lindsay: "Ok absolutely. Can you just sign here?"
Michelle: "Sure." Lindsay: "Great. Ok, do you want these in checking or savings?"
Michelle: "Can I have the first one in checking and this one in savings?"
Lindsay: "Absolutely. Do you want any cash back?" Michelle: "No, I'm good. Thanks."
Lindsay: "Is there anything else I can help you with today?"
Michelle: "No, I'm all set."
Lindsay: "Have a great day!"
Michelle: "Thanks, you too!"
This was a roleplay specifically based on the situation that Emma presented in her letter.
We can do follow up shows on this as there is a lot to cover in this area, but wanted to start with the scenario of depositing a check!
Takeaway
You may find yourself at the bank at some point in time for any number of reasons.
You want to know how to get through that situation and have the right things to say.
Today we gave you some helpful vocab and phrases to use at the bank so that you can feel comfortable and get what you need.
We also explained why people still go to the bank, how most things are currently paid for, and when and why checks are still used.
Let us know how it is in your culture as this may vary, but knowing the basics can help a lot.
If you have any questions, please leave them below in the comments section.
We'll get back to you as soon as we can.