Today you'll learn how your culture may affect your IELTS scores.
Click here for a complete mock speaking test and examiner feedback.
First of all, huge congratulations to 3 Keys' student Orcun, who finally improved his IELTS Writing score to the necessary 7, after a lot of hard work!
Listen to his podcast episode for writing tips: IELTS Energy Episode 761.
Thank you to subscriber Lincy David for asking this question:
'I have to write a reference for a colleague to become an examiner. It asks if she/he is culturally aware. What does that mean?'
'Culturally aware' means that a person has a lot of experience with a variety of cultures, and knows enough about them to not let cultural bias cause unfair judgement.
So, yes, the examiner must assuredly possess this trait. (And so should everyone!)
Strategies Created by an EX-IELTS Examiner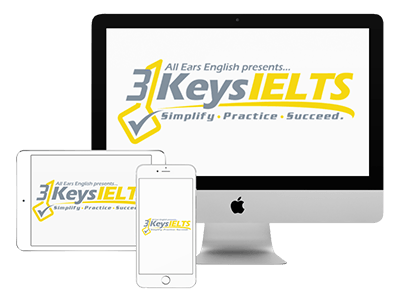 100% Score Increase Guarantee with our Insider Method

Are you ready to move past IELTS and move forward with your life vision?

Find out why our strategies are the most powerful in the IELTS world.

When you use our Insider Method you avoid the BIGGEST MISTAKES that most students make on IELTS.

Click here to get a score increase on IELTS. It's 100% guaranteed.
As an IELTS candidate, though, how does cultural awareness affect your IELTS scores?
Your ideas, related to your culture, will not affect your scores, even if they disagree with the opinions of the examiner.
As far as British vs. American culture and language, as long as your pronunciation/spelling/vocabulary is correct in one of those types of English, you are fine.
Where culture may lower your IELTS scores is in the need to be direct in communication, especially writing. If your culture is traditionally more indirect, you must adjust this to score highly in IELTS Speaking and Writing.
Do you want to learn how to be more direct, confident and fluent when you speak English?
Come to our webclass 'How to Become a Conversation Magnet in English'!
Click here to sign up and grab your spot for September 14th or 16th– come live to interact and ask questions!
What IELTS questions do you have?
Ask our team of experts in the comments section below!