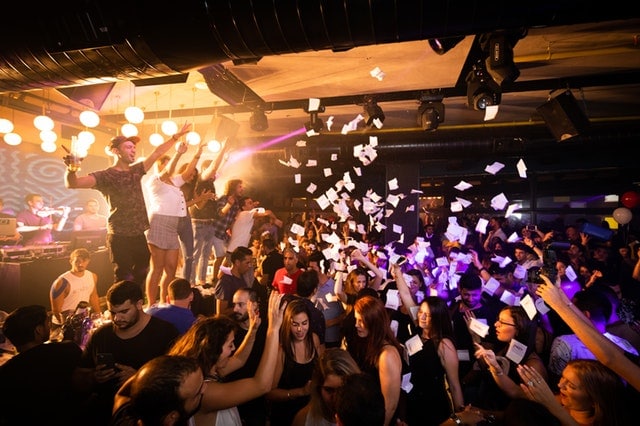 Have you ever been to any bars in the US?
What kind of atmosphere do you prefer when you go out at night?
Have you heard of a dive bar or know the different types of bars? Do you have all of the English vocabulary that you need when it comes to nightlife?
There is actually a lot to learn about nightlife and going out in the US–it happens to be a big part of the culture. If you are spending time in the US it's a great way to get out and experience the culture.
We're going to teach you a bit about nightlife in the US, what to expect, and how to make the most out of a night out.
Get Your Transcripts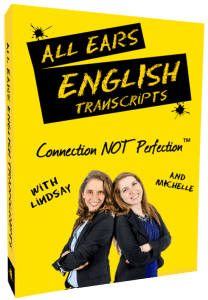 Make sure you understand every word you hear on All Ears English.
Bring your English to the advanced level with new vocabulary and natural expressions.
Get the transcripts from today's episode.
Learn to speak naturally with the American accent.
Click here to subscribe to the transcripts and save 50%
Understanding The Different Types of Bars
Believe it or not, there are several different types of bars.
It can help to know what these bars are so that you can talk about them in everyday conversations.
It also helps to know the different types so that you can focus on going to one that is of interest to you.
Let's take a look at the various types of bars that exist within the US for nightlife.
Dive bar– This is a small bar, and it may be frequented by locals in the area. It can also be referred to as a "hole in the wall". It is usually no frills and just a bar with maybe a limited food menu. People typically come here to have a drink and meet up with friends in a laid back environment. This may be a "hidden jewel" that not a lot of people know about unless they are local or go there frequently.
Bar– This is just a regular bar, and there are so many different ones that can fit into this category. It is usually larger than a dive bar, and it usually has more to offer. It may be an actual restaurant, a chain, or it may be a favorite spot in town. It's the type of establishment that many people know about and use to meet up with friends or colleagues.
Pub– This is the type of bar that is usually British or Irish in its style or offerings. It can also be referred to as a tavern, and it's just in a niche of its own. It feels familiar, and yet it's a more specific type of place. It would typically offer the type of food and drinks that you might expect in a British or Irish type of establishment.
Club– This is short for nightclub and it's at the higher end of the types of bars out there. You an expect to hear loud music, fancier drinks, people dressed up, and perhaps even a cover charge that you have to pay at the door. You will often see a club that is large with multiple levels within it. This may appeal to a younger twenty something crowd in many instances.
Overall, bars are perhaps a little quieter than the others and tend to be the middle range of the types of establishments.
This is even more true for a dive bar that may have more of a neighborhood vibe with regulars that frequent it.
Dressing To Impress
When you're going to these bars, they may have a sort of dress code.
Though this may not be enforced anywhere but a nightclub, you may wish to know what is appropriate to wear.
This can help you to feel comfortable and get the most out of the experience as well.
So when you are getting ready to head to one of these types of bars, here is what you might consider wearing.
Bar/Dive Bar/Pub- These tend to be more casual in nature. There is definitely a more casual vibe at all three of these types of bars. You want to consider what specific bar or pub you are visiting, but a more casual type of dress code typically applies. You can probably wear jeans, amt shirt, or an outfit that you feel comfortable in. There may even be games there or trivia so dress comfortably–but perhaps a step above sweatpants to go out in.
Club– As this is at the higher end of the types of bars, you can probably expect to have to dress up a bit more. People may wear ties, dresses, or their very best– it all depends on the specific place. You probably have to call ahead to check about dress codes, especially at a place like this. Do your research in advance, because sometimes even your shoes may matter!
You want to dress to impress and what you wear can be a significant part of the experience.
Know where you are headed, what type of establishment it is, and ask questions if you're not sure.
Nothing Comes For Free
Yes you are going to spend money once you get there.
You're likely going to spend money on drinks and maybe even food.
You want to ask yourself though does it cost anything just to get into the establishment?
You might not realize it, but some of these bars routinely charge just to get in the door.
Bars/Pubs/Dive Bars – In most situations it is rather unlikely that you will have to pay to get into one of these types of bars. The exception may be if there is a special event such as a band, a comedy show, or some other sort of featured act. You may have to pay to get in if there is a special event or entertainment. In some cases you may instead have a "two drink minimum" that you have to pay for and fulfill.
Clubs – You will find that at many of these nightclubs there can be a cover charge. So just to get in the door you have to pay a set price, and it may be more on the weekends. Be prepared for this as it can be a bit more in a bigger city or at a trendy nightclub. You pay for the atmosphere at places like these.
Ask The Questions In Advance
It's always good to call ahead to check on these things to avoid any trouble.
If there is something on your mind and you feel unsure, then call in advance.
What can you say to cover all of your bases?
Is there a cover charge?
What is the dress code?
Do you have trivia or a special event going on?
Is there a drink minimum?
Do you serve food?
Can you reserve tables in advance?
Takeaway
When deciding where to go out, consider your budget, the kind of night you are looking for.
You also want to think through if you want to dance, and if you want to be able to talk to your friends and hear each other.
Going out is a great cultural experience so we recommend giving it a try if you are in the US.
It's always good to call ahead if you are unsure of the proper attire or how much money you need to bring.
Make this a positive experience and enjoy it–just know what type of night you are in for to get the most out of it!
If you have any questions, please leave them below in the comments section.
We'll get back to you as soon as we can.