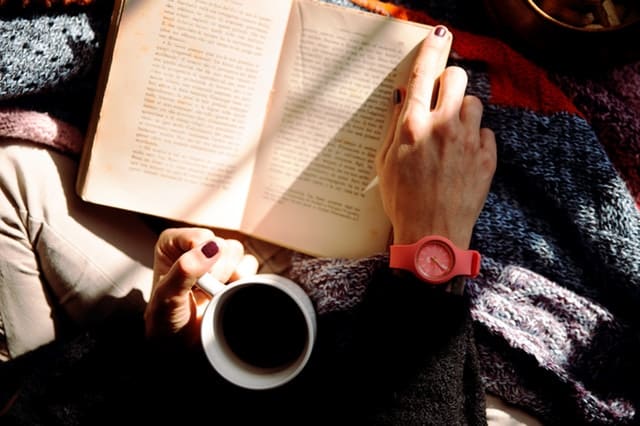 Have you read any good books lately?
How can you get your hands on the right book in English?
How can you use that book to ultimately connect with natives and other English speakers?
Finding the right book can be a really difficult thing, particularly when you are trying to use it to improve your English.
We're going to look at ways to choose the right book, use it to help you improve your English, and also how it can help you to improve your English in the process.
Get Your Transcripts Today!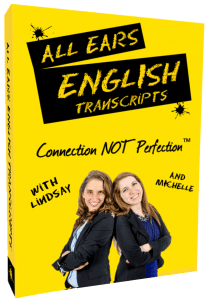 Make sure you understand every word you hear on All Ears English.

Bring your English to the advanced level with new vocabulary and natural expressions.
Subscribe and get the transcripts delivered by email.

Learn to speak naturally with the American accent.
We have a question about finding the right book which may be helpful to you if you have struggled with this.
Hi ladies,

I bought a book a while ago about common behaviors of adolescents. It's very intriguing, but there are a bunch of words in there I don't understand. I can understand the definition of certain words, but I don't always know how to use them in context. I understand things roughly but not precisely. I can look up certain words, but it takes forever and makes me feel reluctant to continue.

I think that reading a book is a great practice and way to learn English, but I want it to be a good experience. I'm wondering if you have any suggestions for how to find a good balance between studying and actually enjoying a book.

Thank you for your help ,

Kaskae
Using Reading For All That It Can Be
Reading books in English is a great way to take your English level higher.
This is a great way to live in English as you are often told to do.
You have to know how to attack something like this and make the most out of a good book for your English learning.
You may have the instinct of what you should be doing, but it's a matter of putting that to work.
What is your goal with the book you have selected?
It is likely and hopefully to enjoy the book, and to maybe learn a bit more English in the process.
You have to be reasonable though as to how many vocabulary words you can take away from a book or experience like this.
Your goal in learning new vocabulary should be to use these new words–and that's why you have to limit it to a reasonable amount.
The goal is to immerse yourself in English and to make this a positive experience.
Reading can be so many wonderful things, and so you want to make the most out of this experience.
Tips For Making The Most Out of Reading
If you are going to read a book to try and work at improving your English, then you want to choose wisely.
You want the book to be a good match and an overall great experience.
These tips will help you to make the most out of your reading experience, help you to improve upon your English, and also allow you to enjoy a good story.
Choose the right book: You don't want to choose books that are highly specialized because they can be a bit out of the range in comprehension. If you don't fully understand what the book is talking about then you are not going to enjoy the book. Choose a genre that you are likely to enjoy and really comprehend. Ask around to find books that others that you know have found and enjoyed. Find something within your wheelhouse– which is to say your expertise or your area of knowledge or understanding.
Read 5-10 pages first: Maybe even read the first chapter or a limited amount to see how it goes for you. After you read that small amount then take a moment to review. See how many words you have to look up and be sure it's a reasonable amount. If you have to look up too many words in the dictionary then it's not going to be enjoyable and it's going to be too much work. Don't pick up the dictionary until you finish that small section of reading. Aim for only about 2-3 words that you may have to look up–anything more means that it's not a good match. You can't connect to the story if you are constantly looking up words, and it should really be about the story.
Share it with someone: Talk about what you read with somebody. If you can share what you read with a native English speaker, even better. Start a book club so that you have a group that you can get together with and talk through a book that you all choose to read and talk about together. Have a little meeting where you choose a book, and then review the book that you have just read. Talk through the book and the story, and you will find that it's a great way to connect overall. You can even find book clubs through meetup.com if you are searching for one locally. This is also a great way to connect with new and older friends in a really fun and effective way.
These are all great ways to make the most out of the books that you select.
Reading is a great way to work on your English, and this will help you to get the most out of it.
Takeaway
If you are looking for a great way to integrate yourself into English, then reading a good book is an excellent choice.
You want to be sure that you choose the right book so that you get the most out of the experience.
You don't want to choose a book that is too difficult or technical, because you don't want to spend too much time looking up words.
Make the most out of this experience and share the books that you read with others for an added benefit.
Reading can be a great way to integrate into English, and if you choose wisely it can also be something that you really enjoy.
If you have any questions, please leave them below in the comments section.
We'll get back to you as soon as we can.