Have you ever wanted to take your conversations a bit deeper in English?
Have you wanted to really connect with somebody you were talking to on a deeper level?
It may be a matter of asking the right questions or knowing how to get somebody to talk more.
We're excited to have Aubrey Carter on our show today. Aubrey is the newest member of the All Ears English team. She will be making appearances on both the IELTS Energy Podcast and the All Ears English Podcast. She has been an ESL teacher for 19 years and she can't wait to inspire you!
Today Lindsay and Aubrey are going to look at how to make those deeper connections, how these conversations can work, and what type of a role you play in all of this.
Get Your Transcripts Today!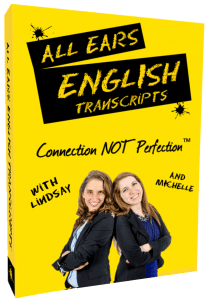 Make sure you understand every word you hear on All Ears English.
Bring your English to the advanced level with new vocabulary and natural expressions.
Subscribe and get the transcripts delivered by email.
Learn to speak naturally with the American accent.
Click here to subscribe and save 50%
Taking Conversation Deeper
There comes a time when you want to go beyond just getting to know someone on a superficial level.
You will want to ask some of the typical questions such as "what do you like to do," "where do you live," and things like that.
These are great questions to start off with, but you really want to build on that connection
You have to go deeper into your conversation to get to know someone, and to figure out who they really are.
You want to figure out their "why," or what makes them happy or drives them or causes them to live their life the way that they do.
When you get to this point, this is where the interesting conversation starts to take place.
This is also where the true connection happens, and where things evolve into a true friendship or relationship.
This is where you want to be with your English–you want to be able to have these deeper conversations and therefore make these lasting connections.
This is essentially taking your English and conversation skills to an entirely new level.
Thinking Through The Why
So you might be asking yourself why does this even matter?
There's a book by Simon Sinek called "Start With Why".
He asks the question to organizations/companies, but we're looking at this on a different level.
We're looking at how this "why" can integrate into quickly building into a connection.
In the book he asks "what's your why"–which is to say what's your purpose, cause, or belief.
This may not be something you've ever thought of before, but it's worthwhile to consider in your everyday life.
Why does it matter?
We have so many choices these days in everything we do.
As it pertains to work, we can work online or offline but no matter what we want to have choices.
You want to create some sort of change in your interactions.
This change or impact can be in your professional life, it can be in your interactions, and it can be in your conversations and relationships.
Thinking through what your "why" is can really help you to take control over the conversation.
It can help you to build confidence to ask the more in depth questions.
It can help you to build connections through good deeper conversations–and that's what it's all about.
If you know your "why" then you can take things to an entirely new level, and that's when you see exciting and positive change.
The Role of Social Media In This
There's another element to consider in this whole situation–and that is social media.
Making real life connections in person isn't what it used to be with the evolution of social media.
Though you still have face to face interactions, much of your conversations may be on social media.
You have to prepare yourself for the interactions that you have on social media, and how they tie into your real life relationships and conversations.
Sometimes being on social media can leave us feeling lost sometimes.
Sometimes it can make you feel as if you are operating alone or you feel isolated, and this may even make you question your role in the world.
If you feel isolated and alone, then you may be confused about your role in the world, in relationships, and even question who you are in general.
The reality is that social media isn't going away anytime soon, and so you want to learn to operate within it and manage it well.
So why is this all important?
You have to consider who your social media acquaintances are vs. your friends that you know on a much deeper level.
There's a big difference here in the types of relationships, and also what your involvement and role is in each of them.
You need support from friends, family, neighbors, and the general community.
This is comprised of people you know well and can lean on if you need to.
You need to serve and give back, which is easier to do for people you know on a deeper level.
You take something out of the relationship, but you also give back.
That won't happen with social media contacts because you really don't know them on a deeper level at all.
You might even have a deeper role and meaning in your business relationships and professional network.
Each relationship is different, as is your role and your interaction–you have to seek out what works in each situation with each individual person.
Social media plays a role in all of this, but you have to focus on the relationships that you can impact and play an active part in.
How To Bring This Into A Conversation
So let's say that you are talking with somebody, and you want to take it more in depth.
You want to get into that deeper connection in the conversations you are having, maybe even the first time you meet them.
It is possible even in those early conversations to get to that deeper connection, but you just have to know how to do that and what to say.
It's about saying more than just "hello" or asking about the weather.
It's about starting to ask questions that help you to really get to know this person.
It's about sharing your experiences and encouraging them to share their own.
It's taking the conversation to a higher level, because ultimately this is what helps you to build true and lasting connections.
You have to go into these conversations and interactions with confidence.
You also have to set out to learn more about this person, because ultimately this is what leads to that deeper connection.
Once you master this, you will find great success with building relationships and having meaningful conversations.
A Real Life Example
This is like a roleplay but to another level.
Lindsay is asking Aubrey questions here about some of the things that she does.
More importantly she helps to take it to the next level by asking her the why–why does she do some of the things that she does.
Here's how it could go with getting into a deeper connection, and it starts with the questions that you ask.
Topic: Teaching ESL
This is where Lindsay could just ask what it was like to teach ESL. She could ask "didn't you teach ESL?" The answer would likely be a simple yes or no, perhaps with very little detail. Instead you want to ask a question that allows the person to elaborate. As you will see below, Lindsay's question is going to ask for a deeper answer and more thought.
Question: What made you want to teach ESL?
Answer from Aubrey: There are a LOT of people who speak English but not all of them are engaging teachers. I love to make a class fun and exciting by switching things up; thinking of and executing fun, interesting activities that help students learn while really enjoying themselves. Language learning is the perfect venue for this because you can be so creative with teaching methods – as long as it involves reading, listening, speaking or writing in English, valuable language learning is happening!
Topic: Your Non-Profit Job
This is where you could just ask what their job is. Lindsay could just ask "what do you do for a living?" She could ask what Aubrey's job is. That would lead to a very short and concise answer and nothing more. Instead Lindsay can ask a more in depth question to get Aubrey to answer with more detail.
Question: So what is it about working with a nonprofit that inspires you?
Answer from Aubrey: I'm operations manager for a nonprofit called One Small Step. We run a used clothing retail space called Clothes Cabin. All items are donated and it's similar to a thrift store like Goodwill or Salvation Army, but with only clothing, shoes and hygiene products, and anyone who is homeless or unemployed can "shop" for themselves and their family members every three months at no cost. Donors provide funds necessary for us to provide new under garments and socks as well as steel-toed work boots and uniforms for those who secure employment and don't have the means to buy these necessities. We also provide for anyone who is homeless laundry machines, lockers, showers and mail service (they can use our address and pick up mail when they come to do laundry and shop).
It's an amazing organization that really cares about helping those in our community who are in need. I work a lot with the volunteers: training, managing the schedule and organizing events like an annual volunteer appreciation event I'm currently planning. I really am inspired by all the good they are doing and it is so amazing to work with volunteers who come every day because they choose to, and are spending their free time making a difference.
Topic: Volleyball
This is where Lindsay could just ask Aubrey if she ever played volleyball. Aubrey might respond with a simple answer to indicate that she has. If you know somebody has a hobby or interest, you want to ask a question that allows them to elaborate on the topic. Instead you could ask a pertinent question such as the example below.
Question: Why is volleyball important to you?
Answer from Aubrey: I LOVE volleyball – my husband and I play both indoor and sand volleyball. It's such a fun team sport and allows me to really bond with teammates and is a fun thing for my husband and I to do together. I definitely prefer team sports – we play soccer a lot too- over running or weight lifting or other ways to stay fit. It's very important to me to stay healthy and strong and for me this is a really fun way to do it!
Review the phrases:
What made you want to ___
What is it about ___ that inspires you
Why is ___ important to you
Takeaway
Living with purpose or intention is a great way to live, and if you ask people to talk on this level they will feel connected to you.
You're not just talking about boring facts, but learning and sharing about who you are and they are.
Think about what is your why?
What is your purpose and are you able to fulfill that through the work you are doing?
This may not be just your job, but even volunteering–think bigger!
You do have the vocabulary to do this, and if you can understand 80-90% of this show then you can do this!
If you have any questions, please leave them below in the comments section.
We'll get back to you as soon as we can.