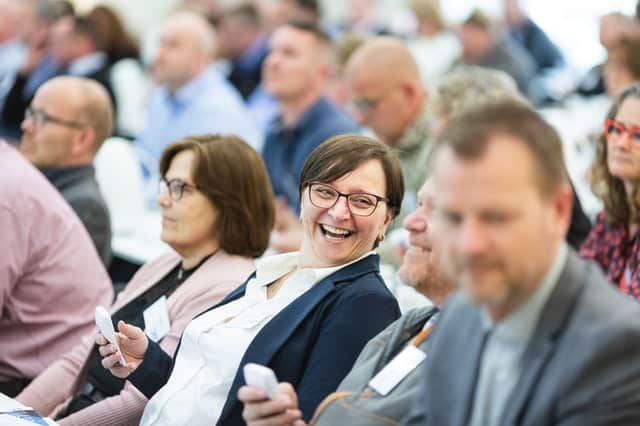 Want to build better relationships at work?
It's not always about language, and it's important to remember that.
The way that we show people we appreciate them is a really important way of connecting.
We're going to look at how to build and maintain important connections in the workplace.
These might surprise you, but these are all great methods for building those connections in an effective and lasting way.
Get Your Transcripts Today!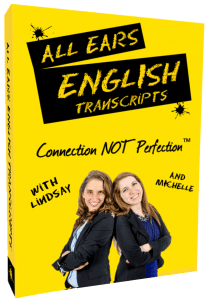 Make sure you understand every word you hear on All Ears English.
Bring your English to the advanced level with new vocabulary and natural expressions.
Subscribe and get the transcripts delivered by email.
Learn to speak naturally with the American accent.
Click here to subscribe and save 50%
Showing Appreciation In The Workplace Matters
The concept of the love languages came up, and that's an important topic to focus on.
These love languages are ultimately the way that you may feel loved and appreciated.
Some people may enjoy or need gifts to feel appreciated, and some people may need kind words.
This is from the book "5 Love Languages" by Gary Chapman which is great to check out.
We're going to look at how you can use these concepts at work to help you in the workplace.
Though you might think of this as only a romantic connection, this applies to any important connections in your life.
This includes the connections and relationships that you build and maintain in the workplace.
This matters greatly because you spend so much time together, and so you want to consider this.
The 5 Ways To Show Appreciation and Build Connections At Work
This is about taking positive actions in your life, and it carries over into the workplace.
Though you may tend to think of these things as only for your personal relationships, they can apply to your professional relationships too.
Think of how you can apply these things to the people that you work with, and how far they will go in terms of making them feel appreciated.
Words of affirmation: This means you let someone know that you appreciate them or they did something well. An example of this is to say "Good job!" Take the time to say something nice when somebody worked hard or accomplished a goal. Find a way to let them know that you see that they worked hard and that things went well. These words that you say can make others feel appreciated, and they can help to build connections.
Acts of service: This is like doing a manual task, particularly if you're not expected to do this. You might think of this as volunteering but it can translate to the work environment. It may just be noticing things that need to be done. Change the printer cartridge, take the garbage out, clean up a spill, wash a cup in the sink–all of these little gestures can really make others feel good. When others notice you doing this, it is well received by your coworkers. This makes for a nice workplace, and it's a big help or act of service that can help all of your relationships. It creates a very positive environment overall!
Receiving gifts: This is as simple as it sounds, for some people need gifts to truly feel appreciated. The motive matters for you need to be certain that you're doing it for the right reasons. A little gift or token can be a really nice way for you to make somebody feel appreciated. It could be something as simple as food, but in some cultures that's a big deal. If you bring in something that you baked, it can really go a long way with the people that you work with. Little gifts are a great way to show appreciation and kindness.
Quality time: Think about what you know or what you want to know about your coworker. Take the time to learn about your coworkers life, their family, and what they do in their personal time. Figure out who they are as a person and get to really know them. Let them know that you want to know them on a different level, and not just somebody that you work with. This can go a long way! You can greatly benefit from a personal relationship to help you to work better together. The reality is that Americans are far more open with their personal lives. So be sure that you read the situation and know what the culture is, and what others feel comfortable with.
Physical touch: This is the trickiest one, because physical touch at work can be a negative focus in the workplace. In this environment though, something as simple as a "high five" can really be a great thing. It's a nice way to connect without taking any risks of offending somebody. It's a nice gesture, but it doesn't go too far. Even if you are a hugger you just never know if that will offend somebody. It's better to be safe than sorry, so just go for the "high five" until you know what the comfort level.
Each of these are bound to make different people happy.
Know that the things that you do can really help you to connect with the people that you work with–and that leads to long term and strong connections.
Everyone Wants To Feel Appreciated
Our actions and the thought that we put into things matters just as much as words.
Everyone wants to feel appreciated in some way, and each method can reach to people on a different level.
We all have different ways to feel loved and appreciated, and it's helpful if you know what yours are.
All we know is what we have in our own heads, but it's all about projection.
You have to project what you like and what you want, and then others can pick up on this and give this to you.
You have to think through what you actually want or what will help you right now.
Then others can cater to that and do their best to make it happen and make you happy–this is how great connections are made!
Look for cues from your coworkers so that you can figure out what their best methods are.
In the end though, it's about making people feel appreciated and making it a better environment overall.
Takeaway
Everyone has different ways to feel appreciated, and you want to be in touch with what yours is.
Look for cues from the people that you work with as you get to know them, for speaking their language so to speak can go a long way.
This is how to make important connections in the workplace, and these will benefit you greatly professionally speaking.
Our professional relationships matter greatly, so putting forth even the smallest effort or gesture can help you to build these in an effective way.
If you have any questions, please leave them below in the comments section.
We'll get back with you as soon as we can.