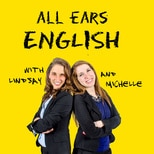 Have you ever considered what opportunities you have to practice English?
Do you want to get the conversation going, but feel a bit unsure?
We're going to look at how to uncover great opportunities to start a conversation, and how this can help you to practice your English.
This can all help you to progress in your English speaking, but it can also help you to create lasting connections along the way too.
Get Your Transcripts Today!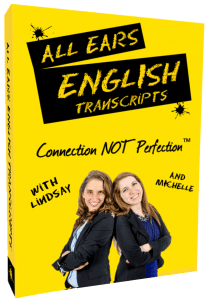 Make sure you understand every word you hear on All Ears English.
Bring your English to the advanced level with new vocabulary and natural expressions.
Subscribe and get the transcripts delivered by email.
Learn to speak naturally with the American accent.
Click here to subscribe and save 50%
Real Life Experiences Can Help You Practice
Think of times in your own life where there may be some great opportunities to practice English
You might not realize it, but these are the ones that can really help you to take your English to the next level.
Lindsay had an experience recently to share about a call she put into the cable company because there was a problem.
The person she was connected to was from the Philippines and he had to reboot the TV to get it working again.
Normally when this happens you are put on hold, but this employee said "I want to talk to you because I like to get to know my customers."
This was surprising because it's not the norm, but he kept talking and asking questions.
He took the time to get to know Lindsay and it was a really great experience overall.
This employee at the cable company took an unexpected opportunity to get to know his customer, and it was a positive experience for all involved.
There are some great lessons to pull out of this that you can benefit from and try in your own life.
Seek Out Your Own Opportunities
In Lindsay's example it may not be a good assumption that the worker wanted to practice his English.
He may have truly liked to get to know his customers, which is a great thing.
However this experience can get you thinking of how you can practice your own English, because there are opportunities around you all the time.
There are always new ways and new experiences to practice your English, and sometimes you just have to look for them.
Here are a couple of things that you can take from this experience and apply in your own life.
Talk to people even if it feels like it's an opportunity to NOT talk: The reality is that it would be easy just to be silent. However, that is not a way to practice. Take opportunities to speak when there is someone to talk to and to listen to. Even if it seems out of the ordinary, unless it's really awkward timing, just try it! The worker in this example took the time to talk to Lindsay. If you talk to people you are going to find great opportunities to practice your English, and to buid connections at the same time.
Don't worry about feeling silly or appearing to be over friendly: Though you might surprise somebody at first, it will likely be well received. In the experience above, it was at first a surprise but then it was charming and fun. He just asked us a lot of questions and then that led to the next topic and the next one. It went on for probably 5-10 minutes. Don't worry if it seems strange at first–just go with it and hopefully people will also take the time to connect with you! You can get some great conversations going in this way if you can get over your worry about coming off as silly or over friendly.
Think about opportunities you are missing out on to practice: When you are traveling, this is a great opportunity to practice and search out opportunities to do so. Take inventory of times when you could speak English when you aren't, and then try a little bit harder. Ask yourself why you aren't taking advantage of these opportunities, and then push yourself a bit more each day. You don't want to lose these opportunities, and you can always make it right by putting yourself out there a bit more each time. Can you try to add one more opportunity each day? Pushing yourself can really pay off, and this is how to get better and get in some practice!
Get the conversation going, and you will see that this presents you with great opportunities to practice your English in a fun and effective way.
Push Yourself A Little Each Day
The best way to build confidence is to engage in opportunities as they present themselves.
You can always find ways to talk to people, and these are built in opportunities to practice your English.
These are also great opportunities to start engaging conversations, and to build lasting connections.
If you feel unsure of how to initiate the conversation, here are a couple of tips.
Keep asking questions: That's what the worker in the example did, and it worked really well. People love to talk about their own life, and so asking questions gets them to open up. Be sure that they are open ended questions that require that they answer in detail, rather than just saying "yes" or "no" If you keep asking questions it will eventually get people to talk to you.
Show interest: Sometimes it's a matter of showing interest in other people. Show that you are interested in what they are doing. Share common interests that you may have. Comment on something that you noticed or an observation that you made. Sometimes just showing interest in somebody else's life opens the door to a great conversation.
Things to say "I'd really love to chat with you!" This may take you out of your comfort zone, but it's going to pay off big time. Let the other person know that you would like to talk to them. Show them that you are interested in what they have to say. Let them know that you are interested in talking to them. If that doesn't work then just jump right into conversation and see where that takes you. The reality is that you never know until you try.
These are all great ways to get the conversation going, and they will pay off for you.
Try to use these tactics and see how they can help you to uncover some really great opportunities to practice your English in a fun new way.
Takeaway
Are you really taking every opportunity to speak English?
Think about how you can add more time to your practice on a daily basis.
You can make more connections and have more valuable and meaningful conversations.
What is holding you back?
Even writing or texting can help, think of things like commenting on Facebook groups or on Instagram.
There are always great opportunities to practice your English and add to your everyday experiences in a fun new way–find them and use them!
If you have any questions, please leave them below in the comments section.
We'll get back to you as soon as we can.