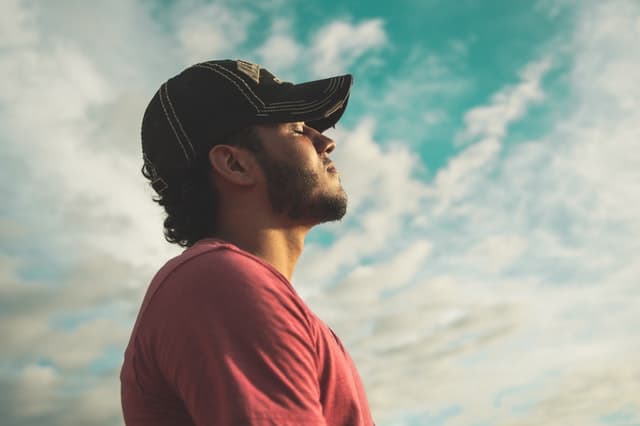 When learning another language, did you find it was easier to understand it or speak it?
Do you feel like you have great things to offer in conversation but sometimes forget?
Have you ever froze up when having a conversation in English?
This is one of those things that happens to many of us as we are learning and trying to get better at using another language.
We're going to look at how we can freeze up in the moment, and learn some tips to help us to overcome that uncertainty.
Get Your Transcripts Today!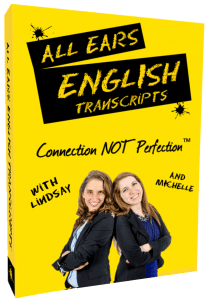 Make sure you understand every word you hear on All Ears English.
Bring your English to the advanced level with new vocabulary and natural expressions.
Subscribe and get the transcripts delivered by email.
Learn to speak naturally with the American accent.
Click here to subscribe and save 50%
We have a great listener question about not freezing up when speaking in English.
Hello Lindsay, Michelle, and Jessica,

Thank you all for providing by far the best and most active English podcast that advanced students could experience. I've been studying English for almost 12 years now, since I was 8 years old.

One of the problems that I think a lot of learners including me struggle with is the fact that though we know the vocabulary, we often tend to find it difficult to use it in the right way. This is especially true when we're giving a speech or even when having a friendly conversation with people. I don't know if I could explain myself but words just simply don't come up easily.

I have to really think about what words I've got to use in the moment rather than focusing on what I want to say. Take a debate for example, you have to be ready with instant responses but you end up fumbling over the right words to use the moment. What do you suggest to help with this?

Thank you for any help that you can offer!

Taha Ramzi from Iran
A Bit of Background To Help
This is a great question and probably hits on something that so many of you may feel sometimes.
We've done some episodes before that will help in this area.
Being able to come up with the right English words and phrases in the moment can be tough.
These episodes will help you to have a little background in these situations.
These episodes can help you to have a bit of background.
There are so many different aspects to speaking in English, and these are important episodes to review and ensure that you are well prepared.
Overcoming That Panic You May Feel
It can often be a lot easier to listen than to speak in English.
When you're listening you don't necessarily have to understand every word you hear to get the basic idea of what the speaker is talking about.
When you have to speak, if you don't have the words you feel lost!
It can be so frustrating because you may know what you want to say, but just can't figure out the right words in that moment.
This can happen to you on the IELTS Exam as well. It's common freeze up on the Speaking test.
You may watch a show for example and understand bits and pieces of it, but if you want to talk about that show you may feel helpless.
You may even try to have a conversation about that show but then freeze up.
This topic has been discussed from various angles on this show as you can see from the examples above.
However we get a lot of questions about it such as from the listener today.
That's because it's such an important topic, and this especially is about managing your ability to speak in English when you can't think of what to say.
We will keep talking about it because it's relevant and important, and it affects so many of you as English learners.
You have probably had such conversations and felt confident to start, but then froze up at some point along the way.
You want to know how to overcome that and ensure that you can know wha to say and speak confidently in English.
You're going to get some tips so that you can
Tips For Knowing What To Say In The Moment
When you find yourself in the moment feeling unsure of what to say it can make you feel helpless.
A little preparation can go a long way, and it can help you to ensure that you have an idea of what you can say in times of uncertainty.
Though you may still have moments of uncertainty, these tips can help you to be better prepared and to overcome this struggle in English.
Find someone who you feel comfortable with to practice with: This may be online, through a tutor, a friend, or anybody that you feel comfortable with. This way you can ask them when there's a word you don't know. When you have that trust you can talk through the uncertainty and even practice with them.
Write it down: In that moment where you realized you didn't know how to say something–what was it? Write it down after it happens because this can turn into a great learning experience. Don't let it just float away because this is an opportunity for learning and you can improve because of it. Review your journal entries later and practice them so that you can work through these issues. If you write it down then you can remember it and revisit it later on.
Have a goal: It's always important to set goals, particularly in this area. So try saying that you will remember a certain number of new vocab words in conversation today. Make the goal achievable but challenge yourself a little bit. If you keep that goal in front of you then it can ensure that you overcome the uncertainty and practice continuously.
Watch a TV show and summarize sections OUT LOUD: You might feel silly doing this at first, but try it and see how effective it can be. Do this quickly- watch for two minutes and then summarize right there on the spot. You can record yourself or speak to someone. Paraphrase- meaning use different words to summarize. It can help with your speaking, vocabulary, and comprehension to summarize what you just watched out loud.
When watching TV or a movie, stop and express how you feel about that particular point. You may have a real conversation about this topic at some point, so this is a little rehearsal. Talk about what you took away from it and how this made you feel. Being able to express yourself in English is so important. Practice this so that you can get in touch with your emotions and more importantly, know how to express yourself.
Practice conversations–even in the mirror! What do you like to talk about? What are your interests? What may you discuss in a debate? Try to rehearse a bit spontaneously by yourself. Don't feel silly because rehearsing in front of a mirror can be an excellent way to practice. Pretend that you are in a real two way conversation, and consider what you will say when you are in that moment.
Above all, don't get frustrated!
These tips can help you to be prepared, and that's the key to being successful.
The more practice that you can get in, the less you will feel uncertain when you are trying to find the right thing to say in the moment.
Takeaway
You are doing great- your mind just has to meet your mouth in these situations.
It is a real challenge but start little by little, and you will notice improvement.
Try to coordinate your mind and mouth by practicing out loud, and really taking your time to get it right.
This is one of those things that will improve the more that you put it into work in your everyday life.
The more that you practice what to say in the moment, the easier and more seamless it will become for you.
Though you may still have your moments of uncertainty, you will find that you know how to handle this better if you practice talking in the moment.
If you have any questions, please leave them below in the comments section.
We'll get back to you as soon as we can.