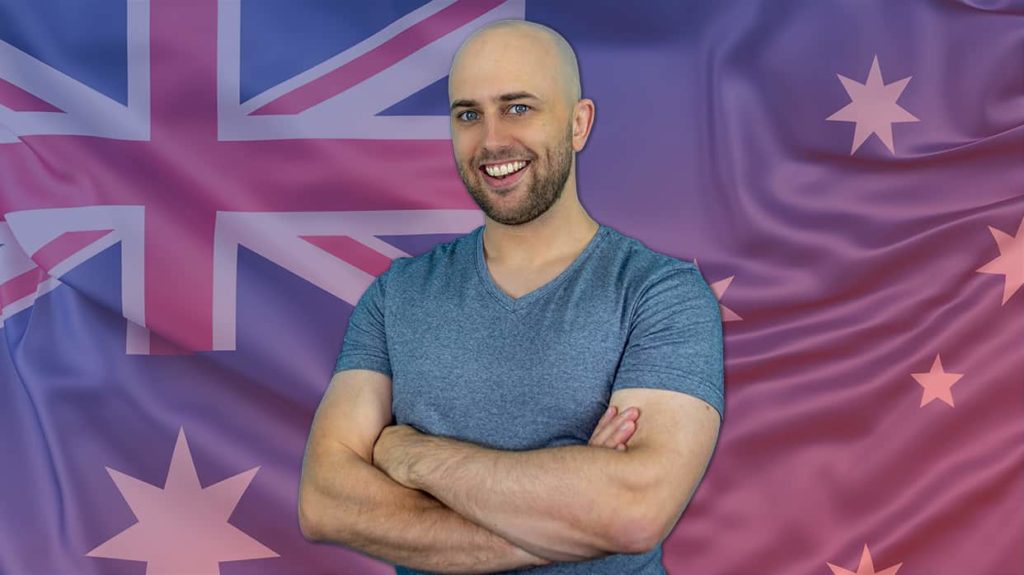 Have you ever heard slang words used differently in another type of English?
Have you ever considered the difference between something like Australian English and American English?
We have a special guest today, Pete Smissen from Aussie English, who is going to help us to understand the difference between some common slang words used in his home country of Australia.
Understanding the differences in words such as these as well as cultural differences can be a helpful way to have conversations and for you to make connections.
Get Your Transcripts Today!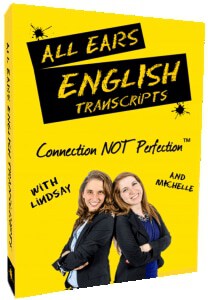 Make sure you understand every word you hear on All Ears English.
Bring your English to the advanced level with new vocabulary and natural expressions.
Subscribe and get the transcripts delivered by email.
Learn to speak naturally with the American accent.
Click here to subscribe and save 50%
Looking at Australian English and the Culture
Our guest, Pete Smissen, will teach us four Aussie slang terms that would mean something different in American English.
Pete is from Ocean Grove in Australia, and he helps others to learn about Australian English and the culture as a whole.
The overall Australian culture is a bit more laid back, informal, and relaxed.
It's just a different approach to things and a different mindset, and you see that reflected in the slang words that are used.
It's important to understand the differences in common words so that you are both saying the same thing.
Our special guest today is going to show us what some of these differences are.
You can have the same word, particularly if it's a slang word, that has two totally different meanings.
Today you will come to see these differences in a few common words between Australian English and American English.
Same Terms With Very Different Meanings
There are several Australian terms that are used there in a totally different way than in American English.
If you live in or travel to Australia from the US, then you want to know what each one means and how to use it.
Though there are many terms like this, we're going to look at just a few to get started.
Thongs: In Australia this term is used for what we call flip flops. In the US this means a certain type of underwear. So though it is the same word, it is meant very differently.
Cactus: In American English this is a type of plant that has needles that stick out of it. In Australian English, if something is "cactus" it means it is dead. You might say "my computer is cactus." It means that it's dead, it's broken, it needs a repair. Australians may use this to talk about the plant too, but that's not the primary use. However it's primarily used to talk about something, like an object, being broken or done or in need of repair.
Chewie: In American English, this means that it's a food that you are going to chew. This can describe a food that you have to chew a lot, or even that may get stuck in your teeth–it's about a texture. In Australian English, this is what you call chewing gum. Rather than saying gum, you would say chewie instead. In the US it may be something that a kid would say if you add an "ie" to the end of it.
Do you want to come over for tea?: In the US, this may be meant or taken literally because that's generally how people would take it. Americans would think that someone is asking them to have a cup of tea. In Australia though, this generally means dinner. They use "tea" for dinner as a generalized term. In the US you might say "do you want to come over for dinner?" Whereas in Australia, you would say instead "do you want to come over for tea?" It started as a culture that drinks a fair amount of tea, but not as much as it used to be years ago. That may be where this phrase stems from or where it originated, even if it's not like that anymore.
There are many other slang terms used often in Australia that have very different meanings in the US.
This can start to show you what the differences are so that you can have great conversations.
This is a fun way to look at a culture and to be able to use the same terms that people in that culture do.
Understanding Cultural Differences
Australia has historical roots and ties to the British culture, but it has created its very own culture.
This is where the more laid back mentality and approach is very prominent, and you will see that often.
In Australia, there are something like 5000 slang words.
This is a part of the culture and they clearly use a lot of slang words in conversation–this is a big part of the way they speak.
Understanding slang words helps you to understand a part of the culture in a place like Australia.
Then you can have meaningful conversations and ensure that you are using the right words.
Pete has been so helpful in showing us some of the common slang words with different meanings in Australia than in the US.
You can find more of Pete's lessons and insight by searching out "The Aussie English" podcast.
Takeaway
Though there are a lot of similarities between Australian English and American English, the slang words can be quite different.
You want to take the time to know the differences so that you can understand what is being communicated.
This shows cultural differences, particularly in slang words that have different meanings in Australia and the US.
Once you understand these differences, it can make conversations fun and interesting.
This is a really fun way to understand the Australian culture, have great conversations, and make connections too.
If you have any questions, please leave them below in the comments section.
We'll get back to you as soon as we can.