Have you ever heard somebody talk about "patient zero" during this pandemic?
Are there phrases that use the word "zero" in them that you want to understand in English?
Though you might not realize it, there are actually quite a few sentences that use this word.
Once you understand the meaning and how to use them, you can add them to your conversations and make them a part of how you connect with others.
Get Your Transcripts Today!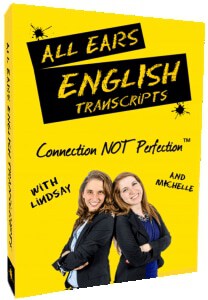 Make sure you understand every word you hear on All Ears English.
Bring your English to the advanced level with new vocabulary and natural expressions.
Subscribe and get the transcripts delivered by email.
Learn to speak naturally with the American accent.
Click here to subscribe and save 50%
Today we have a question about the term "patient zero" from a listener.
Hello Lindsay, Michelle, and Jessica,

I'm Hank from Taiwan. I've been listening to your podcast for a while and found it quite useful and helpful. Thanks for all your hard work!

I have a question that I just thought of recently, and I'm wondering if you could please help elaborate on this. Because of Covid-19, I've heard the term "patient zero" on media quite a bit. This was used to refer to the very first patient in an area. Then I wondered why we use "zero" instead of "the first patient" or "patient 1?"

I've seen "ground zero" before, and I guess this sort of usage can be categorized into the same usage?

I would really appreciate your help, and I'm looking forward to the upcoming web class too.

Cheers!

Hank
Understanding The Phrase Patient Zero
When you think of a phrase like "patient zero" even natives may not know where it came from.
Yes many of us are also hearing the term "patient zero" everywhere now.
What does this mean?
As described in the listener's question above, this means that this is the first person to get the infection.
You probably never thought about why we use zero instead of one– in reality one would definitely make more sense, since it is the first.
Lindsay did some investigating to understand how this came to be.
In the 80s, when there was the AIDS crisis, apparently a CDC scientist named William Darrow did research to find where it started.
It was very much in LA, and at the time, they were tracing many of those infected to a man who was not in California.
They used the term "Patient O" for "Outside of California."
Then, another researcher saw this term and thought it was "Patient Zero" instead of "O."
This researcher talked to a reporter and said "patient zero", and the reporter used it in a book.
That person was found to not be patient zero, though people just went with this term.
The old term was apparently "index patient", or it was referred to as "index case."
This is interesting to understand how "patient zero" came to be out of a sort of misunderstanding.
Other Expressions That Use Zero
It might come as a surprise just how many phrases use the word "zero" in them.
You heard about one of those phrases in the listener's question, which is ground zero.
Ground zero is a point where there is a nuclear explosion or an area where there was extreme violence.
It's the start or the starting place where all of this began and oftentimes where people come to pay respects or reflect on what happened.
You may be like many people and think of 9/11 when you hear "ground zero" because this is where the World Trade Center was.
There is a now a museum there at ground zero where people come to hear the story, and to pay tribute to those that died in this horrible act of violence.
What are some other expressions with zero?
Zero tolerance: This means that nothing will be accepted. It means that there is no tolerance for this act or whatever it is that is in question. If people go against this zero tolerance policy then it may actually be illegal in some cases. You might hear "We have a zero tolerance policy for alcohol in this dorm."
Zero hour: This is the time something is set to begin. It means that it's the time set for a certain activity or schedule. This is what you are working towards or what you keep in mind as the target. You could say "I have to get to my job on time and it's almost zero hour–9am!"
Zero in: This means to focus or to get closer to. You are making something your target or focus by looking very closely at it. You could say "Let's zero in on the details in the first paragraph."
These are all really useful phrases using zero, and you can use them to connect to others in a fun way!
These phrases are common and so they will be a great addition to your conversations.
Takeaway
It is so interesting to find the origins of expressions.
Our listener question is great because it gets us to think about the reasons behind the words and expressions that we use.
Now you know why you say some of the things that you do, and that's always helpful.
This can be super helpful and can lead you to connection with others in a meaningful way.
When you are sharing facts and learning new things it helps you and leads you to connect with others, so it's a beneficial situation.
If you have any questions, please leave them below in the comments section.
We'll get back to you as soon as we can.