Have you felt so frustrated with something that you felt like you were going to lose it?
Do you know what that extreme frustration is like and want to know how to express it in English?
Sometimes when things get a little crazy, you want to know how to talk about that in conversation.
We're going to look at the various ways you can express that something is crazy or that you feel frustrated in some way.
Get Your Transcripts Today!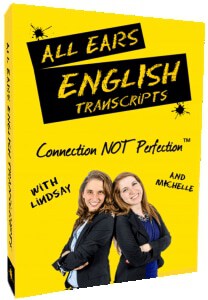 Make sure you understand every word you hear on All Ears English.
Bring your English to the advanced level with new vocabulary and natural expressions.
Subscribe and get the transcripts delivered by email.
Learn to speak naturally with the American accent.
Click here to subscribe and save 50%
Today we have a question about a situation dealing with this and phrases we can use.
Hello AEE,

I hope all is well. Today I was in a situation that needed a word to help describe what was going on. At that moment, something crossed my mind which was a translation from my native language but I'm not sure how that sounds in American culture.

Here's what happened– I was supposed to jump onto a Zoom call. I logged in and the video started. My colleague could see me and I could do see them as well. However, at the exact moment I was about to call into the audio portion, my manager called me and I answered. My colleague on the zoom call was trying to let me know that he could see me but not hear me. He started mimicking me and you could tell he was struggling. He was scrambling very badly, and it was apparent. So I said to my manager, I am sorry but I need to get off this call since Steven is killing himself.

I am not sure if KILLING was a proper word. Is there any better word or phrase you could teach me to describe Steven's intense struggle? To try to picture this, imagine a person who wants to draw your attention to something from a long distance. You cannot hear him and he is making many moves like jumping up and down and waving his hands around.

I thought it could be a good topic to teach us some phrases for this type of situation that describes that person's hard struggle. It could be even funny phrases that makes everyone laugh when you describe it in the future to other people.

Thank you so much for your great shows as they are a big help for us to make way better connections here with natives.

Stay safe and healthy!

Best,

Masoud
The Right Word For The Right Situation
The listener question is an interesting one and brings about a situation we may all encounter.
Would you use the expression "killing yourself" in that situation though?
It may be a bit intense for the situation at hand, though it is understandable why you may think that.
Killing yourself as an idiom means you are trying so hard to do something.
It may be that you are trying too overly hard, it may be exhausting,or it may just be too hard.
These situations are interesting and necessary to have some vocabulary for, particularly since they are bound to come up sometimes!
We are going to teach you five humorous ways to talk about these situations.
Of course, everyone's work environment is different and you always want to keep that and the person you are talking to in mind.
You want to pick a phrase that is fitting for the situation at hand.
These may not be appropriate for a more serious environment, and they are a bit more outspoken and funny.
We can do followups on other ways to discuss these situations, but our listener was also interested in humorous ways to do this, and that is sometimes the best way!
Phrases To Convey This
There are five great phrases that you can use to talk about this extreme, or going crazy.
You can hear that sort of emotion and extreme conveyed in each phrase, and so they can fun and effective to use.
Going berserk: You first have to understand that berserk is another way to say going crazy. It can be silly, angry, or just a general overall craziness. You could say something like "Oh my goodness. Steve is going berserk trying to get my attention. I'd better figure out the audio."
Going bonkers: It's essentially the same idea as berserk but another funny way to say it. You can almost hear the crazy in that phrase, and it can be a great one to use for that reason. You might hear "I'm going bonkers waving my hands all around. You don't see me??"
Losing it: It was touched on in the past about using the phrase "losing it" in conversation. In this instance though it means to say that you are trying hard and are getting a bit exasperated or frustrated. It's very effective because it almost gives you a sort of visual with it. You could say "Uh oh. Mike is losing it — he's jumping up and down! Right over there, wave to him so he sees us too."
Going bananas: This is a funny one and it can therefore be really fun to use in conversation. It can be used in a number of different ways, but here it is used as a synonym for the other ones. You might say "She's going bananas trying to get the audio to work. I still can't hear her!"
Breaking one's back: This is a bit different as it refers to how hard you are working on something. It means that you are putting everything you have into it and it's like a sort of visual where you are working so hard it's back breaking effort. You could hear something like "I can't believe you didn't see me. I was breaking my back trying to get your attention."
All of these work well in helping to express how crazy or hard something is.
Sometimes It's Just Crazy
Sometimes things are just crazy, and that's the only way to express it.
We touched on this in a previous episode that can give you some great background.
Crazy? Insane? How To Use English Slang But Stay Politically Correct
Crazy may be what it is, and sometimes that's what you want to say.
There can be other ways to express this craziness too, and you can touch on them when the situation fits it.
Getting frustrated: It can be that perhaps something won't work as hard as you may try. You can feel that frustration and this is how to express it.
Having a hard time with something: Something is very difficult and you are struggling. This may be a bit more extreme than getting frustrated and you can feel it in the phrase.
Maybe excited (not for breaking your back): You might feel like you're losing it! You are excited and this is a great way to express it. You could say "I can't wait, I'm so excited for this party!"
It's good to have phrases like these for both personal life and the workplace.
We focused on trying to get people to see you or hear you today based on Masoud's contexts.
Now you can use them in the right situation and context, and they will work really well for you in conversation.
Takeaway
How else can you use these in your life?
Do you go berserk when trying to get someone's attention?
Would you wave your arms and jump up and down?
Could this be more of a cultural thing?
Try these out today, and see how they can get the conversation going in a unique way.
If you have any questions, please leave them below in the comments section below.
We'll get back to you as soon as we can.