Do you like giving presentations?
How about when you get to the end –have you ever had to handle a Q&A session?
If you are presenting, you can often expect that the audience will have questions for you.
This is a part of being prepared, and so we're going to look at how to master a Q&A session and know how to handle whatever is thrown your way.
Get Your Transcripts Today!
Make sure you understand every word you hear on All Ears English.
Bring your English to the advanced level with new vocabulary and natural expressions.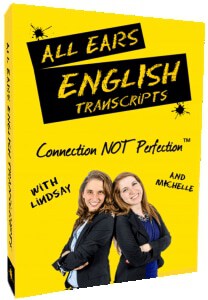 Subscribe and get the transcripts delivered by email.
Learn to speak naturally with the American accent.
Click here to subscribe and save 50%
We have a listener question about this topic that may be something that you've thought about before as well.
Hi Lindsay,

I love your show, and I'm excited to enroll in your business course! One of my greatest challenges is handling Q&A after a presentation. What is an effective way to handle unexpected questions on the spot?

I am sure you've got this covered, and I'm hoping for some help so I know how to handle this.

Thanks!

Jeff
Understanding Q&A and How It Works
Let's start by understanding what is a Q and A?
You've probably heard this phrase used before, and it's simply Question and Answer!
You may feel nervous enough for presentations as it is, and then preparing for any questions that you may get can be stressful.
You want to be prepared, but that may seem difficult when you don't even know what sort of questions you may get.
We speak about presentations in the business course, and this will be helpful to you in this area especially.
We will give you a bit from the course here, and explain other suggestions that may be helpful to you–a great idea is to enroll in the course.
First off, in the course we teach a phrase that you may find very useful which is "Thank you for listening. Now, I would be more than happy to answer any questions you may have."
This is a great way to start out!
This can help you to take control over the situation, open it up to questions from the audience, and show confidence in your overall presentation.
But what do you do if someone asks an unexpected question?
This is what we are looking at, for being prepared for a good Q&A session is an important life skill.
Tips For Mastering A Q&A Session
There are some helpful tips that can ensure you are a pro when you have to participate in a Q&A session.
If you can try to keep this things in mind, then you will find this to be a successful experience overall.
1. Be prepared! Yes, some questions can be unexpected no matter what, but really try to think outside the box when preparing. Practice for a friend and have them ask you at least 5 questions so you can figure out how you might answer them. Be sure to encourage them to ask really hard questions. Anticipate what may be asked so that you are fully prepared for whatever may come your way.
2. If the question is unexpected, you want to figure out a good strategy for answering it. Though you may feel frustrated or stressed out, you don't want to let them see that. You want to do your best to work through this, and so a few things to keep in mind with an unexpected question include:
Remain calm: Even though you may be freaking out inside, don't let it show. You want to discuss it calmly and rationally, otherwise the audience will see that you are rattled. Take your time and work through it and the rest will follow!
It's okay to take a second: Always try to remember that pausing is okay, just do your part to look confident in the process. Breathe and think–pausing can actually be exciting for the audience and build anticipation.
3. Use a helpful phrase in the moment to work through what your answer will be. If you choose the right phrase it can help to calm you down and also buy you some time. If you find yourself in this situation, there are a couple of helpful phrases to choose from.
That's a great question: It makes the person who asked it feel good, and it also gives you some time to think about how you will answer.
Let me think about that one: It's straight and to the point, and sometimes in a situation like this it can be best. You may need to give yourself time to simply think and then you'll come up with the best answer.
I'm glad you asked: Again this makes the person who asked feel good, and it also allows you to have time to think of your answer.
Humorous approach– such as wow, I've never heard that one before! Adding a little humor can go a long way. It may be all that you need to break through the tension and ensure that you know what to say.
Be honest if you really don't know: You can always truthfully say "I'm not sure about that one. The following phrases can help you to convey this in the best way possible. Sometimes just coming right out with what you want to say like this works well. If you want something a little softer, then you can try one of the following if you don't know the answer.
I'm not able to answer that right now, but I will definitely look into it and find the answer for you. The thing with this is you are offering to find out the answer later, and sometimes that's exactly what is needed. Try it and see for yourself!
You know what? You got me! I will check on that. It's a more informal way to say that you don't know the answer, but you will check into it. This is a great one to lighten the mood too.
That's a really interesting question. I'll have to look into that further. Thanks for asking. It says everything that you have to say and gets your point across. It also ends on a positive note with the person who asked you the question.
All of these phrases can be helpful and perfect if used in the right situation.
Sometimes just being honest can be your best bet if you feel unsure!
Roleplay To Help
This is an area where a roleplay can really help and come in handy.
In this roleplay, Lindsay has a Q&A and Michelle asks a difficult question.
Lindsay: "Thank you for listening. Now, I would be more than happy to answer any questions you may have. Yes?"
Michelle: "Thanks. Yeah, so why was there such a significant drop from 1999 to 2002?"
Lindsay: "Oh wow! (PAUSE) Let me think about that one. I'm not able to answer that right now, but I will definitely look into it and find the answer for you. Thanks for asking."
Takeaway
Though it may seem like it at first, a Q&A session doesn't have to be stressful!
Get some help in our business course, because it can really help you as you are trying to figure this out.
Don't be afraid to pause and really think through your answer when necessary.
Think of the culture of the company, or just your audience in general.
Can you make a joke? Is it more formal? Consider the type of environment and audience that you are talking to.
Always prepare with "off the wall" questions, and try to think through a variety of situations that you may encounter.
If you have any questions, please leave them below in the comments section.
We'll get back to you as soon as we can.