Do you ever struggle with questions when you are presenting something?
Is it hard to know when to answer questions when you are in the midst of a presentation?
We did an episode (1431) about Q&A based on a listener question.
We wanted to do a follow up because we were speaking about this during the episode, and knowing when to answer questions can be a very important part of presenting.
That's our focus today, and it will help you when you find that you have to give presentations.
Get Your Transcripts Today!
Make sure you understand every word you hear on All Ears English.
Bring your English to the advanced level with new vocabulary and natural expressions.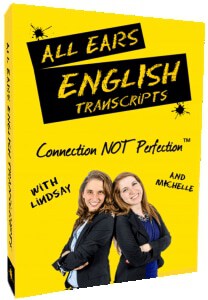 Subscribe and get the transcripts delivered by email.
Learn to speak naturally with the American accent.
Click here to subscribe and save 50%
Learning How To Take Control
So when you do a presentation, sometimes people may ask questions during the presentation–they may not wait until the end.
Though this is frustrating, it's something that you can often count on to happen.
Even with the best planning, sometimes people in the audience want to ask questions as they think of them.
How do you plan for this?
How do you take control over the situation?
This too is about being prepared, but it's also about regaining control over the way that you run your presentation.
This is ultimately about setting boundaries when you start your presentation.
If you set boundaries, then your audience will know what to do.
Many times the audience memrber will actually appreciate you setting these boundaries up front.
It's like laying things out, not only for yourself, but for the audience you are presenting to.
You may have a preference for taking questions up front or at the end of a presentation.
Whichever you prefer, you want to state this up front.
This is a great sign of confidence, and ensures that you can take control over things early on.
Pros and Cons With This Situation
As with anything, there are pros and cons to taking questions along the way.
It may be based upon your style or personality as to which works better for you.
If you hold off the questions until the end, then that helps you to stay on track throughout.
If you decide to take the questions as they come though, there are some pros and cons to dealing with this.
Pros
You can address things in the moment: As questions come up you can address them and move on. It keeps things moving in real time.
You will be more in the moment yourself: You allow yourself to switch gears and think quickly. This ensures that you are present and ready for anything.
You may have an answer available more readily: If you wait until the end, the answer may be harder to come by. If you answer during then you may be able to quickly answer the question.
Cons
If you answer during the presentation, there can be certain cons to this as well.
You may lose your train of thought: You may be doing a great job of keeping on point and suddenly that progress is lost. If you have to stop to deal with questions then it may be harder to get back to where you want to be.
You may have a harder time staying on track: It's easy to lose track of what you are saying if you keep stopping. This may make it harder to get back on track and keep things going.
You may already be answering a question within your presentation: Sometimes it happens that questions that people have may already be answered if they sit tight and wait it out. Therefore if you answer the questions during the presentation, it may ultimately be repetitive. The answer may already be in the content you created.
It can be helpful to weigh it out as to which option works best for you.
Sometimes answering questions at the end works best, and sometimes answering them during can be your best option.
Consider what works best for you and then you can frame your presentation accordingly.
Ideas For Managing Questions That Come Your Way
If you find that you are in that inevitable situation where you have to manage questions during a presentation, there are ways to work through it.
You may wish to change the flow of your presentation to allow for questions.
You can work through questions that may come to you during the presentation, or you can try to hold them off until the end.
It's all in how you approach it and work through the questions–you can be very successful and these tips will help.
During the presentation
Feel free to throw out any questions you may have during the presentation. You can say this up front to make people feel comfortable and ensure that you are ready for whatever comes your way.
Just let me know if you have any questions at the time. I'm happy to answer them. This shows confidence and also puts people at ease.
This is meant to be an interactive presentation, so I encourage you to ask any questions that you have as we move along.
After the presentation
Please hold all questions to the end. This is very direct and ensures that you set the tone from the very beginning.
I'm going to have a Q&A at the end of the presentation. This gives people an opportunity to think through what questions they may have along the way.
I may very well answer some questions in my presentation, so if you could hold any questions until the end that would be great. You hope that people will adhere to this and hold off on questions, but at the very least it's a great attempt to control things.
You could also use any of these if somebody is asking a lot of questions and you are trying to limit that or work through it.
Takeaway
This is an important followup to the other Q&A episode, so make sure you listen to that one if you missed it.
Don't panic if people start asking questions, just be sure to set your boundaries!
You can plan for a lot, but not how people will act during a presentation.
All you an do is work through it and ensure that it doesn't fluster you during your presentation.
If you have any questions, please leave them below in the comments section.
We'll get back to you as soon as we can.