When someone asks how you are, do you always say, "Fine," or are you honest?
Have you ever felt like the word "fine" was used a lot in English?
Today we're looking at this word, and all of the different meanings it has.
This is the next in our series on contronyms, and we are focusing on the word "fine" and the many different ways it can be used.
This may be different in other cultures, but it's an important aspect of understanding Different in other cultures.
Get Your Transcripts Today!
Make sure you understand every word you hear on All Ears English.
Bring your English to the advanced level with new vocabulary and natural expressions.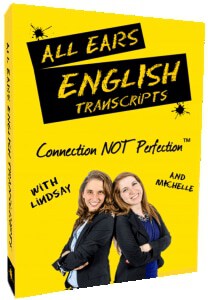 Subscribe and get the transcripts delivered by email.
Learn to speak naturally with the American accent.
Click here to subscribe and save 50%
Are You Really Fine?
What does it mean when you say you are fine?
In Part 1 of our contronym series we introduced contronyms, which are words that have two opposite meanings.
We covered "off" in episode 1460,so check that out if you missed it!
Today we're talking about the word "fine" which can mean a couple of different things.
It can mean that something is acceptable or good enough.
It can also mean the very best or excellent in some capacity.
You could accidentally offend somebody if you use this word incorrectly!
This could be very confusing!
You want to think about what you are trying to say, and also who you are talking to.
Looking At The Right Ways To Use This
So you recognize that there are multiple meaings.
You want to be sure that you are using the word in the right way at the right time.
You can tell which meaning is intended through context.
Also, for this contronym, location in the sentence signifies meaning and that's important to remember.
So let's take a look at how this word can work in a couple of different ways.
Fine: Acceptable/good enough
You would use it to say things like "I'm fine." "This meal is fine." "My haircut is fine."
Often, natives will explain why something is merely "fine."
"Did you like the movie you saw last night at the theater?"
"It was fine. I didn't love the ending."
Fine: Exceptionally delicious, well made or beautiful (always comes before the noun with this usage)
You would use this to talk about fine wine, fine food, or fine jewelry.
You could even use this to talk about fine art: creative/visual arts that are appreciated for their beauty or creativity.
It can also be used to describe activities that require skill.
"He needs to learn the fine art of persuasion".
It can also be used to describe fine workmanship or fine craftsmanship.
"Did you see the amount of effort he put into that fine craftmanship on the bench he built?"
Looking At Other Meanings For The Word Fine
There are actually other meanings for the word fine that are well worth talking about.
You want to know what these are so that you an use them in conversation.
This shows what a versatile word this can be, and how it can work in several different ways.
Fine-tune skills: This means that you would make small adjustments to achieve optimal result.
Fine: This means good looking. It's a fun way of saying it. "He's so fine!"
Fine with me: You would likely say this in an argument. It's something you would say, sometimes not seriously to get a point across. You may sound angry when you express this.
Fine and dandy: This means excellent, but is used sarcastically to mean terrible in some situations too. "That's just fine and dandy!"
There are more phrases than you might imagine which use this word in them.
Roleplays To Help
In this roleplay, Aubrey is at the opening of an art gallery, and Lindsay is an oil painter showing her work.
Aubrey: "This work is fine."
Lindsay: "Oh? You disapprove?"
Aubrey: "No, I like it. It's fine."
Lindsay: "Okay…"
Aubrey: "I love fine art."
Lindsay: "Well, enjoy your evening."
Let's do another one–in this roleplay, Lindsay and Aubrey are at an upscale restaurant, known for it's fine dining.
Lindsay: "How is your entree?"
Aubrey: "It's fine. I actually think it's a little overcooked."
Lindsay: "I wouldn't expect that at such a fine establishment."
Aubrey: "I know – I'm really surprised! With such fine wines and fine food on the menu, I couldn't help but expect everything to be superb!"
Lindsay: "You should say something."
Aubrey: "No, I couldn't. I'll be fine. I'll just eat it."
Lindsay: "No, really! It'll be fine. I think they'd appreciate the feedback."
Takeaway
If you use the word "fine" incorrectly, you could accidentally say the opposite of what you mean!
It's one of those words that can go in the completely wrong direction if not used properly in conversation.
Awareness of the two contradicting meanings for this word will help you avoid this problem in the future.
If you have any questions, please leave them below in the comments section.
We'll get back to you as soon as we can.