Are you somebody who apologizes a lot?
Have you ever apologized to someone before speaking in a second language?
We're looking at why people apologize so much, often when it's unnecessary.
This is particularly important when it comes to language learning, where you may put far too much pressure on yourself.
We're going to look at why we apology so much, why it's hard to take a compliment, and how we can improve upon this moving forward.
Get Your Transcripts Today!
Make sure you understand every word you hear on All Ears English.
Bring your English to the advanced level with new vocabulary and natural expressions.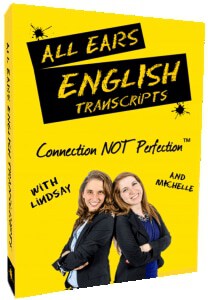 Subscribe and get the transcripts delivered by email.
Learn to speak naturally with the American accent.
Click here to subscribe and save 50%
It's Time To Ditch The Apology
You have probably said it yourself—you downplay something that you have done well.
You may often hear people say things like "oh no, it's nothing really" even when the situation doesn't warrant it.
You might hear something like "I'm sorry–I know your English is better than my Spanish, but I need to practice!"
This is such a common topic because if you're like most people then you very likely are too hard on yourself too often.
There was something worth checking out which was "Women in Language" speaker Shanthi Streat, Business English coach called "Ditch the apology!" https://englishwithatwist.com/
This is well worth checking out because the message is so clear and so important.
It's time to ditch the apologies for good!
You may read that and panic a bit, particularly if you are somebody who apologizes all the time.
There is likely to be an area where you can stop apologizing and take the compliment, or at the very least change your mindset.
How Do You Respond To Compliments?
This is an interesting area of your life to look at because it affects all of us in some way.
Ask yourself the question—how do you respond to compliments?
If you're being honest, there's a great likelihood that you downplay compliments that come your way.
You may push off the attention on you, or you may somehow make it seem like no big deal.
Are you somebody who actually accepts the compliment?
Chances are that you don't, or that you make it seem like it's not such a big deal.
Rather than accepting the compliment, you probably put it off and say something negative about yourself.
Think of compliments that you may have received over time, and then ask yourself how you handled them.
What is it about compliments that make it so hard to receive? Is this a cultural thing?
Many cultures value humility and frown upon boastfulness.
In some cultures, women are taught it's not feminine to boast and talk up our skills.
You may be taught in these cultures that you don't want to come across as arrogant.
You can look at this in a couple of different ways, so you can see how you respond to positive feedback that you may receive from others.
Looking At This In Your Personal Life
Think about your daily interactions and when you may receive a compliment about something that you did.
Are there times when you downplay a compliment that you receive?
In your personal life, you may be good at something and know it, but somehow you still turn down the compliment when it comes your way.
There's actually an episode that we did on this subject that is worth checking out first which is AEE 975: Don't Make This Mistake When You Receive a Compliment
Think of this in terms of different scenarios that you may be very familiar to you.
You prepare a meal for guests that you worked very hard at, and they compliment you on the meal and your effort.
Instead of taking the compliment, you instead say, "I just followed a recipe."
This actually dismisses the hours you spent and the effort that you put into it.
You may even look back afterwards and wonder why you downplayed it so much.
Here's another scenario that you may be able to relate to–you figure out how to rewire an electrical outlet after much hard work and time spent working on it.
A friend finds out and is very impressed that you accomplished this.
You say, "I just watched a YouTube video. You could do it, too."
Why is it so difficult to say, "Thank you! I worked really hard on it!"
It seems to go against our nature to accept a compliment and feel good in that moment.
What if instead of turning down the positive spotlight we instead accepting the compliment?
Looking At This As A Language Learner
You can also look at this in terms of being a language learner, as this is a very common area to examine.
You know that you're working hard and really advancing in your language learning—you are putting in the work and it's paying off!
You may receive a compliment and say something like "Sorry, my English isn't very good."
Instead of just saying thank you, it may just come out that you say something like "Sorry for my bad English. I hope you can understand me."
Why do we have this compulsion to apologize?
When it comes to language learning, you know if you are putting in the work.
You are very aware of the efforts that you are putting into this, and therefore you should feel good about this.
You should accept the compliment, and know that you are working hard to advance.
When it comes to language learning, you want to recognize that you are getting better all the time.
This is definitely a shift in mindset, and it may actually be a cultural shift as well.
Take a step back and gain perspective though, and if you are truly putting in the hard work then you want to enjoy the compliments that come your way.
Why Do We Apologize So Much?
When we look at the piece above, Ms. Streat went into a number of language forums to see what people think.
There are a number of reasons why we turn down compliments and apologize instead.
You want to look at this in terms of language learning, as that is the most pertinent example here.
If you wonder why we apologize so much, there are a number of reasons that you can point to for this.
We apologize because we're seeking forgiveness. We want people to forgive our mistakes. We don't necessarily want to overlook them, but to be more understanding of mistakes. We want the person that we are talking to to somehow see that we feel bad for any mistakes that we may make.
We don't want to offend someone for butchering their language. We think it is painful for them to hear our mistakes. We worry that we will be ridiculed if we somehow ruin the language that we are trying so hard to learn. Most people don't care and are patient with the fact that you are doing your best to learn.
If I apologize, I'll lower their expectations of my language ability and hopefully they won't expect too much of me. This is a defense mechanism where you apologize even if it's not necessary so that people won't get upset with you.
These all stem from a desire to have perfect language, and that's not realistic even for a native.
Remember we always say that the goal is connection, not perfection!
Native speakers want to connect with others, so make your focus on connecting with people.
Remember that even natives struggle with language sometimes, and so perfection should never be a goal.
Roleplay To Help
In this roleplay, Lindsay has thrown a birthday party for a friend that Aubrey attended.
Aubrey: "I'm so impressed with the food and decorations! You've done a stellar job!"
Lindsay: "Thank you! It was nothing."
Aubrey: "Oh, I'm sure you put in a ton of work – you thought of every detail!"
Lindsay: "Nah. You should see my friend Mark's parties. He really goes all out!"
Aubrey: "Well, see ya! Thanks again."
Aubrey: "I'm so impressed with the food and decorations! You've done a stellar job!"
Lindsay: "Thank you! I'm so glad you came."
Aubrey: "Of course! I've known Monique forever, and I think this is the best party anyone has ever thrown her!"
Lindsay: "That is a huge compliment – I appreciate it! She deserves it. She's such a great friend and is always thinking of others."
Aubrey: "For sure! How long have you known each other?"
Takeaway
If you realize you apologize often for your language level, recognize that this can keep you from making connections.
Celebrate your efforts in learning a language and having the courage to communicate even when you might make mistakes.
Focus on the connections you want to build, and not on yourself and your errors.
Practice accepting compliments and communicating without apologizing!
This will be instrumental in every part of your life, so learn how to change your mindset to this way of thinking and you can always lean on it.
This will help you build relationships and gain confidence in your language skills!
All of this helps you to approach things with a better mindset, and ensure that you find the positive in every situation.
If you have any questions, please leave them below in the comments section.
We'll get back to you as soon as we can.