Do you ever feel as if things seem to happen one thing after another?
Have you heard people say "when it rains it pours" in English?
Are there phrases like this that you don't really understand or know how to use?
Today we're looking at such phrases, and helping you to figure out when these might apply.
There is bound to be a time in your life where things keep happening all at the same time, and now you will know how to talk about.
Get Your Transcripts Today!
Make sure you understand every word you hear on All Ears English.
Bring your English to the advanced level with new vocabulary and natural expressions.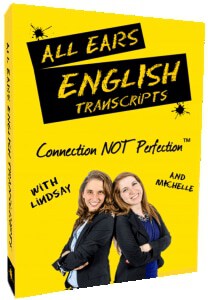 Subscribe and get the transcripts delivered by email.
Learn to speak naturally with the American accent.
Click here to subscribe and save 50%
We have a great listener question today that is likely something that you have thought through and therefore may apply.
Hi Lindsay, Jessica, Michelle and Aubrey,

I've been listening to your podcast during this pandemic and enjoying it very much! You all have provided me enormous functional vocabulary, and I'm using each of them while I'm in the midst of conversations.

I was watching the movie "Dragonheart" and enjoyed it, even though I didn't understand all of it. There was one idiom that I didn't understand, and I hope you can help. In this movie, I heard "That man could not butter bread without dropping it butter side down."

Can you please help me to understand this so that I could try using it in conversation?

Thank you very much for your help!
Phrases Can Be Complicated Sometimes
This is a great phrase to pick up when watching a movie, so great job to our listener for that!
To be honest, this was a phrase that even we didn't understand.
There are some phrases that may be used which are not necessarily common, even amongst natives.
So we looked up this phrase and we're still not quite sure of what it means.
Do you think it's important to learn this expression?
When we googled it, only "Dragonheart" came up, so it is clearly not a phrase used often.
Apparently this phrase comes from the idea that if you drop a piece of buttered toast, it will drop with the butter side on the ground.
You can look it up as we did, using the following tool and link.
On the free dictionary: Bread Always Falls On The Buttered Side
According to this, "bread always falls on the buttered side"–this is a proverb, according to the site.
It basically means if something bad happens, more bad things happen.
The actual proverb said "When things go wrong, they go completely wrong."
An example may be if you stepped in mud and then slipped in a puddle.
One thing went wrong, and so then another thing went wrong at the same time.
So in the example the bread fell, and not only that but it fell on the buttered side down.
This applies to situations where it feels as though everything is going wrong at the same time.
Sometimes it may feel like too much, but you have to remember that it's only temporary.
Other Expressions To Use In This Area
We have all had bad days, and we have all felt as though so many bad things were happening at the same time.
This is a part of life, though it's not a desirable one and it can bring us down.
We can use some other expressions to convey this, which is helpful particularly when you are in the situation and feel a bit overwhelmed.
You may also use these phrases if you are trying to offer support and comfort to somebody going through a tough time.
When it rains it pours: This is a common one and you can almost visualize it when you say it. This also means that when something bad happens, it may feel as though multiple bad things happen. When you are suffering through a situation, it may feel as if everything comes raining down on you. This may be used for good or bad things, because everything seems to come all at once. In a positive way, you could say "I can't believe I haven't gotten a job interview in three months, and now I have five. When it rains, it pours!" In a negative way, you could say "She lost her job and her boyfriend broke up with her. When it rains it pours."
This phrase is used often, and we actually talked about it on a previous episode: These Phrases Are Not Bad Luck For IELTS
One thing after another: This is often used for bad things that happen in life. You can picture this to a certain extent as it's almost like a list or a line of various things happening to you. It may feel as if you go through this list and experience them one at a time. Collectively though it can be overwhelming, particularly since these things are often negative or bad. You might say something like "My purse broke and then I dropped my sunglasses in the sewer. It was really one thing after another today." You could also use it to criticize someone, though of course that's not a positive thing. Be sure that you are using it in the right way because it won't be taken well if you say it. In this instance, you could say "It's one thing after another with you. You have to shape up!"
Can you think of times when it felt as though when one bad thing happened, others tended to happen at the same time?
Does this put you into a bad mindset overall?
Does a negative attitude or mindset tend to attract other bad things?
These are questions to think about and answer, and they can make for a good conversation as well.
Roleplay To Help
In this roleplay, Lindsay and Michelle are trying to get recognized for a science competition.
Lindsay: "Michelle….we heard back from 3 sponsors!!"
Michelle: "Oh my goodness, after so long. When it rains it pours!"
Lindsay: "Seriously. For awhile it felt like no one was ever going to be interested in us."
Michelle: "Yeah it was one rejection after another."
Lindsay: "I'm so thankful we are finally being recognized."
In this roleplay we used one rejection after another, but you can put any other words or phrases in there.
Takeaway
We started off with an expression that even natives don't understand or use.
It was a helpful starting point, and there are more common ones in this area to use.
When it feels as though everything is going wrong, at least you now know how to talk about it.
These phrases can come in handy, but remember that mindset and attitude are everything here.
Though you may feel as if everything is going wrong, you can try to turn that around with the way that you deal with it and think about things.
If you have any questions, please leave them below in the comments section.
We'll get back to you as soon as we can.