Have you ever heard people use alphabetical letters in a different way in English?
Have you ever heard an expression that centered around letters but had nothing to do with them?
Perhaps you haven't heard of alphabet idioms by name, but you may have very well heard them in your conversations.
We are looking at what alphabet idioms are, how they work, and how you can start to use them in conversation to build confidence and connections.
Get Your Transcripts Today!
Make sure you understand every word you hear on All Ears English.
Bring your English to the advanced level with new vocabulary and natural expressions.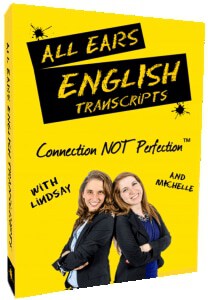 Subscribe and get the transcripts delivered by email.
Learn to speak naturally with the American accent.
Click here to subscribe and save 50%
Thinking Through A Common Aspect Of Conversation
We are talking today about a common aspect of conversation, but perhaps a confusing one.
There are some alphabet idioms and words that are part of everyday conversation, which you may have heard used.
We're not focusing on the acronyms today, but rather the other kinds of expressions and vocabulary.
These are useful and fun, and they can really add to a casual everyday conversation.
This is an example of taking your language and vocabulary to another level.
When you use these in conversation, you will find that you feel like a native.
This is a somewhat unusual twist on letters of the alphabet, but it's a great one to focus on.
This is a great example of making conversation fun, and it can help to build your confidence too.
You may feel a bit unsure at first, but if you practice using these and focus on the right ones then it can help you tremendously.
This will come off quite natural in conversation if you try them out one at a time in the right context and at the right time.
So let's get to what the best examples of these are, and then you can begin to understand and try them out for yourself.
Some Great Examples Of This
So you can start to get a feel for what these are and how they work, but let's get into the details.
You will learn some great examples here, and then you can try them out and see for yourself which ones you like.
Practice is the key here, as you want this to sound natural and you want to make them part of conversation at the right time.
Here are some of the best examples, and you can focus on which one to try out first.
Mind your ps and qs: This means to have good manners. It is very old timey sounding, but it has a purpose. It is often used with kids when a parent is trying to say that they should watch themselves or use good manners in a situation. An example of this is "Mind your ps and qs when you go to your friend's house for dinner."
Dot the i's and cross the t's: This means that you are going to make sure everything is correct. It's about being detail oriented especially when it matters the most. An example of this could be "Should we look this over once more? I'd feel better if we dotted the i's and crossed the t's."
A for effort: This means to get a good grade which is an "A", but just for trying. It means that you put forth effort maybe even before you know if you are going to succeed. You put it out there and it really meant something, it showed effort no matter what the outcome. An example of this is "Wow, you did awesome. Winning isn't everything. You get an A for effort."
Catch some zzzs: This was actually taught on another episode, and it is talking about going to sleep. It may be referring to getting in a nap when you need it. An example is "I'm gonna catch some zzz's. I'm exhausted."
Xoxo: This is an expression of hugs and kisses. It is typically used more in writing, like you can imagine it in a text for example. It's a nice way to close a conversation when you are close to somebody. An example that could work well is "See you later! Xoxo."
Which of these are you most likely to use?
Look at each one of these and think through where you could use them and how they could contribute to conversation.
These are good because they are simple, fun and kind of unexpected in conversation.
If you surprise someone by using one of these, they will really pay attention.
These are the types of expressions that can turn heads, as they can show confidence when you use them.
Now you see what the most common ones are, and you can determine which one you want to start by using.
Roleplay To Help
In this roleplay, Michelle and Lindsay are coworkers and they are finalizing an agenda for an upcoming meeting.
Michelle: "Ok so, I think we're good!"
Lindsay: "Awesome. Let's just dot the i's and cross the t's and we're done!"
Michelle: "Yes, we'll look it over. So we're sure the customer survey should come first, right?"
Lindsay: "Yeah. I know we're meeting during lunch , but I'm sure everyone will mind their ps and qs and pay attention…right? I never know with these lunch meetings."
Michelle: "It'll be fine. Alright. We get an A for effort for planning this all out. "
Lindsay: "Definitely. Alright, I'm exhausted. I'm gonna catch some zzz's."
Michelle: "See you tomorrow!"
You will notice that we didn't use xoxo but it could have worked here.
If you have a fun relationship or are very close, then something like that would have worked well there.
So always keep in mind who you are talking to and the type of relationship that you have with this person.
Takeaway
If you want to take your language learning and conversation up a notch, then this is a perfect thing to focus on.
These are great ways to express yourself using the letters of the alphabet.
You can use words and phrases like this to build connection and be very expressive.
Try these out and see how fun they can be in your conversations.
These can be fun and build confidence–so try them out and let them know how they work out for you!
If you have any questions, please leave them below in the comments section.
We'll get back to you as soon as we can.