Do you want to know how to speak with an American accent?
Today, learn 3 ways to sound a little more like an American when you speak English!
Author and English teacher Amy Gillett believes in working to perfect your American English accent. According to her, the more you put into it, the better your accent will be.
Here are Amy's 3 tips to sound more like an American:
Build vocabulary by learning idioms. Because idioms cannot be translated directly, they must be learned in chunks. This is an opportunity to both sound more natural in the language you use, and to learn new words.
Work on you American pronunciation. Practice forming your mouth so that you can imitate native speaker's vowels and consonants. Also, pay attention to the rhythm of native English speech patterns.
Practice! Get out and talk to people, and let others know you want to be corrected.
All Ears English Transcripts!

Get the transcripts for this episode!

Use the transcripts to move your English from intermediate to advanced.

Learn native pronunciation and vocabulary.
Have you tried to speak English more like an American?
What's worked for you?
Tell us about it in the comments section below!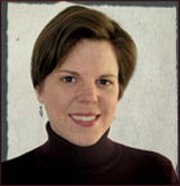 Amy Gillett is the author of the best-selling ESL books Speak English Like an American, Speak Business English Like an American and several other books on speaking conversational American English. She teaches business English to international executives, most recently for ICBC, the world's largest bank. She has taught at Charles University in Prague, Cornell University, and the University of Michigan. Find her at Language Success Press.