How do you use "as long as" in English?
On today's Tear Up Your Textbook Tuesday, find out how to stop using "if" all the time and start using "as long as"!
The phrase "as long as" is a connector similar to "if", or "provided that".  It means that meeting certain conditions will allow something to happen.  The emphasis is on the importance of meeting the conditions.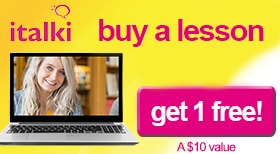 Can't find native speakers to practice English with you?
Can't get your English corrected by your native-speaking friends?
Get a professional, native English teacher in seconds at italki.
For a limited time, italki is offering 10 USD in free English lessons. Click here to get your 10USD in italki credits before this offer runs out!
Here are a couple ways "as long as" might be used:
When do I have to be home?
Whenever you want, as long as you bring the car back in good condition.
"Is your landlord nice?"
"He is, as long as we pay the rent on time."
How can you use "as long as"?
Write us a sample sentence in the comments section below!