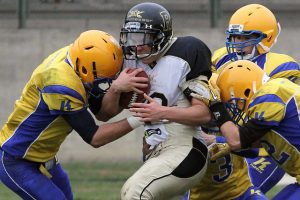 Have you ever seen an American football game?
Fall is the time to watch football!
We'll be attending a Harvard- Princeton football game during the next Urban English Adventure Otober 19-22 in Boston.
Spots are still open. Go here to apply now!
This is an Ivy League match up.
You'll see some of the Ivy League sports traditions if you're coming on the trip.
Even if you're not coming on the trip, you should be familiar with the places in American culture where Football comes into play.
In today's episode we'll take a look at some of the traditions that you can participate in to connect with natives around one of their favorite sports.
American traditions connected with Football:
Tailgating: This is a typical American sports tradition. You get a group of people in your car and you park in the parking lot outside the game. You open the back hatch of your car and have a party in the parking lot. You enjoy all kinds of food and sometimes people even bring grills to cook hamburgers and hot dogs.
The Superbowl: This is the final game of the fall Football season. Americans have big parties. It always happens on a Sunday evening in January. People bring food like nachos and beer. Some people go to a Super Bowl Party and don't even watch the game. They go to socialize and have fun with friends. The commercials are always amazing and historic.
Homecoming: This is a weekend event that happens in October in American high schools. It's usually a time when alumni come back to their high school to visit. The weekend consists of a Football game, a dance, a pep rally, and other events.
Thanksgiving: Many American households will have the Football game on TV during this holiday. Sometimes family members will cheer for different teams so this can create drama. Football and Thanksgiving go together!
If you get invited to any of these events you must accept the invitation!
Don't be scared off if you don't know the rules of the game.
Go to the event and enjoy. Connect with natives and experience the culture.
What questions do you have about today's episodes?
Let us know in the comments below.