Would you say you are a connoisseur of anything?
Is this a term that you have heard used before in English?
If you say that you are a connoisseur then you want to be sure that you really fit that expert level.
We're going to look at what this word means and how to use it in conversation.
We had a great question on Instagram about the word connoisseur.
Get Your Transcripts!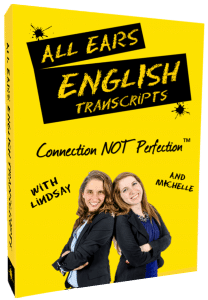 Make sure you understand every word you hear on All Ears English.

Bring your English to the advanced level with new vocabulary and natural expressions.

Get the transcripts from today's episode.

Learn to speak naturally with the American accent.
Hi all!

I'm trying to incorporate the word "connoisseur" so I can say "I'm a true book connoisseur" or something like that. It doesn't sound natural or right to me, so I'm wondering if you can help me.

Is there a better way to use this or to say it?

Thank you in advance for any help you can offer!

Omklim108
Expressing Expert Level
This is one of those words that you use to specify expertise in a very direct way.
Yes it can be used in a variety of different ways, but the first thing that comes to mind with the word connoisseur is wine.
It's not that it is wrong to use with books, but you just wouldn't tend to hear it used in that way very often.
So what exactly is a connoisseur?
It's basically an expert on a particular topic, such as wine or cheese.
Understanding that it's a word designated to describe an expert in this area, you can have a bit of fun when using it.
Looking At This In Context
This is a word that can be fun and smart, but can also be a bit formal in its use.
You can say "wine connoisseur" or 'connoisseur of fine wine" as both are perfectly acceptable and fitting.
It's someone who REALLY knows something–who can appreciate everything about that one thing.
It's like when you see someone tasting wine-they have that look that they can appreciate wine on a level that other people don't or can't.
This word can therefore be a bit more useful with fancier things in general.
Using This In Conversation
Recognizing that this is a more formal word, think of the best ways to use this.
Try to listen to how others are using this word for a great point of reference.
For example: "Michelle, you're a real cheese connoisseur- wanna go to a tasting with me this weekend?"
You do have to be a bit careful with this as labeling yourself as an expert of something can be a bit deceiving.
It may come off as snobby if you don't say it the right way.
In the example, would you want to describe yourself as a connoisseur?
You might just say "book lover" or "bookworm" instead.
Being an expert is a wonderful thing, but just be sure that you really know what you're sure of your status before you communicate that with others. †
Other Ways To Say This
Another time we can follow up on more casual expressions.
There are a couple of other ways to say this that convey the same sort of expertise that you may be searching for.
Savant- "She knows everything about fashion– she's a real fashion savant."
Aficionado- perhaps more just someone who likes something a lot "I'm a real steak aficionado. I love to cook it and eat it!"
Buff- "I'm a real film buff. You name it, I've seen it! Buff is the least formal sounding one, and so we wanted to give you one that was a little less formal.
All of these words work well in conversation to express that expertise or authority, and so they can be used accordingly.
Takeaway
Be careful how you sound when you say you are an expert on things.
Some people may think it sounds snobby, but it's also good to express that you have an expertise or strong appreciation of something.
Listen to those around you– how do they express enthusiasm for something?
Being a connoisseur is a wonderful thing, but just be sure that you have that expertise level before you claim the title.
If you have any questions, please put them below in the comments section.
We'll get back to you as soon as we can.