Do you consider yourself to be a social person?
Alternatively do you find it hard to be social, particularly when you are in a new country?
Do you ever struggle to make new friends or find people to practice your English with?
Today we are going to look at what your social layer really is, what it means to language learning, and why this all matters in the big picture.
This may be a totally new concept to you, but it is something that will serve you well when it comes to learning a new language—and this can lead to a great skill to use in other areas of your life too.
Get Your Transcripts Today!
Make sure you understand every word you hear on All Ears English.
Bring your English to the advanced level with new vocabulary and natural expressions.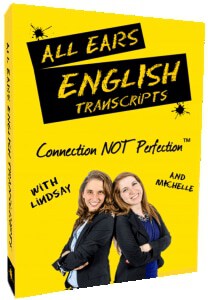 Subscribe and get the transcripts delivered by email.
Learn to speak naturally with the American accent.
Click here to subscribe and save 50%
Your Social Side Can Help You To Learn
We are social creatures, so how can you make your English social for better and faster results?
Our special guest, Benjamin Dent, is going to give us some tips to help with this.
He is from Hallo, a live streaming language learning community that starts with a social layer.
We'll talk about what that means and how to use it to do your best. What is the social aspect to learning?
Why does your social side really matter when it comes to picking up a new language?
We're going to look at what this social layer is, and why it matters so greatly.
There are a few things that are important when you put a social layer into your language learning.
Everyone may have a different plan, and some like certain things and for others it may not stick.
The three things discussed today focus on the practical usage of language learning, which can apply to everyone.
This may be about talking to others and setting goals for yourself, all of which can help you.
This philosophy can help advanced learners, and so these tips can really come in handy.
This is so crucial to your progress—and as you know it's about connection not perfection!
Tips To Help You Implement This Social Layer
So you may see just how valuable the social component is within all of this.
You want to implement this social layer for truly effective learning overall.
You also want to overcome any barriers that you may have otherwise encountered.
These three tips will help you to do just that, and can take your language learning to another level.
1. Ask people to practice: It may be a group of friends or those that you can count on. They may cheer you up on the bad days or that you talk about life with. This could be people that you share similar experiences with. You may find new friends like this through Facebook or through an app like Hallo. You have to take a step outside of your comfort zone to meet people like this. You have to be genuine and ask them if you can talk through something interesting so that you may practice with. You may be preparing for an exam or you may just be trying to improve your business English.
Whatever your reasoning, there is bound to be somebody that you can find when you put yourself out there. Before you know it, you will build your network. Not everyone will respond and that's okay, but there will be some that you do. You may want to practice with native speakers for a true challenge and improvement. You may find that practicing with other English learners and turn this into a true immersion experience. This may all create a new way of social interactions, and that's how you can practice this. Your fear may disintegrate as you practice expressing your thoughts and speaking in the language. It can be about finding commonalities, and so it doesn't always have to be a native speaker that you practice with.
2. Utilize this community once you have found it by setting goals: Think of it as this–Learning a new language is like going to the gym for the first time, and it can be really hard. It may feel as if you will never pick it up, and so you want to go with your friends. As you continue to set goals, these baby steps are so important. If you slowly work at improving, you have a high level of what to expect. If you do this over time it's a much more effective learning method. It's easier to recall things and retain what you have learned. Science shows setting goals is so important. If you set goals it eases the social burden. It also helps you to recall what you have learned. You want to use this group to the fullest to improve the most! If you write out your goals and make them visual, then this will help you tremendously. You may lose motivation along the way, and you may feel overwhelmed. Those are the most authentic moments to practice with your friends.
Learning a language is often about thinking and feeling, and that's how you get the most out of it. You need to set your own individual goals, but you may also find that you set goals as a group too. It may be best to have a hybrid approach here in setting goals. You may have some goals of your own or ways of improving, and it's okay to have something that is personal. The overarching goal may be about improving, but you may have different approaches or tactics to get there. When you are together though, then you want to have similar goals so that you are working towards the same things cohesively. You can supplement things with your own research or tactics when you are on your own time. You do need to lead your own learning and take some ownership when on your own—and then have a sense of community when you are together.
3. Give back: There will be moments when you are helping a teammate. Learning can become selfish, but it should also be collective too. A combination of the two is important to improve. It's really important to look up to people and know that they can help you. Be sure to surround yourself with good people who support you and help you to reach your goals. You'd be surprised at how you can help other people, even when you are a beginning learner. If you help others it builds this positive feedback system. You believe in yourself and have confidence, and this has a carry over effect to other areas of your life.
Think outward when it comes to learning a language, and you will be surprised at how this comes back to you.
If you ask others to help you in practicing, be sure to offer the same to others as they are trying to learn too. Offer tips to those that are not at your level yet.
This helps their progress, it makes you feel good to give back, and it takes you out of your own head too. You won't be so focused inward when you are practicing by helping somebody else.
You are learning in a freer way, and this benefits them and you as you are practicing as well. This gives you a feeling of connection, and it contributes to our innate desire to connect with others.
We are social creatures, and therefore the ability to connect with others is so important.
You need to step outside of just your own world, and this is a great way to do that.
It won't feel like such a challenge or a chore to learn when you are helping others—and this is a new and better way of learning overall!
Making This Work For You
If you look at language learning in this way, then you can really get the most out of it.
Try to focus on the social aspect of learning, and it may prove to be beneficial and enjoyable.
This is a great way to learn something and to make some friends along the way.
It doesn't have to be a lonely process, and therefore you can meet some great people as you learn and also help others at the same time.
You can use the platform of something like Hallo to help you to get to where you want to be using the social element to help you.
At Hallo, it's a live streaming community for language learning.
It's like combining social media and language learning into a powerful tool.
You can get friends and followers, you can go live when you want to practice with your friends.
You can watch various live stream videos from people around the world that can teach you.
You can get a private lesson, and they are also launching some courses soon too.
This will made up of small classrooms with real time speech assessment focusing on things like pronunciation.
It is attainable and affordable for everyone and therefore reaches out to everyone.
It's a different platform with a different philosophy to unlock that social layer.
You can find them at Hallo, and you can Google the app.
Takeaway
We are social creatures by nature, and so we can rely upon that when it comes to language learning.
It's a matter of unlocking and building up that social element and applying it to learning a language in an effective way.
The tips presented here today can help you to get the most out of your language learning, and ensure that you make some friends along the way.
This is a different and rather enjoyable approach to language learning, and it is truly beneficial.
Try these tips out and use this approach to take you to where you want to be, and you'll be surprised at how great this makes you feel along the way.
Bio:
Benjamin Dent is the Cofounder and COO of Hallo, an online English learning School focused on helping people become fluent. Hallo focuses on learning through speaking, and leverages small group classes and live stream videos to create a fun, safe and encouraging environment. Students and teachers love the encouraging, welcoming and fun atmosphere found on Hallo. Outside of work, Benjamin enjoys cycling, snowboarding, pickleball and reading.
If you have any questions, please leave them below in the comments section.
We'll get back to you as soon as we can.