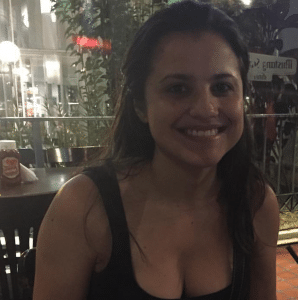 Today you learn how Tania overcomes IELTS writing sins, and get valuable information for your own essay excellence.
Tania is a student in our course, and wrote the winning essay this month in our Writing Wizard Contest.
She works with Americans, and, when she started preparing for IELTS, she realized that a high-level of English was only half the battle.
Preparing for the exam can be overwhelming, and Tania has found that using our road map in the course helps her deal with the huge challenge ahead of her.
Writing, especially, has posed difficulties.
Growing up in Brazil, Tania learned a different writing style than what is required for high scores in IELTS.
Composing in Portuguese is wordier than in English, and, in addition, the opinion is only expressed at the end of an essay.
This cultural way of communicating wouldn't satisfy the high-score descriptions for the IELTS Exam.
You have to be direct and very specific!
Tania has found the essay templates in the course extremely helpful, as she knows exactly what transition phrases to use, and how many examples/details to give.
100% Score Increase Guarantee with our Insider Method

Are you ready to move past IELTS and move forward with your life vision?

Find out why our strategies are the most powerful in the IELTS world.

When you use our Insider Method you avoid the BIGGEST MISTAKES that most students make on IELTS.

Click here to get a score increase on IELTS. It's 100% guaranteed.
The time constraints of IELTS simply doesn't allow you to provide too much information!
She feels as if she is almost doing something illegal, being this straightforward in English. As if expressing oneself in this way is not only impolite, but sinful!
The Writing Wizard question this month was:
In some countries, the right to vote is granted at the age of 18. Many feel this is too young for undertaking this important decision. What is your opinion?
One of the best things about Tania's essay was her specific, impressive examples:
The main justification is that at this age, they do not have their identity completely formed and could be manipulated. For instance, a study published by Oxford in 2017 observed that 56% of BREXIT's voters under the age of 20 claimed that their decision was influenced by famous personalities and social media.
Fantastic! Although this is a fake study, it is believable and based in reality.
However, only use one fake study/research example– the other examples need to be in a different form.
Tania's vocabulary was also amazingly high-scoring, and this is due to reading a great deal, and consuming as much information in English as possible.
This has developed a passive absorption of vocabulary, just as native speakers acquire new words.
Use the study plan in our course to develop positive English habits, and enjoy learning language and preparing for your IELTS Exam!
Do you have any questions about IELTS Writing Task 2?
Share your queries in the comments section below!