Today you'll hear about Martine's simple writing secrets for IELTS Task 2.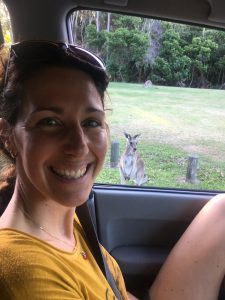 Before getting into 3 Keys IELTS, she had doubts about her ideas and found planning difficult.
Now, she's learned that there are no bad ideas, and has more writing confidence.
Her problem now is that she writes too much and has trouble completing the essay in time.
Martine has taken the exam multiple times, and she needs to get Writing 7, Reading 7, Listening 8, Speaking 8, so she can get permanent residency in Australia.
She's been stuck at a 6.5 in Writing, but feels that 3 Keys will improve that score, because she knows she can use simple ideas, but complex language to express them.
Previously, tutors taught her to write 5 paragraphs for Opinion essays. There's no time to write 5 paragraphs– you only need to write 4 paragraphs for every kind of IELTS essay.
Martine has also loved learning the vocabulary from 3 Keys IELTS, especially the 10+ Academic Word List in the course.
Mostly, she has come to enjoy studying IELTS again, as she had become bored and burned out before.
The question this month was:
People today are experiencing a higher quality of life compared to the past.

To what extent do you agree or disagree?
Why did Martine's essay win the Writing Wizard contest this month?
It's very organized with tons of high-level linking words.
Her ideas are authentic, real and strong.
She uses fantastic vocabulary.
100% Score Increase Guarantee with our Insider Method

Are you ready to move past IELTS and move forward with your life vision?

Find out why our strategies are the most powerful in the IELTS world.

When you use our Insider Method you avoid the BIGGEST MISTAKES that most students make on IELTS.

Click here to get a score increase on IELTS. It's 100% guaranteed.
Here is the third paragraph of Martine's essay:
Nevertheless, I firmly believe that opinion is ludicrous. The obvious reason is that, despite all this luxury, human beings simply do not have the time to enjoy it while they are too busy with jobs and other obligations which is completely different to a life in the fifties for instance. In that time, my mother and her family were a shining example of living a high quality life. Because of the lack of modern technology they not only had more time to enjoy each other's company, but also they did not experience any health issues, due to the radiation of wifi for instance. What is more, my mother and her siblings played boardgames like Monopoly and Chest. These days hardly anyone does that because they are caught in busy schedules or they are too busy with screen gazing.
Martine has developed her vocabulary because she reads a lot, has been studying English for a long time in school, and she has always watched TV in English.
She recommends a documentary on Netflix about tiny houses.
While watching and reading, she discovers new vocabulary and adds it to her vocabulary notebook.
Plus, she lives in Australia!
Remember- YouTube Live with Jessica!
November 13, 9am PST, Portland OR time
Learn the same strategies that have helped Martine. Click here for 3 Keys IELTS!