Today you'll learn a specific activity for improved IELTS Pronunciation scores.
In one of Jessica's Personal Coach classes, she discovered an activity to help one of her students.
In IELTS Speaking, you should exhibit varied and appropriate intonation and stress.
For instance, in Part 1, your answers will sound lighthearted and relaxed, while, in Part 3, you'll likely sound more serious.
For relaxed positive answers, your voice goes up more often. When we are more formal, speaking of more serious subjects, we slow down a bit and exhibit more downward intonation.
Step 1: Notice
Find examples of native speakers communicating naturally (not like a teacher!).
Going out into the real world to talk to natives is the best option, but, if you don't live in an English-speaking country, watch TV, YouTube videos, and movies.
Sitcoms like The Good Place, or Frasier, will show you funny, informal pronunciation, whereas dramas, like crime shows, will sound much different.
Also, interview shows, like The Daily Show, are excellent, as interviewees will begin by answering easy questions, like Speaking Part 1, ending with more serious answers, like Part 3.
Two podcasts you might check out are WTF and Conan O'Brien Needs a Friend.
Actively notice how native speakers' pronunciation changes.
Strategies Created by an EX-IELTS Examiner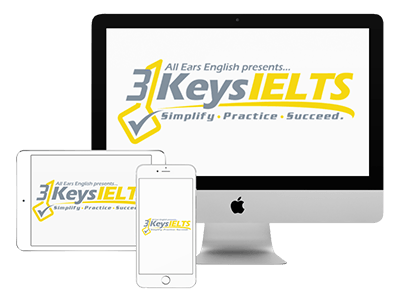 100% Score Increase Guarantee with our Insider Method

Are you ready to move past IELTS and move forward with your life vision?

Find out why our strategies are the most powerful in the IELTS world.

When you use our Insider Method you avoid the BIGGEST MISTAKES that most students make on IELTS.

Click here to get a score increase on IELTS. It's 100% guaranteed.
Step 2: Ponder
Think about how and why the speakers' pronunciation changed.
Then, think about when you would want to sound like that.
Step 3: Practice
Get a complete IELTS Speaking test, and mark the intonation you will use- more upward or more downward.
Speak out loud and focus on varying the way you sound!
For more pronunciation lessons, related to the features of connected speech, check out All Ears English episodes 1233 and 1237.
Learn more about natural vocabulary and American culture by following All Ears English on Instagram! all_ears_english
Ask us our team of experts your IELTS questions in the comments section below!