To get the score you need on the IELTS exam, you need to use less common vocabulary. If you don't, the Examiner will see you as a Band 6 student. Do you want a higher score than a 6? Then listen to our advice today!
What's the best way to learn and practice this higher-level Band 7, 8, or 9 IELTS vocabulary?
You need a vocabulary notebook!
Today we give you 3 tips on how to create a notebook that will help boost your vocabulary score.
Use these helpful tips and then practice using the vocabulary so you are comfortable using it correctly on test day.
Isabella's success story can now be heard on IELTS Energy TV!
She got an overall 8!
Her Writing score moved from a 6.5 to a 7.5.
She provides inspiring advice on how to improve your score.
Take our 2-minute score estimator quiz to get started!
This will give you your estimated band score and resources designed by Jessica, a former IELTS Examiner!
Tip #1: Add 3-5 words per week
A student posted in our 3 Keys IELTS Facebook group asking if he had to fill out his vocabulary notebook all at once.
Definitely not!
This is a dynamic process.
It should be on your mind at all times, and you should be constantly reviewing it.
Add 3-5 words to your vocabulary notebook per week.
Over the course of your 3 Keys study plan, you'll be learning new words as you work on your overall fluency.
Strategies Created By a Former Examiner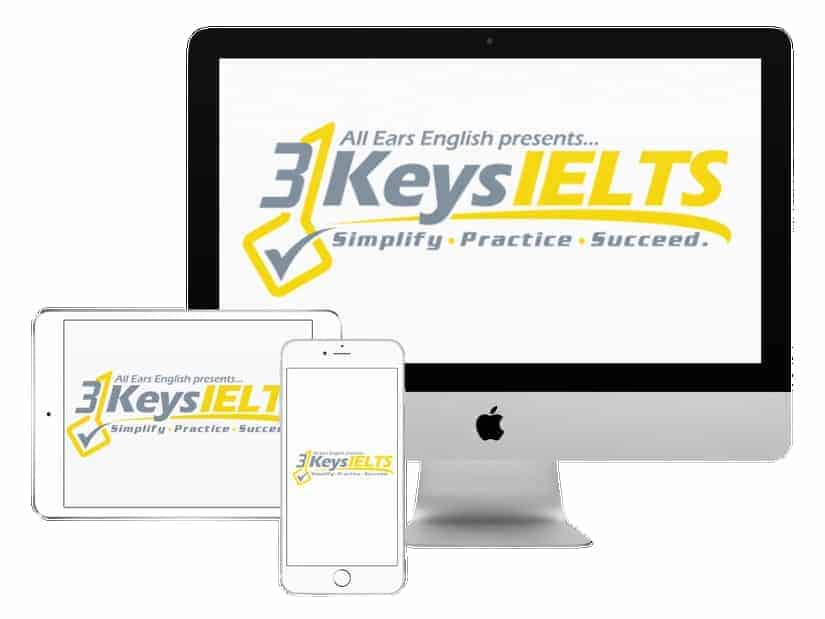 100% Score Increase Guarantee with our Insider Method

Are you ready to move past IELTS and move forward with your life vision?

Find out why our strategies are the most powerful in the IELTS world.

When you use our Insider Method you avoid the BIGGEST MISTAKES that most students make on IELTS.

Click here to get a score increase on IELTS. It's 100% guaranteed
Tip #2: Use new vocabulary in a sentence immediately
When you add a new word to your notebook, write it in a sentence.
The sentence you write down should be about you and your life.
Something you really think.
Something you say.
Something you will remember.
You need to connect to it and make it personal.
Think about it later in the day and reflect on it so that it sticks in your memory!
This will help you remember it and be able to use it on the exam.
Tip #3: Google it!
Do an internet search of the word.
Click on the news tab and read it used in recent news articles
Look at it in context
Read it in 3-4 different instances
Is there a preposition that goes before or after it?
Does it usually go in a phrase with a certain noun.
Example: monumental is often used with decisions
If you notice a common collocation, learn the whole phrase rather than the single word.
When you use disjointed words without their proper context, they lose meaning and don't sound right.
You have to use vocabulary correctly to get a score of 7 on Vocabulary.
Don't focus on using fancy vocabulary words so much that you make a lot of mistakes.
Be sure you are using them correctly!
Bonus Tip: Share your words with an IELTS community
Our Facebook group is a close-knit community.
When you sign up for the 3 Keys IELTS Success System, you get a lifetime membership to the Facebook group.
Use new vocabulary words from your notebook in sample sentences and post them on Facebook!
Others in the community can add these to their notebook, and you can add theirs!
You will end up with many useful sentences!
Aubrey and Jessica will be checking them to make sure they are all accurate and the vocabulary is used correctly.
This way you can be confident using the new vocabulary on the exam!
Takeaway
You need high level vocabulary words to get a Band 7 or higher in Writing.
Keep a vocabulary notebook and add 3-5 new words to it each week.
When you add a new word, immediately write it in a sentence that is personal and memorable.
Review your notebook often and practice using these words so that you're confident you can correctly use them on the IELTS exam.
As a bonus, post sentences with new vocabulary to the Facebook group and add those posted by others to your notebook!
In order to join this group, you need to sign up for 3 Keys IELTS!
Practicing this vocabulary is the best way to get the scores you need!
Do you have questions about today's topic?
Let us know in the comments below