Can you use clichés, or common idioms, on the IELTS exam?
How will these affect your Vocabulary score?
Listen today to find out!
It's extremely important that you know which idioms are too common and shouldn't be used on IELTS!
You'll also learn 4 idioms that will definitely get you a 7 or higher on IELTS Speaking.
See video of this episode on YouTube!
We are recording video of this episode to post on YouTube, so check it out here!
You definitely need to subscribe to our YouTube channel, IELTS Energy TV, if you haven't yet!
We've always posted IELTS videos each week.
We're revamping it and now will be posting video of some of our podcast recordings!
Subscribe today so you don't miss any of our IELTS content!
What is a cliché?
These are phrases that are overused, which makes them common and boring.
Today we will share clichés that you shouldn't use on IELTS.
We'll also talk about a few that are on lists of clichés that you actually should use on IELTS!
Our student received feedback from a teacher that they should not use these, which the teacher called clichés.
With the development of modern technology,
As we all know,
There is no denying that…
However, these are not clichés, they are transition phrases!
Examiners will see these over and over because there is a finite number of them.
You can't make up new ones.
Strategies Created By a Former Examiner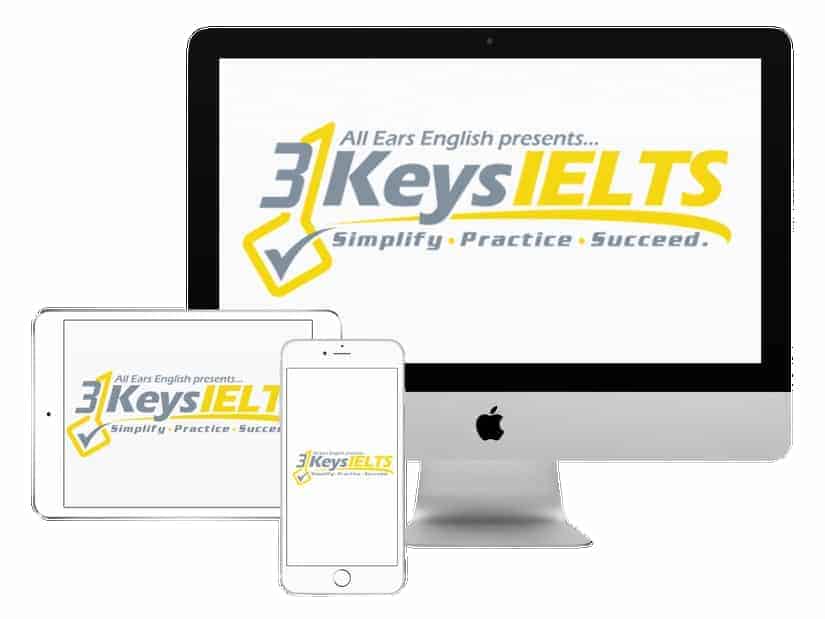 100% Score Increase Guarantee with our Insider Method

Are you ready to move past IELTS and move forward with your life vision?

Find out why our strategies are the most powerful in the IELTS world.

When you use our Insider Method you avoid the BIGGEST MISTAKES that most students make on IELTS.

Click here to get a score increase on IELTS. It's 100% guaranteed.
Which clichés should you avoid on IELTS?
piece of cake
raining cats and dogs
These are in every ESL textbook.
They are very commonly used among students.
You should, therefore, avoid them on the IELTS exam.
Idiom #1: Don't reinvent the wheel
This is an idiom that is perfect in this situation.
We already have a wheel – you can't reinvent it.
Similarly, we already have transition phrases – you can't invent new ones!
When it comes to transition phrases, you shouldn't reinvent the wheel.
This idiom was on a list of clichés, but it isn't common and overused, so you can definitely use it on IELTS.
The key isn't whether they are common among native speakers, it's whether they are common among students.
Idiom #2: All that glitters isn't gold
We use this to talk about something that isn't as good as it looks.
We also use the idiom "too good to be true" in a similar way.
Use this if your Speaking Part 2 question asks you to describe something you bought but didn't use.
Last year I spent $500 on a smartwatch because it was sleek and beautiful, but then it didn't work! All that glitters isn't gold.
Idiom #3: Don't get your knickers in a twist
This means:
Calm down
Chill out
Don't get excited
This expression is very fun and will likely make the Examiner chuckle.
Knickers means underpants in British English.
This would be great if you're telling a story about someone getting upset.
Then I said, 'Don't get your knickers in a twist. We'll catch the next bus.'
Idiom #4: Read between the lines
Though it was on a list of clichés, this is not often used by students, so it's a great idiom for IELTS.
This means seeing or understanding more than is actually spoken or written.
This could also be used on Speaking Part 3 or Writing Task 2 about understanding other cultures.
We talk in our Business English course about high context and low context cultures.
In business, it's vital to understand these cultural differences.
Takeaway
Most idioms that natives call clichés are great to use on IELTS!
For the scoring system, it's not important what natives use a lot.
You want to sound like a native!
However, you want to avoid saying what other students say a lot.
Today's episode explains which clichés to avoid and which you should use on the IELTS exam.
For more strategies to get a 7 or higher on IELTS, sign up for the 3 Keys IELTS Success System!
What questions do you have from today's episode?
Please leave a comment below.