I dare you not to laugh along with Ramses and Jessica in this episode!
He is a 3 Keys student who nailed the IELTS band score he needed on his very first attempt!
Today we discuss his English fluency and test day anxiety.
We also share how he was able to get the score he needed on his first try!
How did Ramses become so fluent in English?
Input is the most important thing.
Natives receive input for years before producing any comprehensible language.
Watching television
Listening to music
Spending several hours each day immersing himself in English
He also teaches software engineering classes at a university.
Why did he need to take the IELTS exam?
He was offered the opportunity to teach English at the university that employs him.
In order to teach English, he had to earn at least a 7 on the IELTS exam.
He was overwhelmed at first because he didn't know anything about the exam.
The All Ears English podcast was his "gateway drug" to the IELTS Energy podcast.
Why did he need the 3 Keys IELTS course?
His English was already very good.
However, he knew that he needed specific strategies and insider information for this exam.
He loved the podcasts and it was clear 3 Keys IELTS would have everything he needed!
Strategies Created By a Former Examiner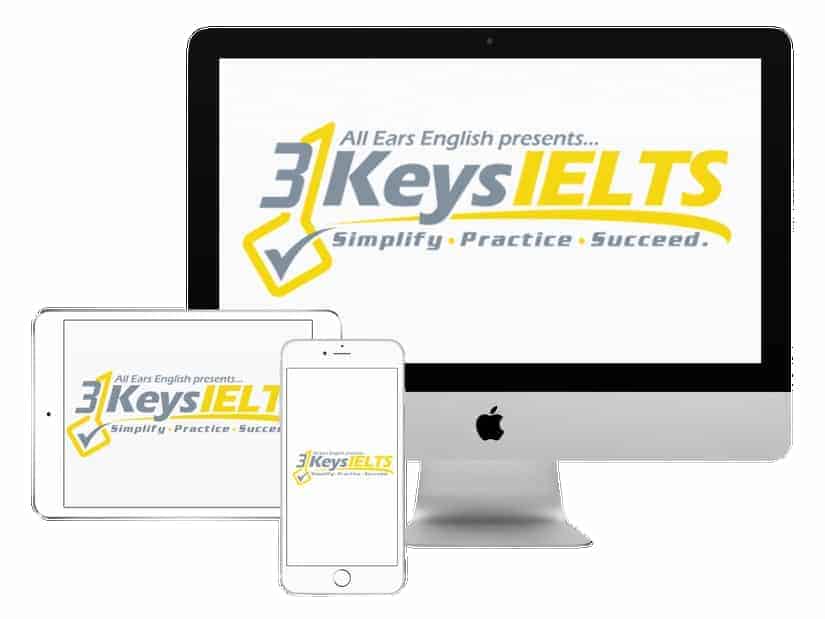 100% Score Increase Guarantee with our Insider Method

Are you ready to move past IELTS and move forward with your life vision?

Find out why our strategies are the most powerful in the IELTS world.

When you use our Insider Method you avoid the BIGGEST MISTAKES that most students make on IELTS.

Click here to get a score increase on IELTS. It's 100% guaranteed.
What was his test day experience?
He felt very confident because he had all the strategies from the course.
He was exuding confidence!
However, he then saw the tiny CD player with very small speakers.
When he realized the audio would play on this, he panicked!
The audio quality was extremely poor and was echoing in the large room.
This caused him to score much lower than he would have.
How can you avoid a similar situation affecting your score?
Contact the test center in advance and ask them about the Listening audio situation.
What device will play the audio?
How large are the speakers?
How large is the room, and does the audio echo?
Is the sound quality poor?
If they inform you that the audio quality is poor, practice listening to similar audio!
How did the 3 Keys strategies help him?
He was able to complete the Reading section very quickly.
The 3 Keys strategies helped him see that it is not a comprehension exam!
He knew to not read the passages word for word.
Instead, he matched keywords.
There was actually a lot of time left over, so he was able to go back and check his answers.
Takeaway
Ramses was thrilled when he received his scores.
It was so exciting that he was able to get past IELTS on his first try!
You can also succeed at IELTS on your first try!
However, this is only possible if you have strategies!
You need to know what the Examiner expects and what the scoring system requires.
All this information and all the strategies you need are available in the 3 Keys IELTS Success System.
What questions do you have from today's episode?
Please leave a comment below.