Today you'll meet Fernando, an IELTS student living in Denmark.
He recently took the exam and received amazing scores!
You'll hear his tips for getting 7+ on IELTS.
He shares specific strategies he learned from 3 Keys IELTS.
He also shares how he improved his overall English.
Listen in for tips and motivation!
Fernando's IELTS scores
Listening: 8.5
Reading: 8
Writing: 6.5
Speaking: 6.5
Why did Fernando need to take IELTS?
He is finishing his bachelor's degree in Denmark.
He now wants to apply to complete a master's degree.
For this, the university required an overall 7.
He had previously taken IELTS 2 years ago but his scores had expired.
Fernando's previous scores:

Listening: 6.5

Reading: 7

Writing: 5.5

Speaking: 6
Improving overall English
He was working in English once he moved to Denmark.
At first, he worked at a golf shop in retail sales.
He then started working in an international company.
He also found many people who lived there spoke English.
In addition, he was completing his bachelor's degree in English.
Strategies Created By a Former Examiner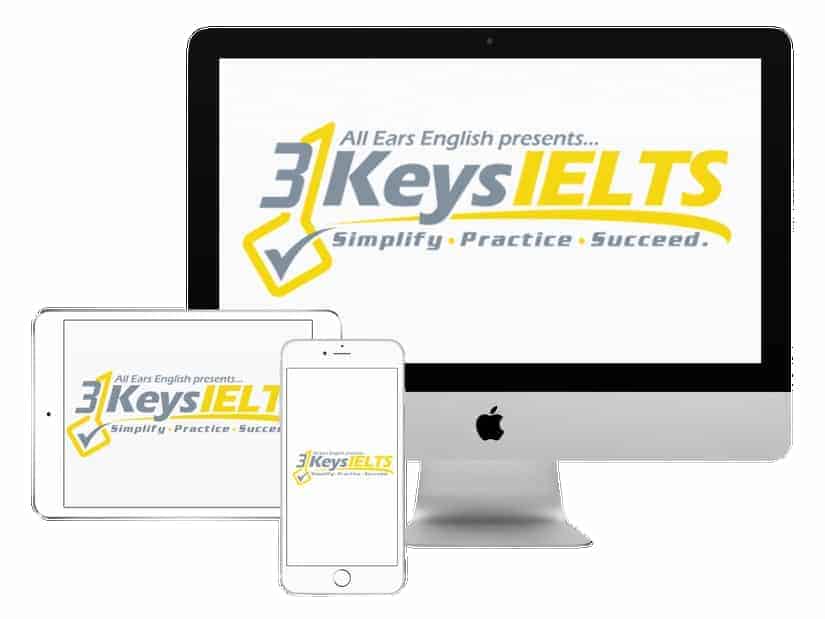 100% Score Increase Guarantee with our Insider Method

Are you ready to move past IELTS and move forward with your life vision?

Find out why our strategies are the most powerful in the IELTS world.

When you use our Insider Method you avoid the BIGGEST MISTAKES that most students make on IELTS.

Click here to get a score increase on IELTS. It's 100% guaranteed!
Impressive listening score increase
He listened to every IELTS Energy podcast!
The vocabulary and skills he was learning here he actively applied in his daily life.
Therefore, it became accessible for him on test day.
He also watched television and movies and read the subtitles in English.
This is very difficult at first but you get used to it and your language improves quickly.
This helped him prepare for both Listening and Reading in English.
Fernando's TV recommendations
He learned a lot of new vocabulary by watching Downton Abbey.
This also exposed him to the British accent.
For the American accent, he recommends Girls.
He knew he needed to practice hearing many different accents.
Reading score improvement
Fernando was reading a lot for school
Economics
Finances
Supply chain management
These topics all come up on IELTS.
He was able to kill two birds with one stone by reading for both school and IELTS.
Additionally, he read articles in magazines and articles.
3 Keys IELTS strategies
He learned many strategies by completing the modules in our online course.
These strategies gave him specifics for raising Listening and Reading scores.
He realized it's not just about comprehension.
There are specific traps to watch out for.
Specific steps need to be taken for different questions.
Speaking exam nerves
He found himself getting very nervous on the Speaking exam.
Unfortunately, he started cramming for the Speaking exam at the last minute.
This was partially because he has a lot of opportunities to practice speaking in real life.
This makes it easy to not prioritize practicing answering IELTS Speaking questions.
Inventing a story for Speaking Part 2
The Part 2 question was difficult because he was asked about a recent photograph he took.
He doesn't take photos often and couldn't think of one.
He had to invent details.
He knew he couldn't have unnatural pauses or hesitate.
We recommend you tell a story about a real day in this situation.
It's difficult to invent all the details.
Instead, describe a real event or a real experience and say you took a photo of something that day.
The more your answers are rooted in truth and real experiences, the easier it is to share details.
Fernando's journey beyond IELTS
He is applying to many different universities in Sweden in Denmark.
He is still considering what to do his master's in.
It will likely be in finance management or accounting.
He is very excited to be past IELTS and moving on with his goals.
Takeaway
Fernando got the scores he needed on IELTS, and so can you!
He worked on learning strategies as well as improving his overall English.
Use his experience to get motivated!
If you have the strategies you need and are taking in a lot of English, you can get the scores you need!
For all the strategies you need, sign up for our online IELTS course!
What questions do you have from today's episode?
Please leave a comment below.