You may get an IELTS Speaking question that requires highly specialized vocabulary.
There's a chance you'll need a name for something and you just don't know it.
Alternatively, you may just not be able to think of it!
You need strategies in order to answer without hesitation.
Nonsense words can boost your Vocabulary score, even if you can't think of a word!
Today you'll learn nonsense words that are perfect for IELTS Speaking.
Natives use nonsense words all the time!
What do natives do when they can't think of a word?
Describe it
Use a nonsense word
We have a plethora of nonsense words that can be a handy tool.
These are perfect for IELTS Speaking when you don't know a word.
You need to learn 3-4 to avoid repetition.
Practice using these when responding to practice questions.
#1: Thingamajig
This nonsense word is a replacement for "thing."
It must be used as a noun.
The word "thing" is very common and low level.
Replace it with a higher-scoring nonsense word.
You know, the thingamajig that dentists use to fix teeth.
You then want to add more detail so the Examiner knows what you're referring to.
#2: Whatchamacallit
This nonsense word has the same meaning as the question, "What do you call it?"
We use it as a noun to replace the word "thing."
Its use is similar to "thingamajig."
If you can't think of a word, you can call it a "whatchamacallit."
I was using the whatchamacallit to whip eggs.
Subsequently, you can add details about what you were cooking!
Strategies Created by a Former IELTS Examiner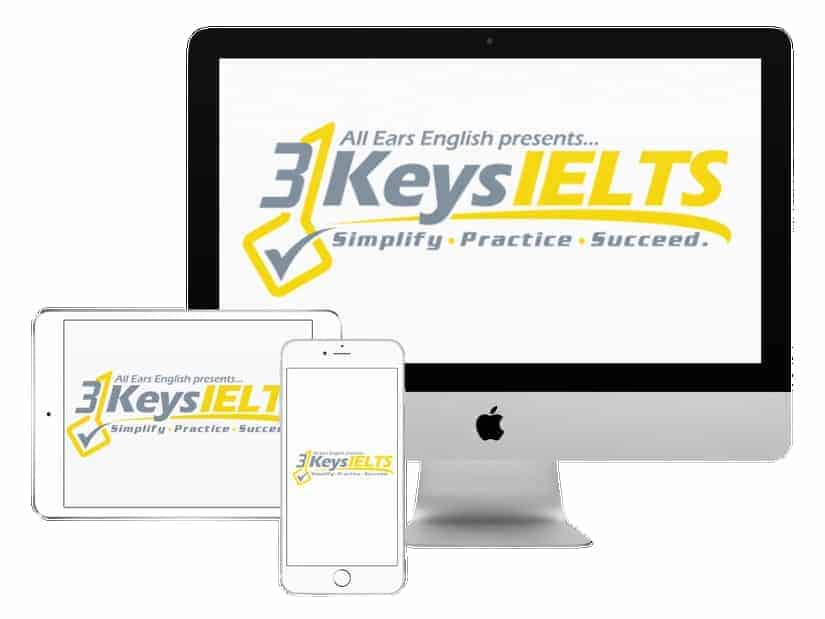 100% Score Increase Guarantee with our Insider Method

Are you ready to move past IELTS and move forward with your life vision?

Find out why our strategies are the most powerful in the IELTS world.

When you use our Insider Method you avoid the BIGGEST MISTAKES that most students make on IELTS.

Click here to get a score increase on IELTS. It's 100% guaranteed.
#3: Doohickey / doodad
These two are synonyms and mean the same as "thing."
They must be used as nouns.
"I was using a doohickey that opens glass bottles."
This is perfect if you can't think of the name for a bottle opener.
These are also called "church keys."
Can't think of the word souvenir?
Use doohickey or doodad instead!
"I needed to find some doodads while on vacation to take home to my kids."
#4: What'sit
The nonsense word "what'sit" is more versatile than many nonsense words that must be used as nouns.
You can use this to replace verbs, names or anything else.
It's similar in meaning to "whatchamacallit."
It's short for, "What is it?"
I was doing the what'sit where you lift weights at a gym.
Use nonsense words in the right context!
Remember, these each have meaning and must be used correctly.
This graphic may help you keep their meanings clear.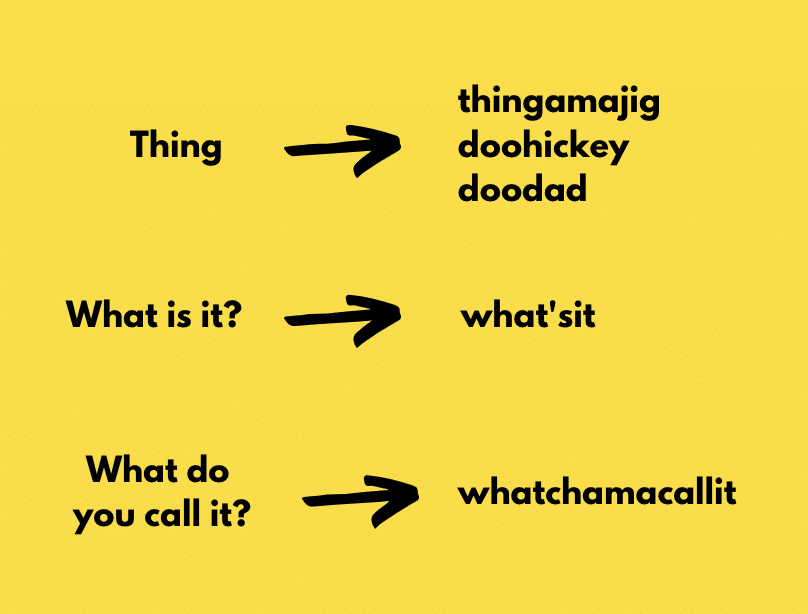 Where to use nonsense words on IELTS
These words are all informal slang.
Use them on IELTS Speaking Part 1 or Part 2.
They are great native filler words that no other students will use.
When you can't think of a word, or instead of 'thing' or 'device,' use one of these!
Grammar notes!
Use these nonsense words with relative clauses for paraphrasing.
"The doodad that keeps track of the steps you take."
Relative clauses begin with one of the following prepositions.
Who
That
Which
Whose
Where
When
You can't just call something a nonsense word and stop there.
You must share detail so the Examiner knows what you're referring to.
Use nonsense words to improve stories
To fill the 2 minutes for Part 2, you need to tell a story!
If you can't think of a word, you could get derailed.
This might cause you to hesitate or lose track of what you want to say.
Today's nonsense words to keep stories fluid and Fluency scores high!
Instead of stopping to think, use a nonsense word!
Takeaway
These nonsense words can save you on test day!
Don't let your Fluency score drop when you can't think of a word.
Be ready with a nonsense word!
Make sure you use them in the correct context.
For more strategies for every part of the IELTS exam, sign up for 3 Keys IELTS.
You can also find out what you'd get if you took IELTS today by taking our free, 2-minute quiz.
What questions do you have from today's episode?
Please leave a comment below.