Do you get grossed out by blood? Do you faint with blood tests or the sight of blood?
Today we are talking about blood, but here we are focusing on the many different expressions that use the word in them.
Though these may not have anything directly to do with blood, they are certainly interesting to focus on and utilize.
You will see there are plenty of idioms that use the word blood, and these can be fun for you to try out in your conversations.
Get Your Transcripts Today!
Make sure you understand every word you hear on All Ears English.
Bring your English to the advanced level with new vocabulary and natural expressions.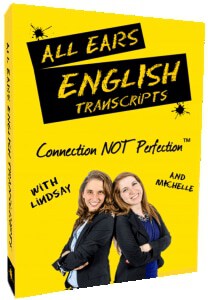 Subscribe and get the transcripts delivered by email.
Learn to speak naturally with the American accent.
Click here to subscribe and save 50%
Using The Word Blood
Blood is actually used a lot in expressions, phrases, and idioms.
Some of these have a direct correlation, while others just happen to have the word featured in there.
There are so many blood idioms and expressions, and it's not just within American English.
You might think of something like "bloody awful" used as an expression in British English.
The word bloody is used in this type of English often, and so you may hear it there a lot.
If any of our listeners know British English, you should tell us about other expressions used there with the word blood in them.
For now though, we're going to focus on a few common phrases that feature the word blood.
You may hear these used in conversation, and so once you know what they mean you can start to use them on your own.
It's in my blood: This means that something is natural to you or you can't help being the way you are in some way because of your family traits. It may also mean that you are just very into something and feel so passionate about it that it's almost like it's in your blood. You might say something like "My mother is a teacher and so was my grandmother, so it's in my blood." Another way to use this could be "Exercising every day is in my blood."
I bleed X and Y: This is often used to talk about school spirit. This is stating your ultimate commitment or loyalty to a team or organization of some type. You could say "I love my team. Seriously, I bleed blue and silver." -Bad blood: This is talking about something bad between people, which tends to make them like enemies. There may have been a fight or disagreement of some type, and so there is now bad blood or a wedge between these people. You might hear "I heard there's been some bad blood between them ever since she quit his team project."
New blood: This is something we use to talk about in politics a lot. It means that something is very new or fresh, and it is often used to talk about a person who may be new to the political scene. It's like talking about somebody with no real experience. You could say "We need some new blood to get the party moving forward." You may use it in a positive way such as to say "Oh wow, a new intern. It's good to have some new blood around here."
Why do you think we use blood so much?
You can see that these phrases use the word quite frequently, but they are not related at all.
You can try any of these out in your conversations, and you will quickly see just how common they can be.
Roleplay To Help
In this roleplay, Lindsay and Michelle are in the office talking about work.
Lindsay: "Have you met the new assistant?"
Michelle: "No! Oooo new blood. Is she nice?"
Lindsay: "Yeah, I like her. I mean, she likes my sports team, so I think she's great. You know I bleed purple and orange. "
Michelle: "Haha, of course. It's good we don't have any more bad blood around here now that Paul left."
Lindsay: "Really. He brought the place down. I think this new assistant will bring up the morale around here."
Michelle: "Oh yeah. So your sister is in to shadow you today, right?"
Lindsay: "Yeah! What can I say? Marketing is in our blood!"
Takeaway
It's really useful to focus on expressions within this bloody theme.
Though the particular idioms may not have anything to do with blood, you can see that there are plenty of them out there.
Is this common in your language?
We will follow up because there are so many more, and we just started to uncover the many idioms out there in this area.
Try these out in conversation and see how common they are, and also how they can add to the dynamic.
If you have any questions, please leave them below in the comments section.
We'll get back to you as soon as we can.