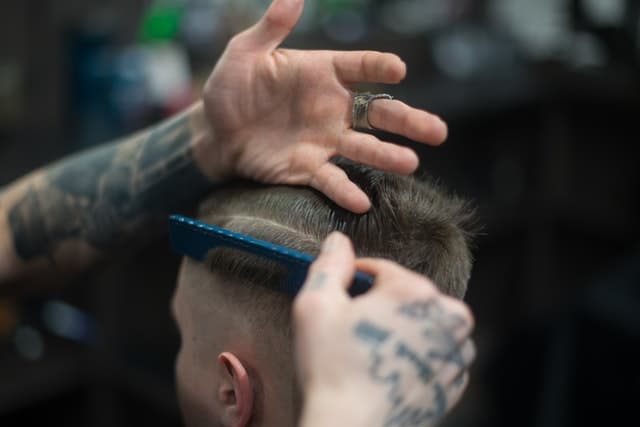 Do you ever feel unsure of what to say when you go to a hair appointment and you have to speak English to your stylist?
Do you want to know the right words to say to get what you want when you get your hair done?
If you want to get a haircut or style, you want to know the right things to say in English.
We're going to help you with common terms to say at a hair appointment, but also how to get what you really want out of this appointment.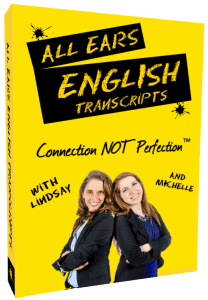 Make sure you understand every word you hear on All Ears English.

Bring your English to the advanced level with new vocabulary and natural expressions.

Get the transcripts from today's episode.

Learn to speak naturally with the American accent.
Breaking Through Confusion
There's an episode of "Friends" with a situation at a hair salon.
Our listener Luci asked about personal care, specifically the hair salon, and how to talk about someone who cares about their looks in a down-to-earth way.
We are going to focus on the first part of her question today and do the next part another day because each deserves its own episode!
She wants to know about personal care when it comes to a hair salon.
She's curious about what to say about somebody who has a healthy concern about their looks.
She quoted a "Friends" episode where Pheobe ended up looking like Dudley Moore. You can listen to the question from our listener here.
Working Through This Experience
First of all in the "Friends" example, that was a mistake confusing actors–not a language mistake.
Going in for a haircut can make you very nervous in some situations.
If you're not daring or open to chances, then you may want to bring a picture with you.
You can always talk to the stylist ahead of time to really focus on what you want.
This is where you have to really know what to say to ensure that you get what you want–and this can be the hard part.
We're going to help you with what to say to focus on the type of hair experience that you want.
The Right Things To Say
When you find yourself in a salon or getting a haircut, you want to know the right things to say.
Preparation helps a lot, as does knowing the right things to say.
So if you find yourself feeling unsure, here are a couple of things that you can say and do at a hair salon.
Bring a picture with you: This is always so helpful when it comes to getting exactly what you want. You can point to the picture and say that this is something that you are interested in. You might say "Can you do something that looks like this?"
If you want advice: If you really aren't sure then sometimes you want to leave this in the hands of your stylist. You want to be sure to ask this in the right way and be pretty direct. You could say a couple of things like the phrases below:
"What would you recommend?" –say what I usually ask
"I want something ____________ "(low maintenance, cute, stylish, etc.)
All of these things can help you to talk through things up front.
If you have something specific in mind or you just want advice, go in prepared and ready to talk through what you really want.
Common Terms In This Scenario
It helps to know what the different terms are when it comes to getting your hair done.
If you know what these terms are then you can be very detailed in asking for what you want.
Here are the different ways to describe hair, hair cuts, or hair styles.
Just a trim: This means you literally just want a little bit trimmed off. You don't want a significant cut, but you just want to clean it up and freshen up your look.
Pixie cut: This is a significant and short hair cut. This means that you want the hair to be short and may involve cutting off quite a bit of hair from what it currently is.
Bob: This is a haircut that is typically longer in one area and then shorter in another. It's usually longer on one side or in the bangs area. It's a bit abstract thus giving it a very unique look and feel.
Lob: Simply put this is a longer bob. This has everything to do with longer layers that often frame the face. It's a very popular haircut right now and usually goes to the shoulders in terms of length.
Layers: This is a very common part of a haircut, particularly with women. You would expect to see layers that frame the face and that add texture and volume to a haircut. This keeps the hair from getting too long or heavy and adds a stylish twist to things.
Bangs: You see this come and go in trends, but bangs are always a part off hair styling. This involves adding hair that covers the forehead and therefore adds a dimension to your haircut.
Blow dried straight: This is something that a lot of women want, particularly if they have curly or wavy hair. This involves blow drying and styling it to make it straight and therefore it looks like the woman just came out of the salon.
These terms are all very common to say at a hair salon.
If you know what to say then you can truly get what you want.
Developing A Relationship With Your Stylist
The more that you go to see the same stylist, the more that it's going to help you to get what you want in the long term.
You can start to develop confidence in their work but always be sure that it's somebody that you like.
Once you find a stylist that you like and work to develop that relationship, then you can begin to have conversations that matter.
The important thing to remember is that the stylist is happy to give advice but you have to be sure of what you want.
Know what you want, come in prepared to discuss or with pictures, and they will start to understand what you are looking for.
Do keep in mind that these stylists work off of tips, and therefore they want you to be happy with their work
Remember too that when it comes to salon etiquette, be sure to tip both your stylist and the person who washes your hair if that's different.
We will follow up on what to say if the stylist finishes and you want something fixed–not an ideal situation but definitely one that you may find yourself in.
Takeaway
Going in prepared for a hair appointment will always pay off.
Never be afraid to ask for what you really want and to use the right terms to discuss this in English.
Be open to ideas from your stylist though it's very common to come in with a picture.
It's important to communicate with the right language to get the right cut!
This is part of making connections with your stylist and with others, and also ensuring that you get what you want in the end too.
Go here to listen to another episode on how to talk about fashion in English.
If you have any questions, please leave them below in the comments section.
We'll get back to you as soon as we can.