Have you ever played a practical joke on somebody?
How did this go over?
This is one of those things that happens and can be fun if done in the right way.
We're going to look at a phrase that has to do with this sort of thing. The phrase today is, "the joke was on me."
We're going to show you what this means, how to use it, and how it can add some fun to English conversations.
Get Your Transcripts Today!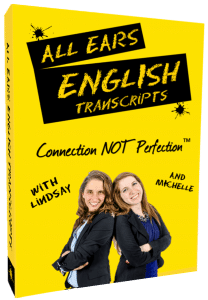 Make sure you understand every word you hear on All Ears English.

Bring your English to the advanced level with new vocabulary and natural expressions.

Subscribe and get the transcripts delivered by email.

Learn to speak naturally with the American accent.
We have a listener question about this unique phrase.
Hello dear Lindsay, Michelle and Jessica,

I just wanted to thank you very much for answering my question about the phrase "Jonesing for this." The episode was thorough and really helpful. I appreciate your great job.

I have another question that actually just came up. Lately, I've been hearing the phrase "the joke is on me/you" in a lot of TV shows and movies. I couldn't figure out exactly what it means or in what situations it's used.

It would be great if you could work it into one of your upcoming episodes.

Once again I really appreciate your hard work.

P.S. I also learned lots of great phrases from your short videos on Instagram. This is such a creative way to introduce new phrases to ESL learners. Thank you.

Best,

Maral
Different Uses For This Phrase
You will hear this phrase used in native English conversations quite a bit.
You might hear it used in a couple different ways, and so you want to know what those are.
You use it by saying the joke is/was on someone then you must expand and explain why.
You essentially want to explain what exactly this means.
One way is the dictionary definition.
The dictionary describes it in this way: "used to describe a situation in which a person is trying to make something happen to someone else (such as being tricked or embarrassed) ends up having it happen to himself or herself instead."
So for example, "I tried to pull the seat away from my brother to make him fall, but the joke was on me– I slipped and fell on the floor!"
Example: "I tried to prank call a girl in my class, but the joke was on me. She had my number in my phone and knew it was me calling! She pretended I was pranking her until the last minute."
Example: "I told her I couldn't come to the party because I was sick, but the joke was on me– her brother saw me at a restaurant right before the party started. I felt so bad."
Example: "The host at the restaurant told me there were no tables available when I tried to make a reservation, but the joke was on them. I saw an empty table right when I walked in and they gave it to me."
Finally, you can use it if it happened to you directly. This is the most common. When you thought something was a good idea but then it wasn't in the end. This can be humorous or serious in nature ultimately.
Example: "I bought 5 pairs of shoes thinking I could return the ones I didn't wear. Joke's on me–it turns out they were non refundable and I'm out 300 bucks."
Example: "I thought I could handle drinking 2 coffees right before bed. Joke's on me–I couldn't sleep until 5am!"
Example: "See, I know you always think wearing sunscreen is unnecessary. Now look- the joke's on you- you have a huge burn."
It Can Be An Admission of Sorts
So really this phrase is about admitting you were wrong or saying someone was wrong.
It can be slightly sarcastic sounding and can be a bit ironic as well.
It's good to use in storytelling. It signals that you are about to say a punchline.
It can be good for connection and spices up the story. If the examples we used didn't have this phrase, it would be missing something and not seem as interesting.
Roleplay To Drive The Point Home
I am Lindsay's dog sitter and she just came back from a trip:
L: So how did it go?
M: Ummm..
L: Uh oh what happened?
M: Well I tried to get Sparky to learn how to lie down so I would give him a treat if he did. Joke's on me, though, he ended up expecting a treat even at bedtime!
L: Oh no! I guess now he associates lying down with sleeping!
M: Sorry about that!
Takeaway
This phrase is great for storytelling and it can almost admit fault in some way.
Think of how this may apply to your life and an experience you have had where the joke was on you!
If you can visualize that, then you can think of fun ways to use it.
Practice using this and see how it can fit nicely into everyday English conversation.
This is how you make connections in a really fun way.
If you have any questions, please place them below in the comments section.
We'll get back to you as soon as we can.