Do you have a hard time saying larger numbers in English?
Do you find larger numbers to be overwhelming and confusing?
Larger numbers can be tricky even for native English speakers, and so you are not alone if you struggle with this.
We're going to look at how to break down these larger numbers and how you can get better at saying them when you practice.
Get Your Transcripts Today!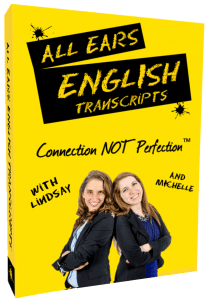 Make sure you understand every word you hear on All Ears English.

Bring your English to the advanced level with new vocabulary and natural expressions.

Subscribe and get the transcripts delivered by email.

Learn to speak naturally with the American accent.
We have a great question about the big numbers, and you may find it very useful to have the transcripts to go along with this.
Hi Lindsay, Michelle, and Jessica,

I love you guys so much! Thank you for all of the amazing episodes, I really enjoy them. I have a question for you that I hope you will put on the show. I don't understand how to talk about big number figures. Such as when I hear people say things like hundred/thousand/million/billion/trillion.

Could you help to teach me how to speak about these larger numbers? For example something like $301,010,905–how would you say that and write about it? This is really confusing to me! It would be really great if you guys could help me with this.

Thank you so much,

Abbie Zhang
Background On Numbers
This is one of those topics that can be difficult to understand at first.
It's really important to be able to express basic things in English, and this is definitely one of those.
When you talk about numbers, there are certain things to remember.
This can be especially important if you work with numbers in some capacity.
We've done some episodes on related topics that can give you some helpful background.
These episodes can really help you to get some background because talking about numbers can be a bit tricky.
Looking At The Bigger Numbers
So the bigger numbers can definitely be tricky, just knowing how to say them and talk about them.
Take a look at the number from the student's question above, which was $301,010,905.
If you're going to break that down and say it properly it would be "three hundred one million, ten thousand, nine hundred five."
That's the correct pronunciation though you will sometimes hear people say "and" in between each comma or place–that has been deemed to be unnecessary.
When in doubt or when the number feels too large, just take your time and break it down by each part.
Taking it slow can help you to break down these seemingly complex numbers.
Breaking This Down
The best way to take on these numbers is to break them down a little bit at a time.
Though you might see these numbers and panic a bit, you don't have to when you understand how to break these all down.
You start with the largest number and it all has to do with how many spaces there are–try to think of it that way so that you can break it up into parts.
You want to also look for how many zeroes there are because that can tell you the different places there are.
Take a look at the different places so that you can see how to break this all down.
Ten: This is the first and most basic place. It's the least value in a larger number and so it's the easiest. It's anything from 1-40, and then up by tens. So this would take you to 50,60,70,80,and 90.
Hundred: This is the next place up and where you start to get into the real substance of a larger number. This would be the second place so it will take you to that in the sequence. So if you look at a number like "563" you would break this down to five hundred sixty three.
Thousand: This takes it up one place, to the-third place or 3 in the sequence. So for example you would see 1,234 and it would be "one thousand, two hundred thirty four."
Hundred thousand: This is where it starts to get a bit more complex. But just follow along in order by place and it becomes easier. So if you have five places as in 501,221 it would be "five hundred one thousand, two hundred twenty one."
Million: This is where you move to six zeroes or places behind this number. So you move to the next place and then it starts with the million place and then breaks down into everything behind it that you have learned up to now.
Billion: This is the ninth place so it takes you to the "9" with all of the other zeroes or numbers behind it. This is definitely getting into the larger numbers, and you just want to take it slow to get there.
Trillion: This is usually the biggest you will see and it's 12 places. The best way to master a number like this is to just break it down and dive right in. So try it in an example such as the number 12,950,031,553,111. You would say this as "twelve trillion, nine hundred fifty billion, thirty one million, five hundred fifty three thousand, one hundred eleven."
This likely looks like a lot to take in, but just take it one place at a time.
Breaking it down will make it easier, and practicing with larger numbers will too.
Practice It!
You see how to break this down and so the best way to get better with numbers is to practice with them.
So how can you remember how to work with the larger numbers?
There are a few tactics that can help quite a bit.
Keep practicing: That's the very best thing to do when it comes to mastering the larger numbers. Try to find or write a large number and then break it down. Time yourself saying it and try to get faster and faster until you feel like you have a handle on it.
Listen to it being said: Have someone read numbers to you or get them from Youtube or a show so you can hear it said. Write them down, listen to them being said, and then keep repeating this practice. Saying it out loud and hearing it said out loud can be very helpful.
Don't stress about it and take it slow: The truth is, native speakers may have trouble with large numbers as well, so don't stress! Try to think of when you would need to use numbers like this so that you can prepare for these circumstances. Do you need them often? They are good to know but not necessarily essential on an everyday basis. You will find that saying something like trillion is not a common occurrence.
Quiz yourself: If nothing else read the bigger numbers on paper, then practice saying them out loud. Review where the commas and places are and then go through this sequence until you get faster. Here are a few examples to use to quiz yourself on—53,782 and then 6,214,909. Then try for the biggest numbers you can think of such as 519,592,065,900,103- five hundred nineteen trillion, five hundred ninety two billion, 65 million, 9 hundred thousand, one hundred three.
Practice makes perfect, and you will learn how to work through these larger numbers with ease after awhile.
Takeaway
Numbers are tough, especially when you get into the larger ones! This can be especially stressful if you are in a fast-paced situation or in a business environment.
How numbers are said can vary so much between languages and large ones are always hard.
Recognize that even native English speakers have a hard time with large numbers in English.
Follow our tips for practice and you will find that these are not as hard as you think.
The more that you practice with these larger numbers, the better you will get and then you can talk through them with ease when you need to.
If you have any questions, please leave them below in the comments section.
We'll get back to you as soon as we can.