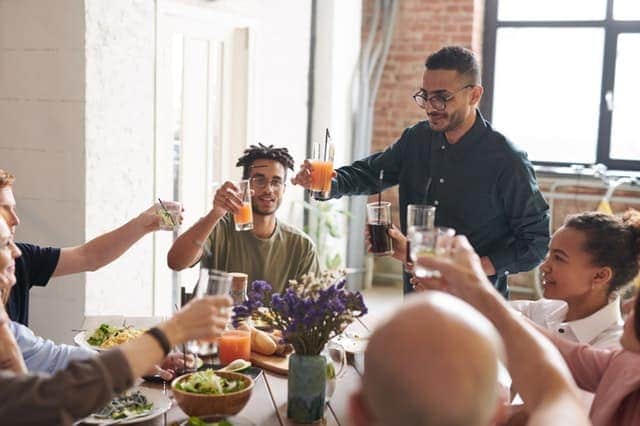 Have you enjoyed a typical American Thanksgiving?
Are you invited over to a friend or family member's house and want to know what to expect?
This is a holiday full of traditions and elements that are shared across many families.
We're going to show you what a typical Thanksgiving celebration looks like, what the common elements are, and how this all makes for a holiday that many people come together to enjoy.
Get Your Transcripts Today!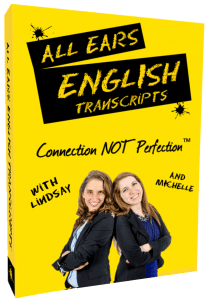 Make sure you understand every word you hear on All Ears English.

Bring your English to the advanced level with new vocabulary and natural expressions.
Subscribe and get the transcripts delivered by email.

Learn to speak naturally with the American accent.
Understanding This Holiday and the Dynamic
What do Americans do for Thanksgiving?
The most important thing is that you're spending a relaxing day with family, having fun and eating food.
These days a lot of people aren't near family every day, and so Thanksgiving becomes a good reason to get together.
There are often certain dynamics that exist within a family that come into play during this designated day.
It may be great to see each other, but it's often a long period of time spent together that you don't usually have.
You might see some of these dynamics and perhaps even some drama at the dinner table.
If you're living in the US from abroad and you're invited to somebody's house for Thanksgiving, you want to know what to expect.
There are certain elements common to most Thanksgiving celebrations within the US.
This is a fun thing to look at because you realize that some of these elements are shared by so many.
5 Elements of a Typical American Thanksgiving
These are the elements that you might expect to see at a typical American Thanksgiving celebration.
Though the specific traditions or timing may vary, this is often the way that the day goes.
People start cooking really early: The turkey is enormous and it can take all day to cook. There's a lot of work to it and it's a labor of love. The person that is cooking Thanksgiving dinner has to prepare and cook the turkey, the stuffings, and all of the sides. There's a very specific process with steps to preparing the turkey. If you are not the cook, you might wake up to the delicious smells of "fowl" (bird) in the oven. The smell is one of the best parts! If you're not the cook and you're home for Thanksgiving then you get to sleep in and it's such a nice relief from stress. You get a day off of school or work, and it's a great time to be comfy.
Around lunch time people will start to prepare the sides: The turkey starts early, but the sides start later like around lunch time. The sides typically include things like stuffing which is cooked inside the turkey. Then there's usually mashed potatoes, sweet potatoes, cranberry sauce, bread, and then pumpkin pie for dessert. It's a feast of delicious food that many people look forward to every year. Some people aren't big fans of turkey because they find it dry. They may be bigger fans of the sides instead. Different families have different traditions and that includes the sides that they add to the meal. It's really core to Thanksgiving to remember what your family has done and the specific traditions.
Before eating people are usually watching football: In many families, football and Thanksgiving go hand in hand. There's often a big game on TV that day that the family watches together. Many families also watch the Macy's Thanksgiving Day parade together too. People may be snacking on things and drinking wine while they watch the big game. It's a relaxed and fun day and so you're eating and drinking like you normally wouldn't.
Then the feast happens in the afternoon: It may be around 2-3:00 in the afternoon. There might be some drama during the meal, particularly with so much time spent together. There are often dynamics in the family that come to a head during this time spent together and the meal. There are even movies that show these dynamics and arguments because it's so common.
Then come the "turkey pants": You step away from the table and you have likely eaten too much. You might wear your "turkey pants" which are stretchy or sweat pants to accommodate your growing belly from eating too much. You are likely going to eat seconds and even thirds–you eat so much until you're full to the brim and can't eat another bite. Then there's tryptophan which is a drug in turkey that makes you sleepy. So once you eat the big meal, people lay around on the couch and some people fall asleep. Then there's a phase where you might wake up around 6-7:00 and you might go for a walk or start drinking again, or maybe even play games. You might do something to kick off the holiday season like watching a Christmas movie. You might eat leftovers after you don't feel as full anymore.
This is what a typical American Thanksgiving tends to look like.
Knowing these traditions can help if you get invited over to a friend or family's house to celebrate this holiday.
Takeaway
Thanksgiving is a holiday within the US that is full of traditions.
Understanding these traditions can help you if you are invited over to somebody's house to celebrate Thanksgiving.
These are the typical elements that you can expect to see, though the specific traditions may vary widely.
Enjoy this holiday and time spent with family and friends, and reflect on why it's so important within this culture.
Also keep in mind that if you are taking IELTS you may need to describe a holiday or a festival on the Speaking Test. Go here to learn more.
If you have any questions, please leave them below in the comments section.
We'll get back to you as soon as we can.